2020 Topps Inception Baseball continues with the brand's history of colorful designs that don't hold back. The focus remains primarily on the game's up-and-coming players, highlighting not just rookies but some young veteran stars as well.
Hobby boxes are single-pack affairs. Each has an autograph (or autograph relic) to go along with a couple of parallels and four base cards.
2020 Topps Inception Baseball Base Set Basics
The 2020 Inception shell set isn't a big one, arriving with just 100 cards. Gone are the cloud and celestial design themes of the past. Instead the look leans towards bright abstract pop art.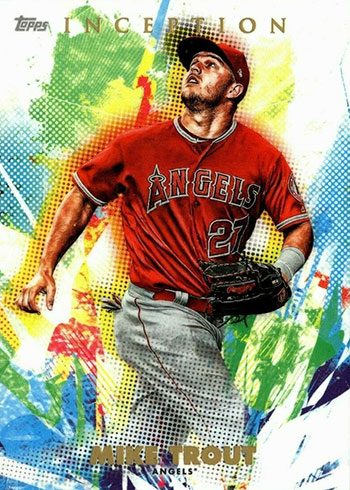 Although Inception got its start in baseball as part of the Bowman portfolio and bringing with it lots of prospects, it's Topps Inception now so the checklist is all major leaguers. The youth angle remains, though, in both the main set and the autographs.
Base parallels include Green, Purple (/150), Magenta (/99), Red (/75), Orange (/50), Blue (/25), Printing Plates (1/1) and Inception (1/1).
As with past years, the base set also includes a Rookies & Emerging Stars Autographs subset. All are numbered to 299 or less. Parallels for these can be found in Magenta (/99), Red (/75), Orange (/50), Blue (/25) and Inception (1/1).
Autographs
2020 Topps Inception Baseball has a handful of additional autograph inserts on its checklist as well.
Inception Autograph Patch cards are four per case, or roughly 1:4 boxes. Like the main set, rookies and young stars are the focus again. Numbered parallels come in Magenta, Red (/25), Orange (/10), Blue Button (/6) and Inception (1/1), which have a Majestic jersey sleeve logo.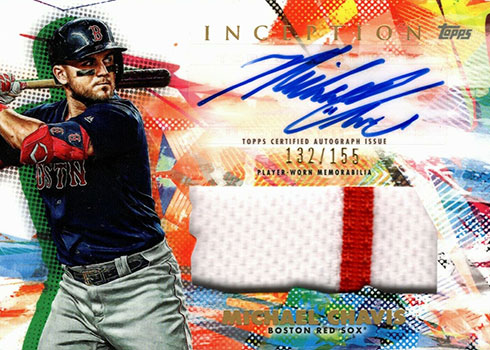 Similar Inception Autograph Jumbo Patch cards bring a bigger swatch. Parallels are smaller in number and quantity with only Orange (/25), Blue (/10) and Inception Team Logo (1/1). All of the various versions combine to land one per case.
Inception Silver Signings (/100 or less) return. As the name suggests, these come with autographs done in silver ink. Parallels follow the pen color theme with Gold Ink (/25) and Gold Ink Inception (1/1).
New Dawn of Greatness Autographs (/20) look at stars from the start of their careers. Orange (/10), Blue (/5) and Inception (1/1) are the parallels.
Autographed Game Socks Relics (/25 or less) bypass the traditional jerseys and pants for swatches of Stance socks. Stance Logo parallels are all one-of-ones.
Inception Dual Autographed Relic Book cards (/3) have signatures and swatches from a pair of players.
Other tough signature relics include Autographed Jumbo Hat Patch (/5), Autographs Team Logo Patch Book (/2) Autographed Letters Book (/2), Autographed MLB Silhouetted Batter Logo Patch (1/1) and Autographed Laundry Tag Book (1/1) cards.
With just ten copies each, Short Print Inception Autographs are some of the toughest cards in the product.
2020 Topps Inception Baseball cards at a glance:
Cards per pack: 7
Packs per box: 1
Boxes per case: 16
Set size: 100 cards + 81 Rookies and Emerging Stars Autographs
Release date: March 20, 2020
What to expect in a hobby box:
Autographs or Autograph Memorabilia Cards – 1 Total
Parallels – 2
2020 Topps Inception Baseball Checklist
Base
Autographs
Team Sets
Odds