2020-21 Topps Inception UEFA Champions League Checklist and Details
As a brand, Inception has been around for a while, first with football and more recently with baseball (as well as some UFC inserts). Now it's making the jump to soccer. 2020-21 Topps Inception UEFA Champions League brings the bold designs and autograph focus that define the line.
But there is a twist. It was an online exclusive through Topps' European website — that sold out very quickly.
Boxes come with one pack of seven cards. Of those, one is an autograph and another is a parallel.
2020-21 Topps Inception UEFA Checklist Overview
Like Inception sets in other sports, it's the designs that immediately stand out. Colors and abstract backgrounds combine for something that's different from almost everything else out there. It's certainly a big change from the plentiful chromium releases that dominate soccer cards right now.
The base set has 70 total cards. Most fall under one of two themes, Emerging Stars and Star Quality. Other smaller subsets include Cloud 9, The Perfect 10, Magnificent 7, Succession and Legacy.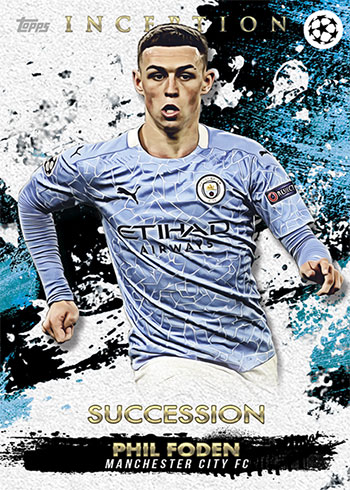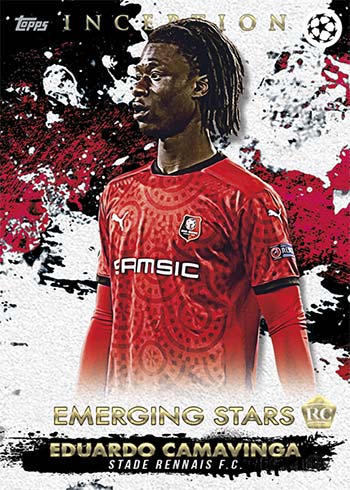 Parallels come in six level numbered to either 99, 49, 25, 10, 5 or 1.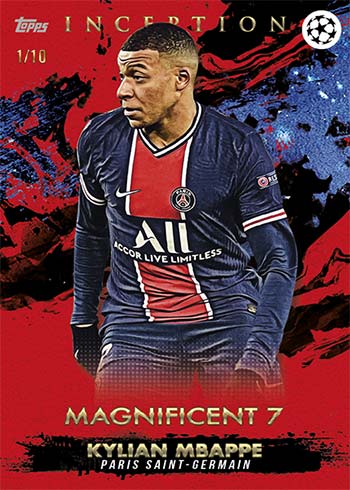 The core lineup of Autographs has 35 signers including Jude Bellingham, Erling Haaland, Alphonso Davies and Robert Lewandowski. Not only do these have a similar design as the base set but parallel levels as well.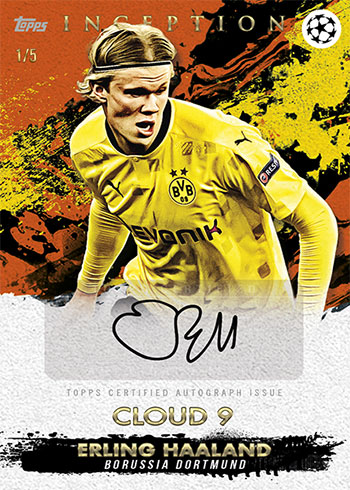 The 2020-21 Topps Inception UEFA checklist also has Short Print Autographs, a pair of Dual Autographs and a Lionel Messi Patch Autograph.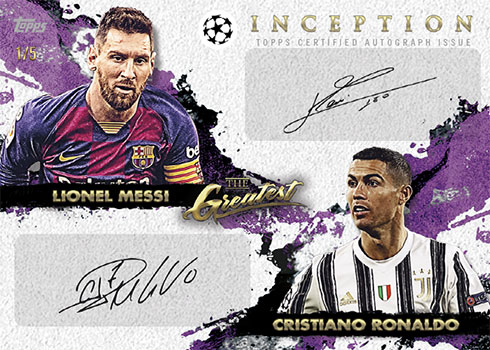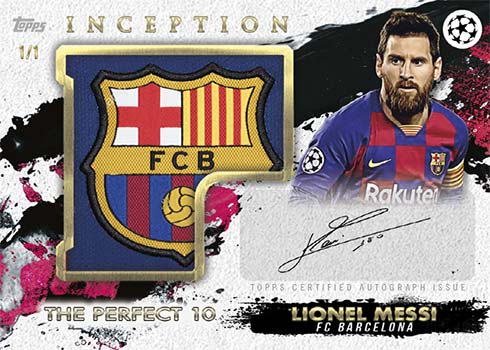 2020-21 Topps Inception UEFA Champions League soccer cards at a glance:
Cards per pack: 7
Packs per box: 1
Set size: 70 cards
Release date: August 9, 2021
Shop for 2020-21 Topps Inception UEFA Champions League boxes on eBay:
What to expect in a hobby box:
Autographs – 1
Parallels – 1
2020-21 Topps Inception UEFA Champions League Checklist
A full list with card numbers was not released by Topps.
Please note that print runs for cards without serial numbers have not been announced.
Base
Base Set Checklist
70 cards.
Parallels:
Lionel Messi – The Perfect 10
Neymar Jr – The Perfect 10
Cristiano Ronaldo – Magnificent 7
Kylian Mbappe – Magnificent 7
Robert Lewandowksi – Cloud 9
Erling Haaland – Cloud 9
Karim Benzema – Cloud 9
Ansu Fati – Succession
Pedri – Succession
Phil Foden – Succession
Mason Mount – Succession
Youssoufa Moukoko – Succession
Ryan Giggs – Legacy
Samuel Eto'o – Legacy
Dirk Kuyt – Legacy
Paul Scholes – Legacy
Alessandro Del Piero – Legacy
Eric Cantona – Legacy
Jean-Claude Ntenda – Emerging Stars
Ryan Gravenberch – Emerging Stars
Jamal Musiala – Emerging Stars
Joe Gomez – Emerging Stars
Curtis Jones – Emerging Stars
Giovanni Reyna – Emerging Stars
Jadon Sancho – Emerging Stars
Ansgar Knauff – Emerging Stars
Jude Bellingham – Emerging Stars
Neco Williams – Emerging Stars
Eduardo Camavinga – Emerging Stars
Alphonso Davies – Star Quality
Leon Goretzka – Star Quality
Serge Gnabry – Star Quality
Robert Lewandowski – Star Quality
Joshua Kimmich – Star Quality
Kevin De Bruyne – Star Quality
Aymeric Laporte – Star Quality
Nathan Ake – Star Quality
Joao Cancelo – Star Quality
John Stones – Star Quality
Mohamed Salah – Star Quality
Sadio Mane – Star Quality
Trent Alexander-Arnold – Star Quality
Thiago Alcantara – Star Quality
Virgil van Dijk – Star Quality
Roberto Firmino – Star Quality
Jordan Henderson – Star Quality
Clement Lenglet – Star Quality
Vinicius Jr – Star Quality
Sergio Ramos – Star Quality
Sergino Dest – Star Quality
Marco Reus – Star Quality
Jadon Sancho – Star Quality
Kylian Mbappe – Star Quality
Neymar Jr – Star Quality
Marquinhos – Star Quality
Pablo Sarabia – Star Quality
N'Golo Kante – Star Quality
Mason Mount – Star Quality
Kai Havertz – Star Quality
Tammy Abraham – Star Quality
Marcos Alonso – Star Quality
Jan Oblak – Star Quality
Joao Felix – Star Quality
Dayot Upamecano – Star Quality
Dominik Szoboszlai – Star Quality
Christoph Kramer – Star Quality
Lars Stindl – Star Quality
Kingsley Coman – Star Quality
Weston McKennie – Star Quality
Alvaro Morata – Star Quality
Autographs
2020-21 Topps Inception UEFA Champions League Autographs Checklists
Autographs Checklist
35 cards.
Parallels:
Alessandro Del Piero
Alphonso Davies
Ansgar Knauff
Aymeric Laporte
Christoph Kramer
Clement Lenglet
Cristiano Ronaldo
Dirk Kuyt
Eric Cantona
Erling Haaland
Jean-Claude Ntenda
Joe Gomez
Jordan Henderson
Joshua Kimmich
Jude Bellingham
Kai Havertz
Kingsley Coman
Leon Goretzka
Lionel Messi
Marcos Alonso
Mason Mount
Nathan Ake
Neco Williams
Pablo Sarabia
Paul Scholes
Robert Lewandowski
Roberto Firmino
Ryan Giggs
Ryan Gravenberch
Samuel Eto'o
Serge Gnabry
Sergino Dest
Thiago Alcantara
Virgil van Dijk
Weston McKennie
Dual Autographs Checklist
2 cards.
Parallels:
Cristiano Ronaldo / Lionel Messi
Ryan Giggs / Paul Scholes
Patch Autographs Checklist
1 card.
Parallels:
Lionel Messi
Short Print Autographs Checklist
25 cards.
Parallels:
Alphonso Davies
Ansu Fati
Ben Chilwell
Bernardo Silva
Billy Gilmour
Bruno Fernandes
Cristiano Ronaldo
Dani Carvajal
Danilo Pereira
David Neres
Ederson
Eduardo Camavinga
Gianluca Vialli
Joao Cancelo
John Terry
Jude Bellingham
Julio Cesar
Lars Stindl
Luka Shaw
Ousmane Dembele
Reece James
Ruben Dias
Thomas Muller
Weston McKennie
Yann Sommer