2020 Topps Now Baseball Checklist, Team Set Lists, Print Runs and More
It's a few months later than expected, but the MLB season is officially started. Some things are different this season, like cutouts replacing fans in the stands, but the games go on. And with that comes 2020 Topps Now Baseball cards highlighting key moments as they happen.
The print-on-demand set returns for a fifth year. Its checklist will evolve throughout the season with dramatic moments, key highlights, record-setting achievements and pretty much anything deserving of a headline. Taken together, it's the story of the season.
That comes through in the first cards offered commemorating Opening Day. Sure, there are some players. But that doesn't tell the entire story. The checklist starts before the official first pitch of the first game.
Card #2 features Dr. Anthony Fauci making the ceremonial first pitch at the Nationals-Yankees game. He has been the Director of the National Institute of Allergy and Infectious Disease and has been in the news helping direct the United States through the COVID-19 pandemic. The Fauci card set a Topps Now record, selling 51,512 copies.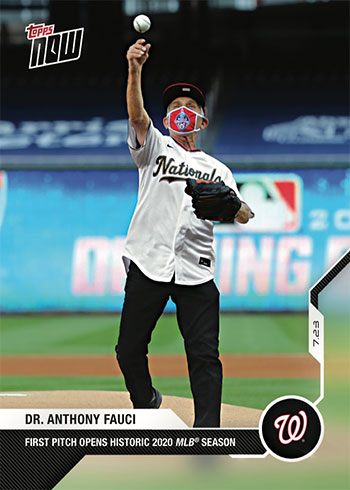 Given the structure of the set, 2020 Topps Now Baseball is able to chart notable MLB debuts as they happen. Within the first few days, the checklist reflected this with cards of Luis Robert, Brady Singer and Yoshi Tsutsugo.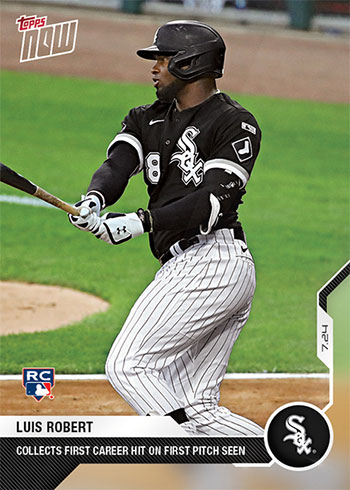 2020 Topps Now Baseball: How to Buy
Cards are available through the Topps website for just 24 hours. Once again, individual copies are $9.99 with discounts available for bulk orders. Some take advantage of the bulk price and offer discounts on individual cards through eBay for closer to $5-$6 per card.
After the sales window closes, Topps announces print runs. This makes for a pendulum of sorts for production numbers. Naturally, some of the biggest moments and rookie debuts traditionally get bigger numbers while cards that likely appeal mainly to a specific team's fanbase tend to seller fewer.
Randomly included in the print run are parallels numbered to either 49, 25, 10, 5 and 1. These replace the regular cards ordered.
2020 Topps Now Baseball Checklist
This set will continue to grow throughout the season so this checklist will continue to expand. Announced print runs will be noted. If you're looking for a specific card, click on the links to see what's available on eBay.
Parallels:
August
2020 Topps Now Baseball – August, 2020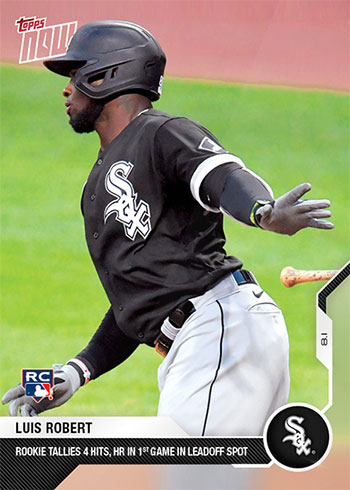 August 1
41 Aaron Judge – Homers in 4 Straight Games for 1st Time in Career – 1,162
42 Chicago White Sox – Make History with Cuban-Born Players in Top 4 Lineup Slots – 995
43 Luis Robert – Rookie Tallies 4 Hits, HR in 1st Game in Leadoff Spot – 6,413
44 Pat Valaika – 11th-Inning, Walk-Off Single Leads 5-4 Win Over Rays – 415
August 2
45 Nick Madrigal – Rookie's 4 Hits Pace White Sox Offense – 1,369
46 Clayton Kershaw – Southpaw Throws Zeros in First 2020 Start – 370
47 Tyler Alexander – Ties AL Record with Nine Consecutive Strikeouts – 454
48 Javier Baez – Walk-Off Single Completes Sweep of Pirates – 479
49 Aaron Judge / Alex Rodriguez – 1st Yankees Player Since A-Rod (2007) to Hit HRs in Five Straight Games – 1,830
August 3
50 Nelson Cruz – Walk-Off Single Leads Twins to 4th Straight Win – 349
51 Sonny Gray – Most Consecutive Starts (36) Allowing Six Hits or Fewer – 566
August 4
52 Mike Trout – Dad Strength – Homers in 1st At-Bat in Return from Paternity Leave – 3,289
53 Jo Adell – 1st Hit Comes in 1st MLB At-Bat – 4,279
54 Jesus Luzardo – Fires 5 Stellar Frames in 1st MLB Start – 1,349
55 Andy Young – 1st MLB Hit Comes in 2-for-2 Game – 706
56 Stephen Piscotty – Launches Club's 2nd Walk-Off Grand Slam of 2020 – 432
August 5
57 Juan Soto – The Energy Is Back — Star Returns with RBI Double – 588
58 Kole Calhoun – Inside-the-Park-HR Highlights 9-Run Inning – 237
59 New York Yankees – 11th Consecutive Game with HR to Open Season Sets Yankees Record – 463
60 Rick Porcello – 1st Win with Mets Marks 150th Career Win – 301
61 Kyle Seager / Ken Griffey Jr. / Jay Buhner / Edgar Martinez – Seager Becomes 4th Mariners Player to Reach 200 HRs – 601
62 Austin Allen – 1st Career HR Is Go-Ahead Blast In Win – 290
63 Luis Robert – 17th Hit in 1st 12 Games Marks 1st Since 1998 – 3,021
August 6
64 Kevin Newman – 2-RBI, Pinch-Hit Single Marks 5th Career Walk-Off
65 Christian Yelich – Inside-the-Park Home Run Sparks 8-3 Win
66 Nick Markakis – Walk-Off Powers 4-3 Win in First 2020 Start
67 Kole Calhoun – 2-RBI, Walk-Off Double Caps 5-4 Victory
68 Cleveland Indians – 10-Run 7th Inning Fuels 13-0 Win Over Reds
69 Dylan Bundy – 10-K, Complete-Game Gem Silences Mariners
70 Shohei Ohtani – Returns from Injury with Home Run in First AB
August 7
71 Mike Trout – Homers on Birthday for 5th Time in His Career
72 Alex Verdugo – 2 HRs, Homer Robbery Leads 5-3 Win
73 Austin Allen / Marcus Semien – Pair of RBI Singles Tie and Walk-Off Astros in 13th
July
2020 Topps Now Baseball Checklist – July, 2020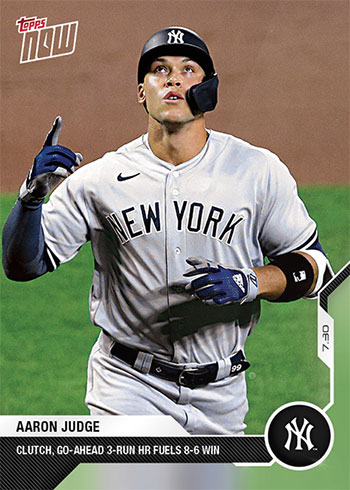 July 23
1 Major League Baseball – Players Unite to Promote Social Justice & Equality on 2020 MLB Opening Day – 3,499
2 Dr. Anthony Fauci – First Pitch Opens Historic 2020 MLB Season -51,512
3 Giancarlo Stanton – Slugger's 459 Ft. Blast Is First HR of 2020 – 1,105
4 Gerrit Cole – Ace Earns First Win as a Member of the Yankees – 1,139
5 Dustin May – Young Talent Brings the Heat in Emergency Duty – 1,395
6 Enrique Hernandez – First Five-RBI Game Powers Dodgers to 8-1 Victory – 790
July 24
7 Yoenis Cespedes – He's Back! Slugger Belts Game-Winning HR in First Game Since 2018 – 610
8 Shane Bieber – Strikes Out 14 Royals in First Opening Day Start – 549
9 Kyle Hendricks – First Cubs Opening Day Shutout Since 1974 – 590
10 Yoshi Tsutsugo – Rookie Gets Two MLB First in One Swing – 1,199
11 Luis Robert – Collects First Career Hit on First Pitch Seen – 15,161
12 Matt Olson – Walk-Off, Grand Slam in the 10th Caps Dramatic Opening Day Win – 536
Autographs
10A Yoshi Tsutsugo – /99, Blue /49, Purple /25, Red /10, Orange /5, Gold 1/1
11A Luis Robert – /99, Blue /49, Purple /25, Red /10, Orange /5, Gold 1/1
July 25
13 Daniel Bard – Earns Win in First MLB Appearance in Seven Years – 324
14 Marcell Ozuna – Down to the Last Strike, Dramatic HR Ties Game – 298
15 William Contreras – First MLB Hit Provides Extra-Inning Insurance – 571
16 Zack Wheeler – New Dad Is Outstanding in Phillies Debut – 438
17 Brady Singer – Royals #2 Prospect Solid in MLB Debut – 650
July 26
18 Ji-Man Choi – Switch the Style Up – Choi Hits HR Right-Handed – 449
19 Nelson Cruz – This Is 40 – Cruz Has 4-Hit, 7 RBI Day – 504
20 Luis Robert – Towering Blast Marks 1st MLB HR – 11,966
July 27
21 Alex Bregman – Clubs 100th Career Homer, Astros Win 8-5 – 343
22 Tampa Bay Rays – Four Rays Pitchers Combine on 19-K Effort – 243
23 Kansas City Royals – Tie Team Record with 6 HRs Against Tigers – 265
24 Tyler Stephenson – 1st Reds Batter to Homer in First At-Bat Since 1950 – 1,031
July 28
25 Vladimir Guerrero Jr. – 1st HR of the Year Gives Washington Nationals Headache  – 566
26 David Peterson – Mets Rookie Conquers Fenway Park, Wins Debut – 709
27 Javier Baez – Two Homer Day Powers Cubs to 8-5 Win – 472
28 Anthony Rendon – First Angels Homer Caps Big Home Opener – 373
Autographs
28A Anthony Rendon – Blue /49, Purple /25, Red /10, Orange /5, Gold 1/1
July 29
29 Neate Pearson – 23-Year-Old Dazzles with 5 IP in MLB Debut – 1,982
30 Andres Gimenez – Flashes Speed with Triple for 1st MLB Hit – 926
31 Shohei Ohtani – Two-Way Phenom Adds to Resume with Golf-Swing HR – 788
32 Washington Nationals – Washington Nationals Take Road Win in Home Park – 320
33 Mike Yastrzemski – Two Blasts from Yaz Give Giants 7-6 Win – 401
34 Edwin Rios – 1st Lead-Off, 2-Run HR in MLB History – 631
35 Justin Upton – Angels Slugger Reaches 300-HR Milestone – 257
Autographs
29A Nate Pearson – /99, Blue /49, Purple /25, Red /10, Orange /5, Gold 1/1
July 30
36 Shane Bieber – Sets AL Record with 27th K to Open 2020 Season – 883
37 Aaron Judge – Clutch, Go-Ahead 3-Run HR Fuels 8-6 Win – 1,163
July 31
38 Mookie Betts – Dodgers New Star Flashed Arm in RF, 1st HR of 2020 – 886
39 Travis d'Arnaud – 5 RBI, 8th-Inning Double Leads Win Over Mets – 398
40 Fernando Tatis Jr. / Tommy Pham – Tatis Jr. and Pham Launch 9th-Inning HRs to Fuel 8-7 Comeback Win – 460
Team Sets