2020 Panini Contenders Baseball Checklist, Team Set Lists and Details
2020 Panini Contenders Baseball is changing the brand's diamond course slightly. While there are a lot of the same hallmarks as the past, the difference is on the player selection. For the past several years, standalone Contenders baseball sets have centered around draft picks and prospects. They're still here, but now there's a change to rookie and veteran content as well bringing it more in line with the formats used in basketball and football. That means Rookie Ticket Autographs.
Autographs are still plentiful, averaging six per hobby box (one per pack).

2020 Panini Contenders Baseball Checklist Overview
Contenders and Rookie Ticket Autographs are one of the hobby's peanut butter and jam combinations. In recent years, baseball has seen slight tweaks for prospects and draft picks. Here, there are no tweaks. Rookie Ticket Autographs make their way to baseball. In addition to several parallels like Cracked Ice and Building Blocks, variations can also be found.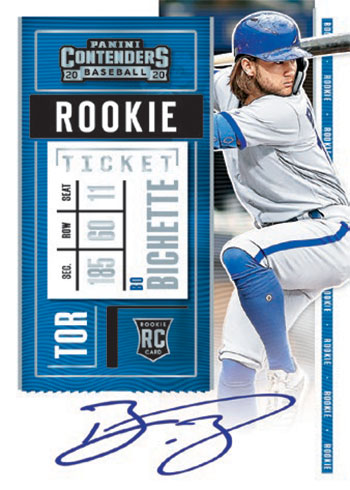 And while there are rookies this year, 2020 Contenders Baseball isn't abandoning prospects and draft picks. They're also on the checklist. Prospect Tickets highlight minor league players while Draft Pick Tickets include players taken this year. Contenders is early out of the gate with 2020 MLB draft picks.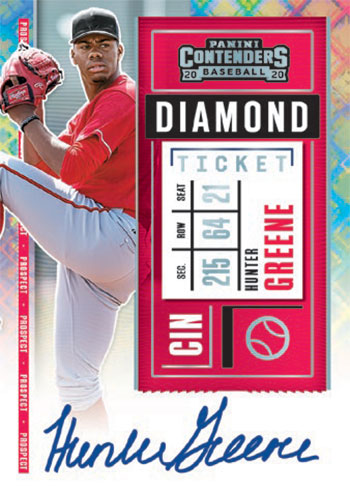 Contenders Autographs is one of the places where the checklist branches out to include veterans and retired players. ROY Contenders Autographs and Rookie Round Up Autographs are among the product's other autographs.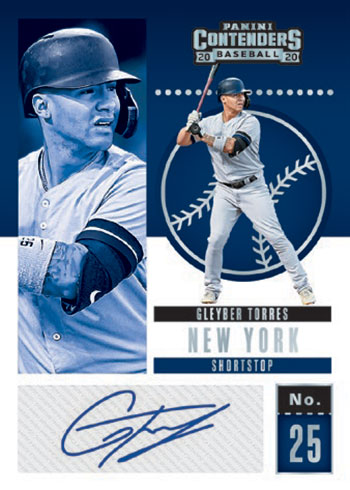 Looking back on the brand's past are Retro 1998 and Retro 1999 Rookie Tickets. These borrow from early Contenders Football designs, which have become iconic in the modern hobby.
2020 Panini Contenders Baseball has several other insert sets as well including Future Stars, Game Day, Legacy, Potential, Up and Coming, and Winning Tickets.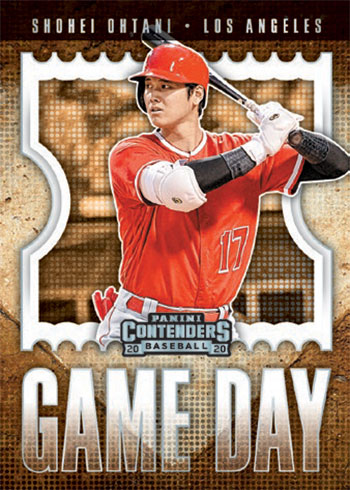 2020 Panini Contenders Baseball cards at a glance:
Cards per pack: Hobby – 18, Blaster – 5
Packs per box: Hobby – 6, Blaster – 6
Boxes per case: Hobby – 12, Blaster – 20
Set size: 162 cards
Release date: October 30, 2020
Shop for 2020 Panini Contenders Baseball boxes on eBay:
What to expect in a hobby box:
Autographs – 6
Numbered Parallels – 1
Purple Parallels – 18
What to expect in a blaster box:
2020 Panini Contenders Baseball Checklist
You can also download a spreadsheet version of the checklist:
Base
Autographs
Memorabilia
Team Sets