2020 Onyx Vintage Extended Baseball Includes Some Long-Range International Prospecting
2020 Onyx Vintage Extended Baseball cards expand on the set from earlier in the year. There's more prospects, international standouts and some 2020 draft picks.
Boxes come with two cards, two of which are autographs.
The checklist has 50 players. Headliners include Jasson Dominguez, Wander Franco, Julio Rodriguez and Riley Greene. Luis Robert and Pete Alonso are a couple of standouts with MLB experience. Spencer Torkelson and Austin Martin, the first and second overall picks in the 2020 MLB Draft, are also here.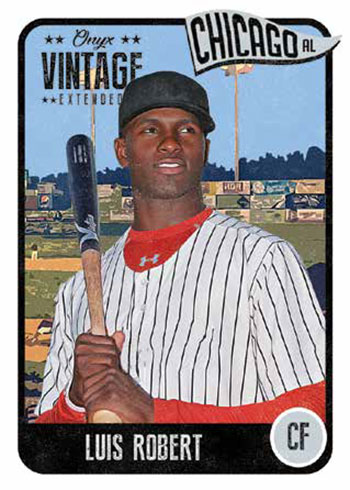 2020 Onyx Vintage Extended Baseball looks far down the line on the global baseball scene. There's Roderick Arias, a highly touted international prospect who won't be eligible to sign with a MLB team until 2021. There's also Felnin Celesten who has to wait until 2022.
Both the base set and autographs, which share the same checklist of players, opt for a retro-style design.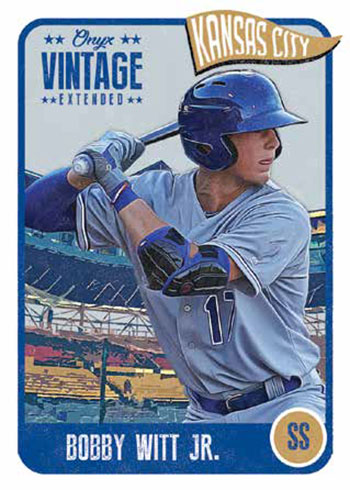 Autographs have a few different versions based on the color of the signature's ink. Blue top out at 275 copies. For parallels, there's Green (50 copies or less), Red (25 copies or less) and Black ink (five copies).
2020 Onyx Vintage Extended Baseball cards at a glance:
Cards per pack: 4
Packs per box: 1
Boxes per case: 24
Set size: TBA
Release date: October 14, 2020
What to expect in a hobby box:
2020 Onyx Vintage Extended Baseball Checklist
The following is a list of players confirmed for the release. It is subject to change.
Mick Abel, Philadelphia Phillies
Pete Alonso, New York Mets
Adela Amador, Colorado Rockies
Roderick Arias
Miguel Bleis
Kris Bubic, Kansas City Royals
Yiddi Cappe
Felnin Celesten
Carlos Colmenares
Armando Cruz, Washington Nationals
Danny De Andrade
Jose De La Cruz, Detroit Tigers
Jasson Dominguez, New York Yankees
Jerar Encarnacion, Miami Marlins
Yanquiel Fernandez, Colorado Rockies
Wander Franco, Tampa Bay Rays
Riley Greene, Detroit Tigers
Cristian Hernandez, Chicago Cubs
Spencer Howard, Philadelphia Phillies
Wander Javier, Minnesota Twins
Bayron Lora, Texas Rangers
Marco Luciano, San Francisco Giants
Dylan MacLean, Texas Rangers
Austin Martin, Toronto Blue Jays
Angel Martinez, Cleveland Indians
Seuly Matias, Kansas City Royals
Ronny Mauricio, New York Mets
Carmen Mlodzinski, Pittsburgh Pirates
Ryan Mountcastle, Baltimore Orioles
Freudis Nova, Houston Astros
Cristian Pache, Atlanta Braves
Erick Pena, Kansas City Royals
Pedro Pineda, Oakland Athletics
Robert Puason, Oakland Athletics
Alexander Ramirez, New York Mets
Adison Reyes, Detroit Tigers
Luis Robert, Chicago White Sox
Endy Rodriguez, New York Mets
Julio Rodriguez, Seattle Mariners
Luis Rodriguez, Los Angeles Dodgers
Adley Rutschman, Baltimore Orioles
Juan Then, Seattle Mariners
Cody Thomas, Los Angeles Dodgers
Luis Toribio, San Francisco Giants
Spencer Torkelson, Detroit Tigers
Jake Vogel, Los Angeles Dodgers
AJ Vukovich, Arizona Diamondbacks
Jordan Walker, St. Louis Cardinals
Bobby Witt Jr., Kansas City Royals
Nick Yorke, Boston Red Sox