It didn't last long, but 2020 Topps 3D Baseball does exist. The online-exclusive sold through quickly on the company's website — all 12,500 packs. Part of the Topps On-Demand line, the concept is a fairly simple one. It gives cards from 2020 Topps Series 1 and Series 2 a lenticular makeover, adding a small number of inserts to the mix.
Rather than converting all 700 flagship cards, Topps 3D Baseball limits its checklist to 100 cards. That means it's primarily key stars and rookies. The design is essentially the same as the main set only with the added dimension of depth. For those who haven't seen 3D cards since the 1980s or early '90s, the printing technology has come a long way. The murky lines are no more. Instead, images are extremely crisp and maintain much of the brightness of the original photo.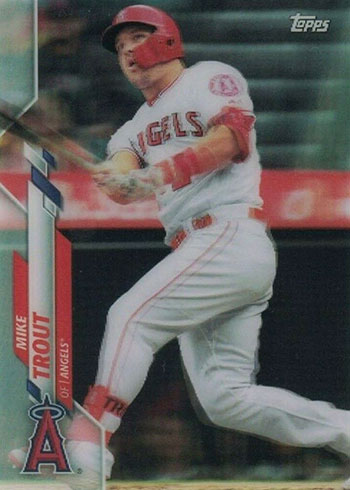 Image Variations make their Topps 3D debut. Ten cards get the alternate photo treatment.
Of the eight cards in every pack, two are Rookie Class Motion inserts. These give first-year players a Sportflics-esque treatment where the photos move when you move the card back and forth.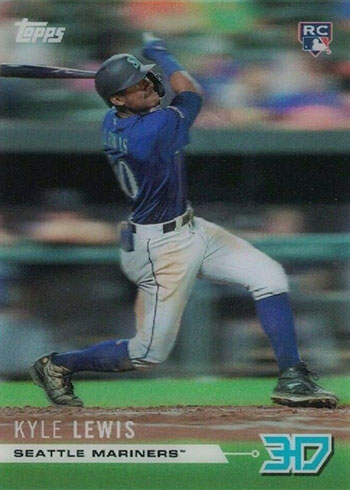 Topps 3D Baseball debuted as an online exclusive in 2018 and returned in 2019.
Packs originally cost $20 on the Topps website. With an announced production run of 12,500 packs, there should be approximately 750 copies of each base card and 1,250 for the Rookie Class Motion inserts. Odds on the variations haven't been announced, which could lower the base numbers slightly.
2020 Topps 3D Baseball cards at a glance:
Cards per pack: 8
Set size: 100 cards
Print Run: 12,500 packs
Release date: July 30, 2020
What to expect in a hobby box:
Rookie Class Motion – 2
Base Cards – 6
Checklist
2020 Topps 3D Baseball Checklist
Base Set
100 cards.
Buy on: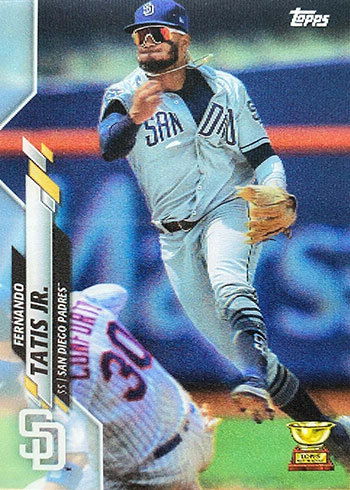 1 Mike Trout
7 Aaron Judge
16 Gleyber Torres
28 Tim Anderson
46 Gary Sanchez
47 Dansby Swanson
48 Jeff McNeil
49 Eloy Jimenez
50 Cody Bellinger
51 Anthony Rizzo
70 Nico Hoerner
78 Bo Bichette
82 Jorge Polanco
99 Daniel Vogelbach
100 Alex Bregman
105 Niko Goodrum
110 Jesus Luzardo
111 Buster Posey
117 Max Kepler
118 Clayton Kershaw
121 DJ LeMahieu
124 Jose Berrios
125 Shohei Ohtani
127 Matt Chapman
131 Ketel Marte
145 Paul Goldschmidt
148 Willy Adames
150 Ronald Acuña Jr.
155 Jack Flaherty
168 Fernando Tatis Jr.
173 Yadier Molina
180 Max Scherzer
182 Vladimir Guerrero Jr.
190 Aaron Nola
196 Andrew Benintendi
200 Christian Yelich
201 Francisco Lindor
206 Tommy Pham
224 Juan Soto
230 Nolan Arenado
235 Dustin May
240 Jameson Taillon
250 Bryce Harper
267 Joey Votto
271 Josh Bell
276 Yordan Alvarez
279 Masahiro Tanaka
281 Nelson Cruz
283 Robel Garcia
290 Nick Senzel
300 Javier Baez
314 Rafael Devers
326 Dylan Cease
327 Cavan Biggio
328 Chris Davis
330 George Springer
332 Jacob deGrom
333 Evan Longoria
336 Miguel Cabrera
345 Justin Verlander
347 Ryan Braun
349 Carlos Correa
350 Pete Alonso
367 Giancarlo Stanton
376 Shogo Akiyama
392 Luis Robert
397 Charlie Blackmon
398 Miguel Andujar
408 Brendan Rodgers
420 Mookie Betts
432 Walker Buehler
434 Brusdar Graterol
440 Carter Kieboom
449 Shun Yamaguchi
450 Jorge Soler
455 Kris Bryant
459 Kwang-Hyun Kim
465 Eugenio Suarez
480 Ozzie Albies
483 Eddie Rosario
491 Will Smith
497 Albert Pujols
507 Blake Snell
518 Shin-Soo Choo
530 Xander Bogaerts
533 Nick Castellanos
547 Victor Robles
549 Freddie Freeman
555 Marcus Stroman
559 Josh Hader
571 Keston Hiura
597 Gerrit Cole
602 Jose Altuve
612 Luis Arraez
617 Bryan Reynolds
631 Stephen Strasburg
637 Trevor Story
665 Willson Contreras
669 Luis Severino
672 Chris Sale
Image Variations
10 cards.
Odds not announced.
Buy on: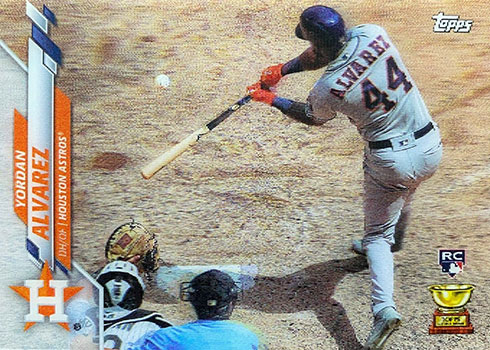 2020 Topps 3D Baseball Variations Gallery and Guide
1 Mike Trout
7 Aaron Judge
50 Cody Bellinger
78 Bo Bichette
150 Ronald Acuña Jr.
224 Juan Soto
276 Yordan Alvarez
300 Javier Baez
332 Jacob deGrom
392 Luis Robert
Rookie Class Motion
20 cards.
2 per pack.
Buy on: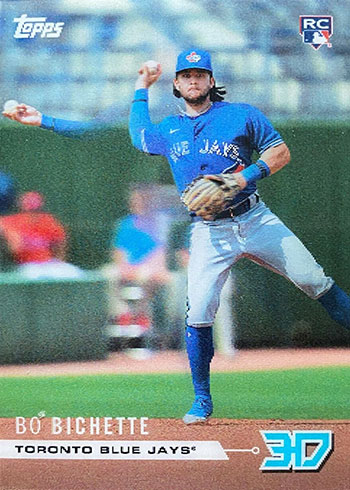 Isan Diaz
Brendan McKay
Brusdar Graterol
Kwang-Hyun Kim
Shun Yamaguchi
Zac Gallen
Nick Solak
Shogo Akiyama
Mauricio Dubon
Aristides Aquino
Nico Hoerner
Bo Bichette
Luis Robert
Gavin Lux
Dustin May
Yoshi Tsutsugo
AJ Puk
Jesus Luzardo
Kyle Lewis
Yordan Alvarez
Team Sets
2020 Topps 3D Baseball Team Set Checklists
Want to know what cards your favorite team has in 2020 Topps 3D Baseball? Here's the checklist broken down by team. Scroll through or click below to go directly to that team.
Arizona Diamondbacks Checklist
131 Ketel Marte
Rookie Class Motion
Zac Gallen
Atlanta Braves Checklist
47 Dansby Swanson
150 Ronald Acuña Jr.
480 Ozzie Albies
549 Freddie Freeman
Variations
150 Ronald Acuña Jr.
Baltimore Orioles Checklist
328 Chris Davis
Boston Red Sox Checklist
196 Andrew Benintendi
314 Rafael Devers
530 Xander Bogaerts
672 Chris Sale
Chicago Cubs Checklist
51 Anthony Rizzo
70 Nico Hoerner
283 Robel Garcia
300 Javier Baez
455 Kris Bryant
665 Willson Contreras
Rookie Class Motion
Nico Hoerner
Variations
300 Javier Baez
Chicago White Sox Checklist
28 Tim Anderson
49 Eloy Jimenez
326 Dylan Cease
392 Luis Robert
Rookie Class Motion
Luis Robert
Variations
392 Luis Robert
Cincinnati Reds Checklist
267 Joey Votto
290 Nick Senzel
376 Shogo Akiyama
465 Eugenio Suarez
533 Nick Castellanos
Rookie Class Motion
Shogo Akiyama
Aristides Aquino
Cleveland Indians Checklist
201 Francisco Lindor
Colorado Rockies Checklist
230 Nolan Arenado
397 Charlie Blackmon
408 Brendan Rodgers
637 Trevor Story
Detroit Tigers Checklist
105 Niko Goodrum
336 Miguel Cabrera
Houston Astros Checklist
100 Alex Bregman
276 Yordan Alvarez
330 George Springer
345 Justin Verlander
349 Carlos Correa
602 Jose Altuve
Rookie Class Motion
Yordan Alvarez
Variations
276 Yordan Alvarez
Kansas City Royals Checklist
450 Jorge Soler
Los Angeles Angels Checklist
1 Mike Trout
125 Shohei Ohtani
497 Albert Pujols
Variations
1 Mike Trout
Los Angeles Dodgers Checklist
50 Cody Bellinger
118 Clayton Kershaw
235 Dustin May
420 Mookie Betts
432 Walker Buehler
434 Brusdar Graterol
491 Will Smith
Rookie Class Motion
Brusdar Graterol
Gavin Lux
Dustin May
Variations
50 Cody Bellinger
Miami Marlins Checklist
Rookie Class Motion
Isan Diaz
Milwaukee Brewers Checklist
200 Christian Yelich
347 Ryan Braun
559 Josh Hader
571 Keston Hiura
Minnesota Twins Checklist
82 Jorge Polanco
117 Max Kepler
124 Jose Berrios
281 Nelson Cruz
483 Eddie Rosario
612 Luis Arraez
New York Mets Checklist
48 Jeff McNeil
332 Jacob deGrom
350 Pete Alonso
555 Marcus Stroman
Variations
332 Jacob deGrom
New York Yankees Checklist
7 Aaron Judge
16 Gleyber Torres
46 Gary Sanchez
121 DJ LeMahieu
279 Masahiro Tanaka
367 Giancarlo Stanton
398 Miguel Andujar
597 Gerrit Cole
669 Luis Severino
Variations
7 Aaron Judge
Oakland Athletics Checklist
110 Jesus Luzardo
127 Matt Chapman
Rookie Class Motion
AJ Puk
Jesus Luzardo
Philadelphia Phillies Checklist
190 Aaron Nola
250 Bryce Harper
Pittsburgh Pirates Checklist
240 Jameson Taillon
271 Josh Bell
617 Bryan Reynolds
San Diego Padres Checklist
168 Fernando Tatis Jr.
206 Tommy Pham
San Francisco Giants Checklist
111 Buster Posey
333 Evan Longoria
Rookie Class Motion
Mauricio Dubon
Seattle Mariners Checklist
99 Daniel Vogelbach
Rookie Class Motion
Kyle Lewis
St. Louis Cardinals Checklist
145 Paul Goldschmidt
155 Jack Flaherty
173 Yadier Molina
459 Kwang-Hyun Kim
Rookie Class Motion
Kwang-Hyun Kim
Tampa Bay Rays Checklist
148 Willy Adames
507 Blake Snell
Rookie Class Motion
Brendan McKay
Yoshi Tsutsugo
Texas Rangers Checklist
518 Shin-Soo Choo
Rookie Class Motion
Nick Solak
Toronto Blue Jays Checklist
78 Bo Bichette
182 Vladimir Guerrero Jr.
327 Cavan Biggio
449 Shun Yamaguchi
Rookie Class Motion
Shun Yamaguchi
Bo Bichette
Variations
78 Bo Bichette
Washington Nationals Checklist
180 Max Scherzer
224 Juan Soto
440 Carter Kieboom
547 Victor Robles
631 Stephen Strasburg
Variations
224 Juan Soto