2020 Topps Game Within the Game Baseball Checklist and Details
2020 Topps Game Within the Game Baseball is another in a growing number of online-only, ongoing sets. But instead of offering new cards daily or even weekly, it is an almost monthly (every 28 days) drop of just one card.
Art and baseball cards go back to Topps' earliest days with the sport. While they continue to use paintings and drawings in a variety of forms in mainstream sets, it's also being used with some online-only sets. Art is an anchor for Topps Living Set, whether it's baseball, soccer or Star Wars. Some of the most popular cards in 2019 Topps 150 Years of Baseball were the ones with paintings by Graig Kreindler.
The art-card combination returns with 2020 Topps Game Within the Game. The set features the work of Paul Jennis. The painting on each card has two different images of each player. There's a sense of realism to his work but the colors and style add some additional modern flair.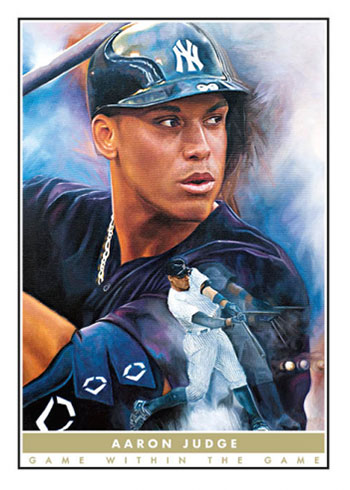 Cards are available through the Topps website for four weeks. The cost is $7.99 for one with discounts available for lots of five ($27.99), ten ($44.99) and 20 ($74.99). Alternatively, cards are available on eBay, sometimes for a discount during the sales window as dealers base their prices on bulk lots.
In addition to the regular cards, Topps also has 10″ by 14″ prints available for $24.99. Each is numbered to 99. There's also a one-of-one Gold print.
2020 Topps Game Within the Game Checklist
New cards will be added as they're released. Print runs will be added when available. If you're looking for a specific card, click on the links to see what's currently available on eBay.
1 Aaron Judge, New York Yankees – 3,089
2 Yordan Alvarez, Houston Astros – 2,235
3 Ken Griffey Jr., Seattle Mariners – 2,215
4 Bo Bichette, Toronto Blue Jays – 2,865
5 Fernando Tatis Jr., San Diego Padres– 2,875
6 Luis Robert, Chicago White Sox – 6,481
7 Shohei Ohtani, Los Angeles Angels– 2,700
8 Gavin Lux, Los Angeles Dodgers – 2,674
9 Bryce Harper, Philadelphia Phillies – 1,624
10 Nico Hoerner, Chicago Cubs – 1,492
11 Nolan Ryan, Texas Rangers – 1,944
12 Mike Trout, Los Angeles Angels – 6,661