2019 Topps Heritage High Number Baseball cards are a continuation of the initial release. But with some early-season roster moves and rookie call-ups, there's more ground to cover with the 1970 Topps Baseball spin.
2019 Topps Heritage High Number Baseball Base Set Basics
The main set picks up right where 2019 Topps Heritage Baseball left off. That means the checklist starts with #501. It keeps going for a total of 225 cards. The final 25 high numbers are short prints.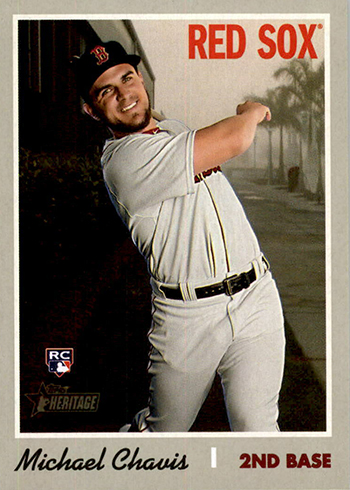 The full base set has just a couple of parallels. Black Border are hobby only and have 50 copies each. Flip Stock cards are scarce, with just five copies. These are a little tricky to spot as they're printed with the sheet upside down. So the slick, bright stock usually found on the front are actually the back of a Flip Stock card. The dull, slightly rough base back makes up the front.
2019 Topps Heritage High Number Baseball has a few other partial parallel sets. These include 50 Chrome cards (/999). These also have Refractors (/570), Black Border (/70), hobby-only Gold Border (/5) and Superfractors (1/1). Hobby also has random hot boxes that have exclusive Purple Refractors.
Other partial parallels include Mini cards (/100) and Silver Metal.
Variations
It's not just the base set that continues on from the main release. 2019 Topps Heritage High Number Baseball has a familiar, and long, list of variation short prints. Themes for these mirror the earlier set.
Action Image and Team Name Color are both hobby exclusives. Others include Errors, Nicknames, Trade and Throwback Uniform, which are traditionally very tough.
2019 Topps Heritage High Number Baseball Autographs and Memorabilia Cards
Heritage is one of those lines where the focus isn't really on autographs and memorabilia cards. That said, they're still a part of the product with one signature or relic per hobby box.
Real One Autographs, one of the hobby's most enduring high-end inserts, returns with more on-card ink using the same general design as the base set. Like usual, the checklist is a mix of current and retired players. Special Edition Red Ink parallels are also available, all numbered to 70 or less.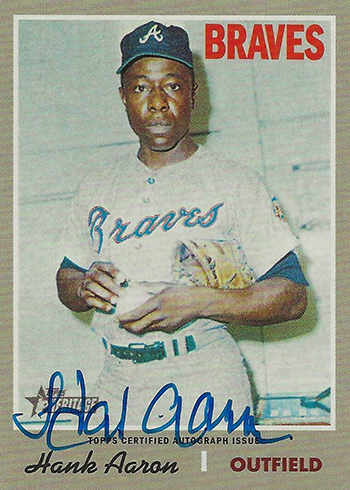 Exclusive to hobby packs are Real One Dual Autographs. These have signatures from a pair of players.
On the memorabilia side, Clubhouse Collection Relics are the most common. These have Gold (/99) and Patch (1/1) versions.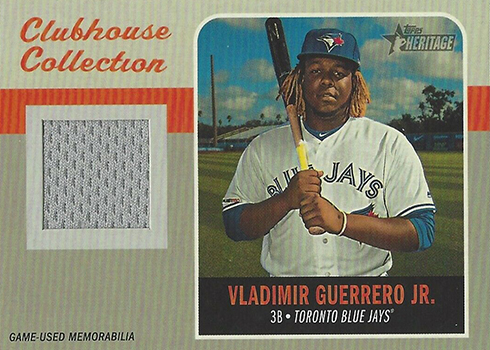 Clubhouse Collection also has Dual (/70), Triple (/25) and Quad (/10) versions with corresponding one-of-one Patch parallels.
Autograph versions for select single and dual cards can be found in hobby packs. Clubhouse Collection Autograph Relics have no more than 25 copies each. Dual Autograph Relics are numbered to 10 or less. Both have Patch (1/1) parallels as well.
Rounding out the 2019 Topps Heritage High Number Baseball hits are one-of-one cut signatures from both baseball players and celebrities from 1970 pop culture.
Inserts
2019 Topps Heritage Baseball has several regular inserts as well.
Award Winners spotlight some of 2018's biggest players and the hardware they captured.
Rookie Performers look to the future with young players not found in 2019 Topps Heritage.
Two players are included on both Combo Cards, and Now and Then. Combo Cards have two players from the same team. Now and Then takes a multi-generational approach with players from 1970 and current stars. Pairings for these come from date-based achievements.
Another batch of 1970 Topps Scratch Offs are in High Number. These mimic the original 1970 inserts.
Hank Aaron gets the tribute treatment with The Hammer's Greatest Hits. These also have autograph versions. These come with on-card signatures and are numbered to 5. Autographs are only in hobby packs.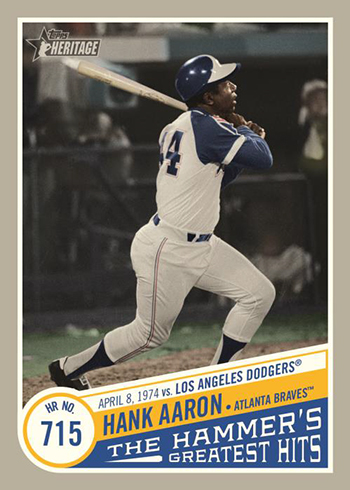 Box Toppers
Every 2019 Topps Heritage High Number Baseball hobby box includes a bonus box topper pack. Cards and items in these are exclusives and come in a few different forms.
1970 Topps Super Baseball are large-format cards. 1970 Topps Posters fold out. According to Topps, Posters have just 70 copies each.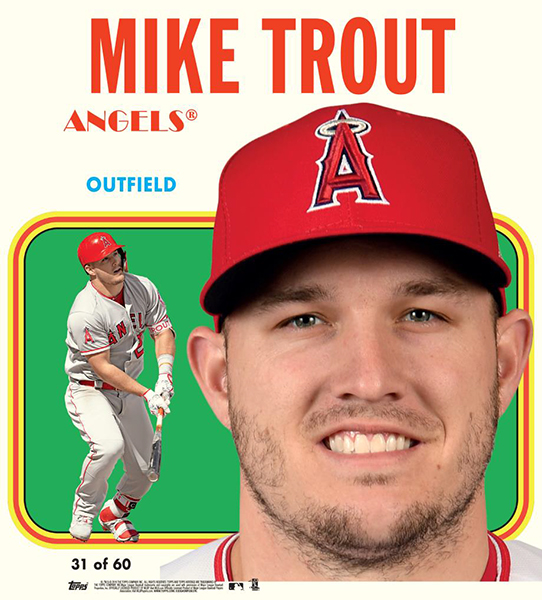 Finally, there are 1970 Topps Originals. These are original 1970 Topps Baseball cards that have a commemorative stamp added to them.
2019 Topps Heritage High Number Baseball cards at a glance:
Cards per pack: 9
Packs per box: 24
Boxes per case: 12
Set size: 225 cards
Release date: August 14, 2019
Buy 2019 Topps Heritage High Number Baseball boxes on eBay:
What to expect in a hobby box:
Autographs, Memorabilia or Relic Cards – 1 Total
2019 Topps Heritage High Number Baseball Checklist
Base
Variations
Autographs
Memorabilia
Inserts
Team Sets