Topps Star Wars Living Set Checklist and Details
When you click on links to various merchants on this site, like eBay, and make a purchase, this can result in this site earning a commission.
Nobody's going to deny that there are a lot of Star Wars movies. The far away universe opens up even more through television and other forms of media. But to populate such a vast universe, you need characters. The Topps Star Wars Living Set is delving into that area like never before with an ongoing trading card set that looks at the 'who' of the franchise through art.
Like other Topps Living Set lines, this release has a beginning but no defined end. In fact, it's not even planned. Each week, a pair of new cards will release on the Topps website. These cards are available for seven days and that's it. The following week comes a new crop and so forth. As the months — and presumably years — go by, the checklist will continue to expand.
These cards are available individually starting at $7.99 or as a two-card lot for $11.99. You can also find them available with pre-sales on the secondary market through places like eBay.
As for the cards themselves, the basis of the design is the blue starfield border of the original 1977 Topps Star Wars set. Rather than using photos, characters have been drawn by Kris Penix. He was joined by Carlos Cabaleiro in July, 2021 with each artist doing one card per week.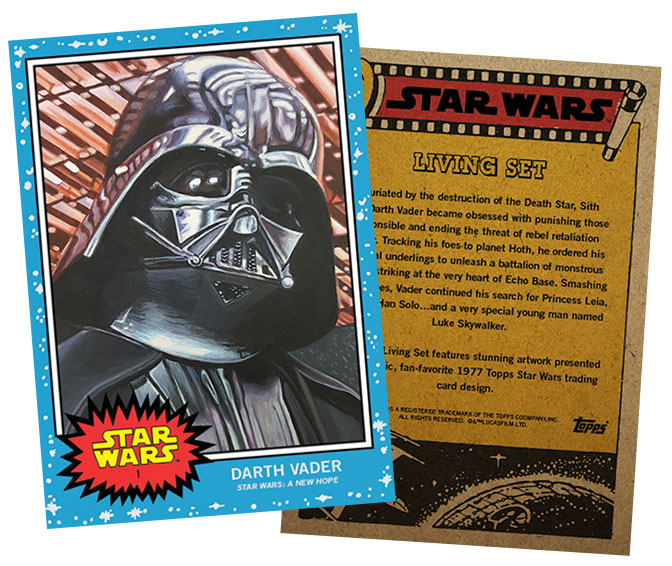 Living Set Rules
There are rules to the Topps Star Wars Living Set (feeding after midnight is optional). Each character will only be used once for each film, live-action TV series and animated series they appear in. So Princess Leia might have multiple cards over time, just one can come from A New Hope. Same for Return of the Jedi where she might be shown as Jabba's prisoner or on Endor but not both.
This is the third take on the Topps Living Set model. Baseball debuted in 2018. UEFA Champions League started in spring, 2019.
Topps Star Wars Living Set Checklist
Checklist
This checklist will expand in the weeks and months ahead. Print runs will be added as they become available. If you're looking for a specific card, click on the link to see what's available on eBay.
1 Darth Vader – A New Hope – 3,909
2 Nien Nunb – Return of the Jedi – 2,888
3 R2-D2 – A New Hope – 2,710
4 Stormtrooper – A New Hope – 2,601
5 Bossk – Return of the Jedi – 2,205
6 Val – Solo – 2,161
7 Queen Amidala – The Phantom Menace – 2,038
8 Death Star Gunner – A New Hope – 1,922
9 Grand Admiral Thrawn – Rebels – 1,760
10 Uncle Owen Lars – A New Hope – 1,721
11 Wedge Antilles – Return of the Jedi – 1,662
12 Dengar – Empire Strikes Back – 1,641
13 Jar Jar Binks – The Phantom Menace – 1,692
14 Moloch – Solo – 1,565
15 Orson Krennic – Rogue One – 1,385
16 Jawa – A New Hope – 1,441
17 Lando Calrissian – The Empire Strikes Back – 1,427
18 Rancor – Return of the Jedi – 1,405
19 Ezra Bridger – Rebels – 1,375
20 Admiral Piett – The Empire Strikes Back – 1,378
21 Han Solo – A New Hope – 2,376
22 Tasu Leech – The Force Awakens – 1,501
23 Mon Mothma – Return of the Jedi – 1,435
24 Wampa – The Empire Strikes Back – 1,454
25 Darth Maul – The Phantom Menace – 1,739
26 Tallie Lintra – The Last Jedi – 1,493
27 Shaak Ti – The Clone Wars – 1,311
28 Quay Tolsite – Solo – 1,307
29 4-LOM – The Empire Strikes Back – 1,356
30 BB-8 – The Force Awakens – 1,502
31 Aurra Sing – The Clone Wars – 1,343
32 Tobias Beckett – Solo – 1,395
33 Wicket W. Warrick – Return of the Jedi – 1,390
34 Scout Trooper – Return of the Jedi – 1,283
35 General Hux – The Force Awakens – 1,170
36 Dak Ratler – The Empire Strikes Back – 1,164
37 Bail Organa – Revenge of the Sith – 1,124
38 Gamorrean Guard – Return of the Jedi – 1,161
39 Sebulba – The Phantom Menace – 1,101
40 Kanan Jarrus – Rebels – 1,086
41 K-2SO – Rogue One – 1,151
42 Echo Base Trooper – The Empire Strikes Back – 1,136
43 Maz Kanata – The Force Awakens – 1,122
44 Captain Needa – The Empire Strikes Back – 1,108
45 Salacious B. Crumb – Return of the Jedi – 1,090
46 Chirrut Imwe – Rogue One – 1,102
47 Rey – The Force Awakens – 1,503
48 Savage Opress – The Clone Wars – 1,114
49 Captain Phasma – The Last Jedi – 1,011
50 Cliegg Lars – Attack of the Clones – 938
51 L3-37 – Solo – 902
52 Nute Gunray – The Phantom Menace – 895
53 General Grievous – Revenge of the Sith – 1,007
54 Saw Gerrera – Rogue One – 967
55 Finn – The Force Awakens – 1,079
56 Imperial Pilots – A New Hope – 1,021
57 Dormé – Attack of the Clones – 2,021
58 The Child – The Mandalorian – 9,663
59 Supreme Leader Snoke – The Force Awakens – 942
60 Plo Koon – Revenge of the Sith – 887
61 Greedo – A New Hope – 1,178
62 Young Anakin Skywalker – The Phantom Menace – 1,207
63 Poe Dameron – The Force Awakens – 1,301
64 Mother Talzin – The Clone Wars – 1,203
65 Watto – The Phantom Menace – 1,259
66 Darth Sidious – Revenge of the Sith – 1,422
67 Jyn Erso – Rogue One – 1,425
68 BB-9E – The Last Jedi – 1,068
69 Max Rebo – Return of the Jedi – 956
70 Count Dooku – The Clone Wars – 946
71 Admiral Ackbar – Return of the Jedi – 1,041
72 Young Boba Fett – Attack of the Clones – 1,158
73 C-3PO – Return of the Jedi – 1,156
74 Lady Proxima – Solo – 959
75 Kylo Ren – The Force Awakens – 1,187
76 Kit Fisto – The Clone Wars – 960
77 Princess Leia – A New Hope – 2,093
78 Lieutenant Connix – The Last Jedi – 1,351
79 Emperor Palpatine – Return of the Jedi – 1,103
80 Porg – The Last Jedi – 1,130
81 Ahsoka Tano – The Clone Wars – 1,293
82 Bala-Tik – The Force Awakens – 992
83 Boba Fett – The Empire Strikes Back – 1,913
84 Tauntaun – The Empire Strikes Back – 1,190
85 Kuiil – The Mandalorian – 1,068
86 Elite Praetorian Guard – The Last Jedi – 1,038
87 Dryden Voss – Solo – 1,003
88 Bistan – Rogue One – 996
89 Paige Tico – The Last Jedi – 996
90 Rose Tico – The Last Jedi – 901
91 Grand Moff Tarkin – A New Hope – 1,042
92 Galen Erso – Rogue One – 1,005
93 Vice Admiral Holdo – The Last Jedi – 1,079
94 General Veers – Return of the Jedi – 979
95 Jango Fett – Attack of the Clones – 1,252
96 Jannah – The Rise of Skywalker – 1,074
97 Hera Syndulla – Rebels – 1,395
98 Jabba the Hutt – Return of the Jedi – 1,131
99 Obi-Wan Kenobi – A New Hope – 2,656
100 Luke Skywalker – A New Hope – 2,833
Checklist – 1,667
101 Royal Guard – Return of the Jedi – 1,255
102 Captain Rex – The Clone Wars – 1,259
103 Babu Frik – The Rise of Skywalker – 1,279
104 Mas Amedda – Revenge of the Sith – 1,105
105 Fennec Shand – The Mandalorian – 1,217
106 Zorii Bliss – The Rise of Skywalker – 1,244
107 Cassian Andor – Rogue One – 1,246
108 Clone Trooper – Revenge of the Sith – 1,257
109 Kazuda "Kaz" Xiono – Resistance – 1,241
110 Aayla Secura – Attack of the Clones – 1,286
111 Peli Motto – The Mandalorian – 1,305
112 Yaddle – The Phantom Menace – 1,328
113 Sabine Wren – Rebels – 1,480
114 Allegiant General Pryde – The Rise of Skywalker – 1,222
115 Baze Malbus – Rogue One – 1,268
116 The Grand Inquisitor – Rebels – 1,228
117 Ben Solo – The Rise of Skywalker – 2,304
118 Rio Durant – Solo – 1,325
119 Bodhi Rook – Rogue One – 1,277
120 Mythrol – The Mandalorian – 1,265
121 Logray – Return of the Jedi – 1,303
122 Chancellor Valorum – The Phantom Menace – 1,208
123 Qi'ra – Solo – 1,737
124 Battle Droid – The Phantom Menace – 1,376
125 Snap Wexley – The Force Awakens – 1,191
126 Bendu – Rebels – 1,114
127 Cara Dune – The Mandalorian – 2,316
128 Klaud – The Rise of Skywalker – 1,421
129 Rebolt – Solo – 1,259
130 Zam Wesell – Attack of the Clones – 1,293
131 Moff Gideon – The Mandalorian – 1,411
132 Torra Doza – Resistance – 1,184
133 Jan Dodonna – A New Hope – 1,209
134 Zuckuss – The Empire Strikes Back – 1,227
135 Beaumont Kin – The Rise of Skywalker – 1,184
136 Pre Vizsla – The Clone Wars – 1,317
137 Cal Kestis – Jedi Fallen Order – 1,278
138 Lobot – The Empire Strikes Back – 1,252
139 Ello Atsy – The Force Awakens – 1,242
140 First Order TIE Fighter Pilot – The Last Jedi – 1,319
141 D-O – The Rise of Skywalker – 1,283
142 Bazine Netal – The Force Awakens – 1,023
143 Tam Ryvora – Resistance – 1,130
144 Second Sister – Jedi Fallen Order – 1,215
145 The Mandalorian – The Mandalorian – 4,283
146 Bo-Katan Kryze – The Clone Wars – 1,352
147 WG-22 – Solo – 1,186
148 The Client – The Mandalorian – 1,291
149 Gardulla the Hutt – The Phantom Menace – 1,240
150 Master Codebreaker – The Last Jedi – 1,215
151 Bo Keevil – Resistance – 1,139
152 Blurrg – The Mandalorian – 1,250
153 Vulptex – The Last Jedi – 1,142
154 IG-88 – The Empire Strikes Back – 1,298
155 Stass Allie – Attack of the Clones – 1,192
156 Xi'an – The Mandalorian – 1,296
157 General Leia Organa – The Last Jedi – 1,740
158 Queen Breha Organa – Revenge of the Sith – 1,328
159 Chopper – Rebels – 1,332
160 Toro Calican – The Mandalorian – 1,269
161 Even Piel – The Phantom Menace – 1,131
162 2-1B Droid – The Empire Strikes Back – 1,148
163 Iden Versio – Battlefront II – 1,286
164 Ap'lek – The Rise of Skywalker – 1,251
165 Bo-Katan Kryze – The Mandalorian – 2,171
166 Commander Cody – The Clone Wars – 1,541
167 Yoda – The Empire Strikes Back – 5,157
168 Mace Windu – The Phantom Menace – 2,985
169 Shmi Skywalker – The Phantom Menace – 1,236
170 Gasgano – The Phantom Menace – 1,217
171 Han Solo – Solo – 1,838
172 Dark Trooper – The Mandalorian – 1,945
173 DJ – The Last Jedi – 1,334
174 Greez – Jedi Fallen Order – 1,309
175 Bantha – A New Hope – 1,667
176 Tusken Raider – A New Hope – 1,811
177 The Armorer – The Mandolorian – 2,277
178 Slowen Lo – The Last Jedi – 1,388
179 Loth-cat – Rebels – 1,544
180 Beru Lars – A New Hope – 1,435
181 Therm Scissorpunch – Solo – 1,519
182 Seventh Sister – Rebels – 1,586
183 Greef Karga – The Mandalorian – 2,112
184 Aftab Ackbar – The Rise of Skywalker – 1,576
185 Aurodia Ventafoli – Solo – 1,731
186 Darth Bane – The Clone Wars – 2,548
187 Alexsandr Kallus – Rebels – 1,504
188 Malakili – Return of the Jedi – 1,466
189 Lando Calrissian – The Rise of Skywalker – 1,786
190 Neeku Vozo – Resistance – 1,416
191 Cobb Vanth – The Mandalorian – 2,048
192 Sagwa – Solo – 1,502
193 Lyra Erso – Rogue One – 1,441
194 Admiral Motti – A New Hope – 1,428
195 Axe Woves – The Mandalorian – 2,155
196 General Quinn – The Rise of Skywalker – 1,372
197 Wes Janson – The Empire Strikes Back – 1,437
198 Emir Wat Tambor – The Clone Wars – 1,376
199 Zeb Orrelios – Rebels – 2,153
200 Chewbacca – A New Hope – 4,906
Checklist – 1,582
201 Zero – The Mandalorian – 1,589
202 Hunter – The Clone Wars – 1,873
203 Caretakers – The Last Jedi – 1,303
204 Sidon Ithano – The Force Awakens – 1,363
205 Boolio – The Rise of Skywalker – 1,296
206 Dr. Pershing – The Mandalorian – 1,440
207 Barriss Offee – The Clone Wars – 1,363
208 FN-2199 – The Force Awakens – 1,430
209 General Rieekan – The Empire Strikes Back – 1,252
210 Boushh – Return of the Jedi – 1,435
211 Pammich Nerro Goode – The Last Jedi – 1,160
212 Tion Medon – Revenge of the Sith – 1,210
213 Chief Chirpa – Return of the Jedi – 1,505
214 Luminara Unduli – Attack of the Clones – 1,340
215 Koska Reeves – The Mandalorian – 2,637
216 Sith Jet Troopers – The Rise of Skywalker – 1,519
217 Mon Mothma – Solo – 1,154
218 EV-9D9 – Return of the Jedi – 1,162
219 Dexter Jettster – Attack of the Clones – 1,102
220 Sarlacc – Return of the Jedi – 1,146
221 C-3PO – The Empire Strikes Back – 2,676
222 Mouse Droid – A New Hope – 1,412
223 Commander Pyre – Resistance – 1,345
224 Padme Amidala – Attack of the Clones – 3,356
225 Captain Panaka – The Phantom Menace – 1,246
226 Clone Commander Bly – The Clone Wars – 1,343
227 Enfys Nest – Solo – 1,514
228 Imperial Juggernaut Driver – The Mandalorian – 1,443
229 Sy Snootles – Return of the Jedi – 1,299
230 GA-97 – The Force Awakens – 1,290
231 Biggs Darklighter – A New Hope – 1,266
232 Lor San Tekka – The Force Awakens – 1,211
233 Bib Fortuna – Return of the Jedi – 1,621
234 Boba Fett – The Mandalorian – 3,700
235 Ponda Baba – A New Hope – 1,374
236 Doctor Cornelius Evazan – A New Hope – 1,382
237 Wrecker – The Bad Batch – 1,680
238 Lieutenant Mitaka – The Force Awakens – 1,258
239 Wuher – A New Hope – 1,233
240 Taun We – Attack of the Clones – 1,314
241 Sio Bibble – The Phantom Menace – 1,234
242 Paploo – Return of the Jedi – 1,442
243 Crosshair – The Bad Batch – 2,137
244 Korkie Kryze – The Clone Wars – 1,343
245 Bultar Swan – Attack of the Clones – 1,200
246 Derek "Hobbie" Klivian – The Empire Strikes Back – 1,173
247 Jabba the Hutt – A New Hope – 2,227
248 Qui-Gon Jinn – The Phantom Menace – 2,470
249 Ephraim Bridger – Rebels – 1,204
250 Stomeroni Starck – The Last Jedi – 1,416
251 Rune Haako – The Phantom Menace – 1,431
252 Tech – The Bad Batch – 1,825
253 King Sanjay Rash – The Clone Wars – 1,142
254 Numa – The Clone Wars – 1,181
255 Echo – The Bad Batch – 1,487
256 Omega – The Bad Batch – 1,606
257 Queen Jamilla – Attack of the Clones – 1,177
258 Tiber Saxon – The Clone Wars – 1,133
259 Eeth Koth – The Phantom Menace – 1,222
260 Garindan – A New Hope – 1,272
261 Major Bren Derlin – The Empire Strikes Back – 1,192
262 Ric Olie – The Phantom Menace – 1,083
263 Momaw Nadon – A New Hope – 1,321
264 Zett Jukassa – Attack of the Clones – 1,223
265 Vober Dand – The Force Awakens – 1,229
266 Moff Tiaan Jerjerrod – Return of the Jedi – 1,192
267 Nix Jerd – The Last Jedi – 1,222
268 R5-D4 – A New Hope – 1,363
269 Orka – Resistance – 1,367
270 Obi-Wan Kenobi – The Phantom Menace – 2,813
271 Mee Deechi – The Clone Wars – 1,195
272 Jon "Dutch" Vander – A New Hope – 1,256
273 Wollivan – The Force Awakens – 1,120
274 Janus Greejatus – Return of the Jedi – 1,134
275 Migs Mayfield – The Mandalorian – 1,797
276 Ody Mandrell – The Phantom Menace – 1,271
277 Clone 99 – The Clone Wars – 1,418
278 Darth Vader – Rebels – 3,449
279 Constable Zuvio – The Force Awakens – 1,248
280 Weeteef Cyu-Bee – Rogue One – 1,244
281 Boba Fett – The Book of Boba Fett – 3,008
282 Garsa Fwip – The Book of Boba Fett – 1,811
283 The Twins – The Book of Boba Fett – 1,774
284 Mayor Mok Shaiz – The Book of Boba Fett – 1,592
285 Rancor – The Book of Boba Fett – 2,044
286 Krrsantan – The Book of Boba Fett – 2,625
287 Lando Calrissian – Rebels – 1,170
288 Hermione Bagwa – Attack of the Clones – 1,396
289 IG-11 – The Mandalorian – 2,034
290 Cad Bane – The Bad Batch – 2,975
291 Commander D'Acy – The Last Jedi – 1,254
292 Passel Argente – The Phantom Menace – 1,278
293 Kel – Resistance – 1,205
294 Jek Lawquane – The Clone Wars – 1,189
295 Omera – The Mandalorian – 1,154
296 Lovey – The Last Jedi – 1,104
297 Han Solo – The Empire Strikes Back – 2,460
298 Korr Sella – The Force Awakens – 1,245
299 Nala Se – The Bad Batch – 2,006
300 Ahsoka Tano – The Mandalorian – 4,649
Checklist – 1,466
301 Vanee – Rogue One – 1,397
302 Offworld Jawa – The Mandalorian – 1,927
303 Fennec Shand – The Bad Batch – 1,863
304 Oppo Rancisis – The Phantom Menace – 1,347
305 Peppi Bow – The Clone Wars – 1,269
306 Caluan Ematt – The Force Awakens – 1,243
307 Barada – Return of the Jedi – 1,476
308 Darth Maul – Rebels – 2,741
309 Tarfful – Revenge of the Sith – 1,346
310 Strono "Cookie" Tuggs – The Force Awakens – 1,258
311 Cid – The Bad Batch – 1,338
312 Tiplee – The Clone Wars – 1,296
313 General Madine – Return of the Jedi – 1,209
314 Luke Skywalker – The Last Jedi – 2,563
315 G2-1B7 – Rogue One – 1,114
316 Kitster – The Phantom Menace – 1,073
317 Figrin D'an – A New Hope – 1,172
318 Chairman Papanoida – The Clone Wars – 970
319 Unkar Plutt – The Force Awakens
320 Ask Aak – Attack of the Clones
321 Aemon Gremm – Solo – 912
322 Burg – The Mandalorian – 960
323 Jar Jar Binks – The Clone Wars – 1,451
324 Kylo Ren – The Force Awakens – 2,081
325 Garven Dreis – A New Hope – 1,202
326 Chancellor Palpatine – Attack of the Clones – 1,407
327 Gungi – The Clone Wars – 1,244
328 Admiral Statura – The Force Awakens
329 Wald – The Phantom Menace – 1,192
330 General Merrick – Rogue One – 1,245
331 Kalo'ne – The Rise of Skywalker – 1,160
332 Pao – Rogue One – 1,175
333 Sabé – The Phantom Menace – 1,387
334 Edrio Two Tubes – Rogue One – 1,227
335 Admiral Griss – The Rise of Skywalker – 1,142
336 Quinlan Vos – The Clone Wars – 1,261
337 Ki-Adi-Mundi – The Phantom Menace – 1,321
338 Drell – Resistance – 1,284
339 Boss Nass – The Phantom Menace – 1,284
340 Jek Porkins – A New Hope – 1,285
341 Princess Leia Organa – Obi-Wan Kenobi – 2,475
342 Reva – Obi-Wan Kenobi – 1,840
343 Kawlan Roken – Obi-Wan Kenobi – 1,263
344 Tala Durith – Obi-Wan Kenobi – 1,257
345 Klaatu – Return of the Jedi – 1,229
346 Daultay Dofine – The Phantom Menace – 1,215
347 Ilco Munica – The Force Awakens – 1,181
348 AZI-3 – The Bad Batch – 1,205
349 R3-S1 – Rogue One – 1,281
350 Clone Commander Jet – The Clone Wars – 1,330
351 Luke Skywalker – Obi-Wan Kenobi – 1,508
352 Uncle Owen Lars – Obi-Wan Kenobi – 1,254
353 DT-F16 – Rebels – 1,165
354 Gor Koresh – The Mandalorian – 1,131
355 Haja Estree – Obi-Wan Kenobi – 1,434
356 Darth Vader – Obi-Wan Kenobi – 2,788
357 BD-1 – Fallen Order – 1,146
358 Temiri Blagg – The Last Jedi – 1,080
359 Lott Dod – The Phantom Menace – 1,085
360 Elan Sleazebaggano – Attack of the Clones – 1,091
361 Ferry Droid – The Mandalorian – 1,257
362 Mace Windu – The Clone Wars – 1,335
363 Poggle the Lesser – Attack of the Clones – 1,194
364 Brother Viscus – The Clone Wars – 1,194
365 TC-14 – The Phantom Menace – 1,139
366 Sly Moore – Attack of the Clones – 1,111
367 Oma Tres – The Rise of Skywalker – 1,227
368 Kiera Swan – The Clone Wars – 1,113
369 Ninth Sister – Fallen Order – 1,067
370 Rystáll Sant – Return of the Jedi – 1,045
371 Twi'lek Majordomo – The Book of Boba Fett – 1,089
372 Adi Gallia – The Phantom Menace – 1,073
373 Lieutenant Bolandin – Solo – 1,107
374 Droopy McCool – Return of the Jedi – 1,194
375 Jaycris Tubbs – The Last Jedi – 1,110
376 Rancor Keeper – The Book of Boba Fett – 1,374
377 Qui-Gon Jinn – The Clone Wars – 1,272
378 Syke – Solo – 1,102
379 Trudgen – The Force Awakens – 1,126
380 King Manchucho – The Clone Wars – 1,090
381 Cassian Andor – Andor – 2,189
382 Luthen Rael – Andor – 1,736
383 Mon Mothma – Andor – 1,308
384 Syril Karn – Andor – 1,229
385 R23-X9 – Resistance – 1,102
386 The Modifier – Book of Boba Fett – 1,149
387 Oniho Zaya – The Last Jedi – 805
388 Freck – Obi-Wan Kenobi – 1,018
389 Pyke Boss – Book of Boba Fett – 1,040
390 Queen Apailana – Revenge of the Sith – 1,071
391 Lortha Peel – Book of Boba Fett – 1,306
392 Luke Skywalker – The Mandalorian – 2,758
393 Captain Canady – The Last Jedi – 1,068
394 BNI-393 – The Clone Wars – 1,083
395 General Pong Krell – The Clone Wars – 1,183
396 Todo 360 – The Bad Batch – 1,141
397 Yoda – The Clone Wars – 2,087
398 Lagos – The Clone Wars – 1,221
399 Kino Loy – Andor – 1,887
400 Din Djarin – The Mandalorian – 4,024
Checklist #301-400
401 Captain Merumeru – Revenge of the Sith – 1,125
402 Fixer – Book of Boba Fett – 1,094
403 Praster Ommlen – The Force Awakens – 1,018
404 Beezer Fortuna – Solo – 1,026
405 Teeka – Obi-Wan Kenobi – 1,105
406 Glaucus – Solo – 1,095
407 Gorg – Resistance – 1,042
408 Dokk Strassi – Book of Boba Fett – 1,064
409 Moroff – Rogue One – 1,036
410 Otua Blank – The Clone Wars – 1,027
411 Eopie – Obi-Wan Kenobi – 1,014
412 Morley – The Clone Wars – 1,001
413 Worrt – Book of Boba Fett – 1,081
414 Hurid-327 – The Force Awakens – 1,103
415 Pendra Siliu – Rogue One – 1,011
416 Shu Mai – Attack of the Clones – 982
417 The Grand Inquisitor – Obi-Wan Kenobi – 1,306
418 Captain Lang – The Mandalorian – 1,139
419 Lop – Visions: Lop and Ocho – 1,140
420 Jay – Visions: Tatooine Rhapsody – 1,087
421 Fifth Brother Inquisitor – Obi-Wan Kenobi – 1,094
422 B'Omarr Monk Spider – Book of Boba Fett – 1,057
423 Lark and Jonk – Solo – 1,089
424 Qui-Gon Jinn – Obi-Wan Kenobi – 1,323
425 Cad Bane – Book of Boba Fett – 1,539
426 Morai – Rebels – 1,200
427 Artillery Stormtrooper – The Mandalorian – 1,116
428 Camie – Book of Boba Fett – 1,072
429 Purge Troopers – Obi-Wan Kenobi – 1,062
430 Son – The Clone Wars – 1,105
431 Am – Visions – 1,101
432 Karre – Visions – 1,095
433 Davo Sculdun – Andor – 992
434 Ulaf – Andor – 995
435 Anooba – The Clone Wars – 958
436 Krismo Sodi – The Clone Wars – 958
437 Katooni – The Clone Wars – 1,013
438 Zatt – The Clone Wars – 1,047
439 Maarva Andor – Andor – 1,061
440 Doctor Quadpaw – Andor – 950
441 Clone Commander Mayday – The Bad Batch – 1,040
442 Training Remote – Book of Boba Fett – 1,150
443 Paz Vizsla – The Mandalorian – 1,286
444 Ice Spider – The Mandalorian – 1,024
445 Dewback – A New Hope – 985
446 Tatooine Sand Beast – Book of Boba Fett – 966
447 Leida Mothma – Andor – 930
448 Lieutenant Gorn – Andor – 915
449 Senator Gani Riduli – The Bad Batch – 889
450 Riyo Chuchi – The Bad Batch – 897
451 Vane – The Mandalorian – 1,007
452 High Magistrate Greef Karga – The Mandalorian – 1,056
453 Bail Organa – The Bad Batch
454 Ordo Moon Dragon – The Bad Batch
455 Reek – Attack of the Clones
456 IG-12 – The Mandalorian
By Film/Show
Star Wars Living Set – A New Hope
Star Wars Living Set – The Empire Strikes Back
Star Wars Living Set – Return of the Jedi
Star Wars Living Set – The Phantom Menace
Star Wars Living Set – Attack of the Clones
Star Wars Living Set – Revenge of the Sith
Star Wars Living Set – The Force Awakens
Star Wars Living Set – The Last Jedi
Star Wars Living Set – The Rise of Skywalker
Star Wars Living Set – Rogue One
Star Wars Living Set – Solo
Star Wars Living Set – The Mandalorian
Star Wars Living Set – The Book of Boba Fett
Star Wars Living Set – Obi-Wan Kenobi
Star Wars Living Set – Andor
Star Wars Living Set – The Clone Wars
Star Wars Living Set – Rebels
The Bad Batch
Resistance
Star Wars Living Set – Visions
Battlefront II
Jedi Fallen Order