2015 Topps Star Wars Galactic Connexions Series 2 Checklist and Details
Those Star Wars discs that are equal parts game and collectible (with a hint of POGs) are back. And like the first set, 2015 Star Wars Galactic Connexions Series 2 is exclusive to Walmart.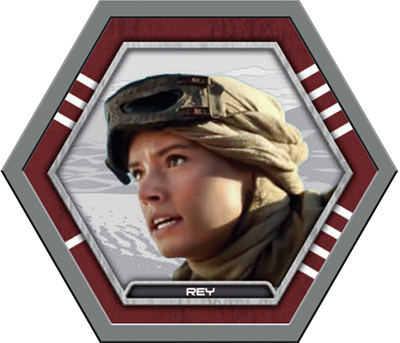 The second set adds 75 new discs, all available with several different rarity combinations based on both the type of frame and image sticker. On top of those are a handful of even rarer versions available for select discs.
Star Wars Connexions is intended to be a game, sort of like Dominoes. Each of the discs has a points assigned to several of its sides. Players take turns laying their discs by beating scores on competing sides.
Discs are sold in both starter sets and booster packs. It's similar to trading cards in that you don't know which discs you're getting. There's also the rarity. Each of the 75 main discs has a minimum of three different plastic frames: grey (common), black (uncommon) and clear (rare). Within those, each frame has basic stickers, holofoil stickers and pattern foil stickers. So right there, all 75 base discs have nine different versions.
From there are a handful of additional frames, all of which are considered ultra rare. C-3PO Gold, Death Star Silver, Jabba Slime Green and Lightsaber Red all return. New to 2015 Topps Star Wars Galactic Connexions Series 2 are additional Lightsaber Purple frames. These ultra-rare discs have only one sticker type but brings the total for all 75 base discs up to 14 combinations.
Select discs have additional ultra rare versions. Luke Skywalker, Darth Vader, Anakin Skywalker, Lando Calrissian and Obi-Wan Kenobi come with Battle Damaged. Han Solo and Boba Fett have a disc that's inspired by the Slave-1. Finally, Darth Sidious has an Imperial Red disc.
But wait, there's more! All the base discs plus the ten promo discs have Blue Starfield versions available through in-store giveaways.
If you want a full rundown on how to play, here's a copy of the Star Wars Galactic Connexions rules. Topps also has a website dedicated to the product.
2015 Topps Star Wars Galactic Connexions Series 2 releases on Friday, December 18.
2015 Topps Star Wars Galactic Connexions Series 2 Checklist
Disc Types (all base discs):
Common: Gray Standard, Gray Holographic Foil, Gray Pattern Holographic Foil
Uncommon: Black Standard, Black Holographic Foil, Black Pattern Holographic Foil
Rare: Clear Standard, Clear Holographic Foil, Clear Pattern Holographic Foil
Ultra Rare: Jabba Slime Green, Lightsaber Red, Lightsaber Purple, Death Star Silver, C-3P0 Gold
Ultra Rare for select discs:
Battle Damaged – Luke Skywalker, Darth Vader, Anakin Skywalker, Lando Calrissian and Obi-Wan Kenobi
Slave-1: Han Solo, Boba Fett
Imperial Red: Darth Sidious
24K Gold: Princess Leia as Boushh
Walmart Giveaways:
Blue Starfield – all discs plus promo discs
Base Discs
1 Luke Skywalker
2 Darth Vader
3 Han Solo
4 Princess Leia Organa
5 C-3PO
6 R2-D2
7 Obi-Wan Kenobi
8 Anakin Skywalker
9 Boba Fett
10 Lando Calrissian
11 Rey
12 Finn
13 Poe Dameron
14 Kylo Ren
15 Captain Phasma
16 BB-8
17 Flametrooper
18 Ezra Bridger
19 Kanan Jarrus
20 Sabine Wren
21 Hera Syndulla
22 Zeb
23 Chopper
24 The Inquisitor
25 Agent Kallus
26 Ahsoka Tano
27 TIE Fighter
28 X-Wing Fighter
29 Millennium Falcon
30 Y-Wing Fighter
31 AT-AT
32 Snowspeeder
33 Death Star
34 Figrin D'an
35 Boss Nass
36 Yaddle
37 Orn Free Taa
38 FX-7
39 Rancor
40 Pons Limbic
41 Tessek
42 Darth Sidious
43 Sy Snootles
44 General Tagge
45 Paploo
46 Ask Aak
47 Stass Allie
48 Ben Quadinaros
49 Sly Moore
50 Bom Vimdin
51 K-3PO
52 Jek Porkins
53 Malakili
54 Sandtroopers
55 Snowtrooper
56 AT-AT Driver
57 Salacious Crumb
58 General Dodonna
59 Biggs Darklighter
60 Wuher
61 Zuckuss
62 4-LOM
63 General Madine
64 Max Rebo
65 Captain Antilles
66 Orrimaarko
67 Owen Lars
68 Battle Droid
69 Super Battle Droid
70 Ki-Adi-Mundi
71 Saesee Tiin
72 Luminara Unduli
73 Agen Kolar
74 Wat Tambor
75 Sabé
Promo Discs
P1 Captain Typho
P2 Ric Olié
P3 Clone Captain Rex
P4 Darth Bane
P5 Lok Durd
P6 Cad Bane
P7 Adi Gallia
P8 Lama Su
P9 Yarael Poof
P10 Dormé