Topps UCL Living Set Soccer Checklist, Print Runs and Details
When you click on links to various merchants on this site, like eBay, and make a purchase, this can result in this site earning a commission.
Topps UCL Living Set takes a similar approach as its baseball counterpart. At its essence, that means this is an ongoing set with no planned end. It should span years. But there are also some other defining factors as well.
The set is available exclusively from Topps' family of websites. The US, UK and German sites all carry the line. Each Thursday, a new batch of three Topps UCL Living Set cards goes on sale. They're available for one just week. Like other on-demand sets, once that time runs out, sales are closed. Print runs equal what's initially bought. That means different cards will have different print runs. Sometimes, those numbers can swing by a large amount.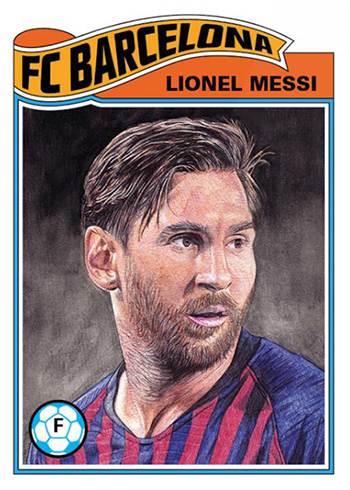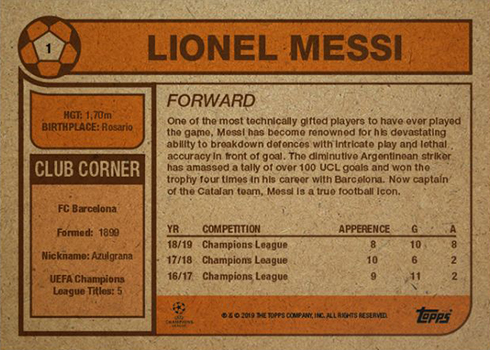 Another feature of the Topps UEFA Champions League Living Set is that players only get one card for the duration of the line. The exception comes when a player changes teams. They then become eligible to have a new card with their new squad.
The design is based on 1978-79 Topps Soccer. Like baseball, images are done with original art courtesy of portraits by Musa Drammeh. Here's a look at him creating the first card in the set, Lionel Messi.
An alternative to ordering direct from Topps is eBay. Some sellers will list cards during the sales window for less than buying a single card from the card maker's site. These sellers buy in bulk and pass along the discount.
Topps UCL Champions League Living Set Checklist
This set will continue to expand in the weeks and months ahead.
1 Lionel Messi, FC Barcelona – 3,512
2 Romelu Lukaku, Manchester United – 1,298
3 Weston McKennie, FC Schalke 04 – 1,359
4 Sergio Ramos, Real Madrid – 1,077
5 Leroy Sané, Manchester City – 1,010
6 Christian Pulisic, Borussia Dortmund – 1,438
7 Neymar, Paris Saint-Germain – 1,100
8 Jordan Henderson, Liverpool FC – 804
9 Mats Hummels, FC Bayern Munchen – 761
10 Ole Gunnar Solskjaer, Manchester United – 688
11 Toby Alderweireld, Tottenham Hotspur – 632
12 Jan Oblak, Club Atletico De Madrid – 632
13 Sergio Busquets, FC Barcelona – 614
14 Gianluigi Buffon, Paris Saint-Germain – 651
15 Virgil van Dijk, Liverpool FC – 775
16 Vincent Kompany, Manchester City – 438
17 Matthijs de Ligt, AFC Ajax – 467
18 Juan Mata, Manchester United – 435
19 Axel Witsel, Borussia Dortmund – 434
20 Toni Kroos, Real Madrid – 426
21 Pepe, FC Porto – 453
22 Dries Mertens, SSC Napoli – 411
23 Sadio Mane, Liverpool FC – 466
24 Gerard Pique, FC Barcelona – 418
25 Julian Draxler, Paris Saint-Germain – 462
26 Ederson, Manchester City – 463
27 Robert Lewandowski, FC Bayern Munchen – 510
28 Ivan Perisic, FC Internazionale Milano – 470
29 Eden Hazard, Real Madrid – 642
30 Koke, Club Atletico De Madrid – 471
31 Thorgan Hazard, Borussia Dortmund – 268
32 Manuel Neuer, FC Bayern Munchen – 272
33 Harry Kane, Tottenham Hotspur – 345
34 Casemiro, Real Madrid – 426
35 Julian Brandt, Borussia Dortmund – 363
36 Phil Foden, Manchester City – 413
37 Thibaut Courtois, Real Madrid – 393
38 Niklas Sule, FC Bayern Munchen – 387
39 Marcos Alonso, Chelsea FC – 387
40 Kingsley Coman, FC Bayern Munchen – 424
41 Sergui Aguero, Manchester City – 448
42 Olivier Giroud, Chelsea FC – 415
43 Riyad Mahrez, Manchester City – 384
44 Lukasz Piszczek, Borussia Dortmund – 390
45 Frenkie De Jong, FC Barcelona – 444
46 Luka Modric, Real Madrid – 553
47 Steven Gerrard, Liverpool FC – 674
48 Frank Lampard, Chelsea FC – 541
49 Benjamin Mendy, Manchester City – 369
50 Diego Costa, Club Atletico De Madrid – 372
51 Andrew Robertson, Liverpool FC – 419
52 Jose Fonte, Lille OSC – 357
53 Gareth Bale, Real Madrid – 400
54 Georginio Wijnaldum, Liverpool FC – 406
55 Cesar Azpilicueta, Chelsea FC – 333
56 Presnel Kimpembe, Paris Saint-Germain – 324
57 Heung-Min Son, Tottenham Hotspur – 454
58 Paco Alcacer, Borussia Dortmund – 194
59 Fernandinho, Manchester City – 191
60 David Alaba, FC Bayern Munchen – 197
61 Davinson Sanchez, Tottenham Hotspur – 227
62 Giorgio Chiellini, Juventus FC – 220
63 Juan Bernat, Paris Saint-Germain – 195
64 Pizzi, SL Benfica – 194
65 Ryan Babel, Galatasaray – 194
66 Memphis Depay, Olympique Lyonnais – 195
67 Milan Skriniar, FC Internazionale Milano – 199
68 Delle Alli, Tottenham Hotspur – 236
69 Blaise Matuidi, Juventus FC – 216
70 Leonardo Bonucci, Juventus FC – 201
71 Trent Alexander-Arnold, Liverpool FC – 257
72 N'Golo Kante, Chelsea FC – 227
73 Ademola Lookman, RB Leipzig – 212
74 Kerem Demirbay, Bayer 04 Leverkusen – 211
75 Karim Benzema, Real Madrid – 223
76 Willian, Chelsea FC – 188
77 Edinson Cavani, Paris Saint-Germain – 206
78 Lucas Moura, Tottenham Hotspur – 191
79 Loic Remy, LOSC Lille – 173
80 Bernando Silva, Manchester City – 201
81 Jose Callejon, SSC Napoli – 176
82 Serge Gnabry, FC Bayern Munchen – 185
83 Kevin De Bruyne, Manchester City – 215
84 Roberto Firmino, Liverpool FC – 236
85 Eric Dier, Tottenham Hotspur – 145
86 Raheem Sterling, Manchester City – 169
87 Thiago Silva, Paris Saint-Germain – 138
88 Luka Jovic, Real Madrid – 116
89 Xherdan Shaqiri, Liverpool FC – 126
90 Pedro, Chelsea FC – 116
91 Marco Asensio, Real Madrid – 149
92 Marco Veratti, Paris Saint-Germain – 143
93 Yussuf Poulsen, RB Leipzig – 150
94 Gabriel Jesus, Manchester City – 156
95 Alisson, Liverpool FC – 207
96 Marcelo, Real Madrid – 184
97 Christian Eriksen, Tottenham Hotspur – 153
98 Timothy Weah, LOSC Lille – 169
99 Angel Di Maria, Paris Saint-Germain – 156
100 Kylian Mbappe, Paris Saint-Germain – 402
101 Kyle Walker, Manchester City – 156
102 Kevin Volland, Bayer 04 Leverkusen – 141
103 Naby Keita, Liverpool FC – 174
104 Ander Herrera, Paris Saint-Germain – 134
105 Isco, Real Madrid – 136
106 Nicolas Otamendi, Manchester City – 161
107 Hugo Lloris, Tottenham Hotspur – 184
108 Marquinhos, Paris Saint-Germain – 161
109 Phillippe Coutinho, FC Bayern Munchen – 161
110 Tammy Abraham, Chelsea FC – 165
111 Jadon Sancho, Borussia Dortmund – 211
112 Thomas Lemar, Club Atletico De Madrid – 118
113 Alex Oxlade-Chamberlain, Liverpool FC – 157
114 Ethan Ampadu, RB Leipzig – 142
115 Jan Vertonghen, Tottenham Hotspur – 141
116 Roman Burki, Borussia Dortmund – 132
117 Rodrygo, Real Madrid – 181
118 Mauro Icardi, Paris Saint-Germain – 112
119 Jorginho, Chelsea FC – 117
120 Joshua Kimmich, FC Bayern Munchen – 127
121 Rodri, Manchester City – 132
122 Thiago Mendes, Olympique Lyonnais – 118
123 Kieran Trippier, Club Atletico De Madrid – 118
124 Dani Carvajal, Real Madrid – 117
125 Antonio Rudiger, Chelsea FC – 118
126 Tyler Adams, RB Leipzig – 127
127 Benjamin Pavard, FC Bayern Munchen – 111
128 Joe Gomez, Liverpool FC – 133
129 Serge Aurier, Tottenham Hotspur – 114
130 Idrissa Gueye, Paris Saint-Germain – 120
131 David Silva, Manchester City – 137
132 Vinicius Junior, Real Madrid – 206
133 Javi Martinez, FC Bayern Munchen – 127
134 Oleksandr Zinchenko, Manchester City – 116
135 Joao Felix, Club Atletico De Madrid – 376
136 Pablo Sarabia, Paris Saint-Germain – 122
137 Nacho, Real Madrid – 126
138 Ilkay Gundogan, Manchester City – 127
139 Houssem Aouar, Olympique Lyonnais – 107
140 Peter Gulasci, RB Leipzig – 107
141 Thomas Muller, FC Bayern Munchen – 124
142 Corentin Tolisso, FC Bayern Munchen – 111
143 Harry Winks, Tottenham Hotspur – 120
144 Thomas Meunier, Paris Saint-Germain – 110
145 Angelino, RB Leipzig – 104
146 Alvaro Morata, Club Atletico De Madrid – 106
147 Jason Denayer, Olympique Lyonnais – 104
148 John Stones, Manchester City – 99
149 Jerome Boateng, FC Bayern Munchen – 102
150 Angel Correa, Club Atletico De Madrid – 96
151 Erik Lamela, Tottenham Hotspur – 132
152 Emil Forsberg, RB Leipzig – 119
153 Eric Maxim Choupo-Moting, Paris Saint-Germain – 117
154 Erling Haaland, Borussia Dortmund – 1,988
155 Leon Goretzka, FC Bayern Munchen – 183
156 Thomas Partey, Club Atletico De Madrid – 140
157 Moussa Dembele, Olympique Lyonnais – 130
158 Dayot Upamecano, RB Leipzig – 122
159 Giovani Lo Celso, Tottenham Hotspur – 134
160 Aymeric Laporte, Manchester City – 138
161 Yannick Carrasco, Club Atletico De Madrid – 129
162 Luis Suarez, FC Barcelona – 203
163 Layvin Kurzawa, Paris Saint-Germain – 126
164 Joshua Zirkzee, FC Bayern Munchen – 601
165 Konrad Laimer, RB Leipzig – 149
166 Moussa Sissoko, Tottenham Hotspur – 136
167 Jeff Reine-Adelaide, Olympique Lyonnais – 124
168 Jose Gimenez, Club Atletico De Madrid – 128
169 Alphonoso Davies, FC Bayern Munchen – 3,217
170 Abdou Diallo, Paris Saint-Germain – 153
171 Joao Cancelo, Manchester City – 155
172 Lorenzo Insigne, SSC Napoli – 186
173 Patrik Schick, RB Leipzig – 147
174 Federico Valverde, Real Madrid – 266
175 Marcos Llorente, Club Atletico De Madrid – 156
176 Tanguy Ndombele, Tottenham Hotspur – 184
177 Ivan Perisic, FC Bayern Munchen – 184
178 Anthony Lopes, Olympique Lyonnais – 141
179 Leandro Paredes, Paris Saint-Germain – 141
180 Giovanni Reyna, Borussia Dortmund – 5,867
181 Hakim Ziyech, AFC Ajax – 207
182 Marcel Sabitzer, RB Leipzig – 167
183 Gedson Fernandes, Tottenham Hotspur – 274
184 Kai Havertz, Bayer 04 Leverkusen – 5,749
185 Stefan Savic, Club Atletico De Madrid – 164
186 Maxwel Cornet, Olympique Lyonnais – 161
187 Thilo Kehrer, Paris Saint-Germain –
188 Juan Foyth, Tottenham Hotspur –
189 Christopher Nkunku, RB Leipzig –
190 Renan Lodi, Club Atletico De Madrid –
191 Thiago Alcantara, FC Bayern Munchen –
192 Bertrand Traore, Olympique Lyonnais –