2019 Topps 150 Years of Baseball Arrives as Weekly Online-Exclusive Release
2019 Topps 150 Years of Baseball is a weekly series of online-exclusive cards that explore the history of the game. The checklist takes a multi-generational approach and has several themes.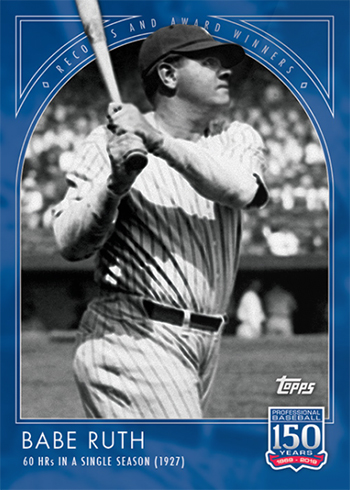 Each Tuesday, a new batch of three cards is made available on the Topps website. Cards are available individually for 7.99 or as a bundle with all three cards for $14.99. Similar to Topps Living Set, these three cards are available for one week. At the end of the sales window, print runs are determined and cards are sent out.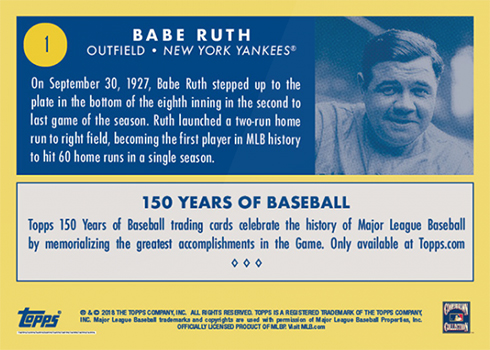 2019 Topps 150 Years of Baseball cards have a few different themes, so not every one is in play each week. They are: Historic Moments, Records and Award Winners and Rookie Campaigns.
Artist Renditions use original art featuring baseball's greats. The first in the set came from renowned painter Graig Kreindler.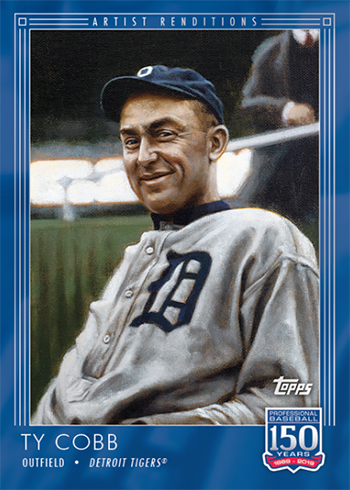 Some cards also have autographs in additional to the regular version.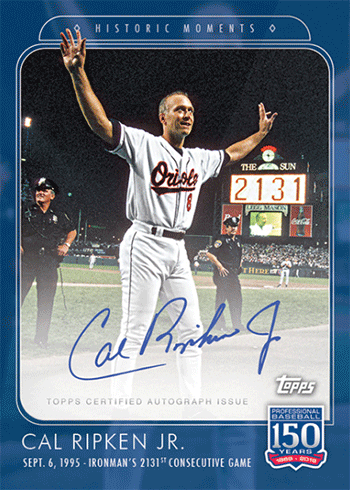 This set is separate from the separate 150 Years of Professional Baseball inserts found in the flagship 2019 Topps Baseball line. While there is some overlap in themes and players, the designs and checklists are different.
2019 Topps 150 Years of Baseball Checklist
Checklist will grow in the weeks and months ahead. If you're looking for a specific card, click on the links to see what's currently available on eBay.
March 5-12
1 Babe Ruth, New York Yankees – Records and Award Winners: 60 HRs in a Single Season (1927) – 2,611
2 Sandy Koufax, Los Angeles Dodgers – Historic Moments: Kofax Pitches a Perfect Game (September 9, 1965) – 2,415
3 Mike Trout, Los Angeles Angels – Rookie Campaigns (2012) – 2,741
March 12-19
4 Nolan Ryan, Houston Astros – Records and Award Winners: MLB Record 5,714 Career Strikeouts – 1,603
5 Ichiro, Seattle Mariners – Historic Moments: Japanese Star Makes MLB Debut (April 2, 2001) – 1,555
6 Mark McGwire, Oakland Athletics – Rookie Campaigns (1987) – 1,208
March 19-26
7 Carl Yastrzemski, Boston Red Sox – Records and Award Winners: 1967 American League MVP – 920
8 Cal Ripken Jr., Baltimore Orioles – Historic Moments: Ironman's 2131st Consecutive Game (Sept. 6, 1995) – 1,030
9 Willie McCovey, San Francisco Giants – Rookie Campaigns (1959) – 855
Autographs
8A Cal Ripken Jr., Baltimore Orioles – /99, Green /49, Purple /25, Red /10, Orange /5, Gold 1/1
March 26-April 2
10 George Brett, Kansas City Royals – Records and Award Winners: 1980 American League MVP – 1,265
11 Hank Aaron, Atlanta Braves – Historic Moments: 715th HR Breaks Ruth's Record in Home Opener (April 8, 1974) – 1,306
12 Bryce Harper, Washington Nationals – Rookie Campaigns (2012) – 1,261
April 2-9
13 Dwight Gooden, New York Mets – Records and Award Winners: 1985 National League Cy Young – 1,064
14 Rickey Henderson, Oakland Athletics – Historic Moments: Breaks Stolen Base Record (May 1, 1991) – 1,104
15 Johnny Bench, Cincinnati Reds – Rookie Campaigns (1968) – 1,100
April 9-16
16 Roger Maris, New York Yankees – Records and Award Winners: 61 HRs Sets Single-Season Record (1961) – 1,174
17 Jackie Robinson, Brooklyn Dodgers – Historic Moments: Robinson Breaks the Color Barrier (April 15, 1947) – 1,231
18 Albert Pujols, St. Louis Cardinals – Rookie Campaigns (2001) – 1,104
April 16-23
19 Bob Gibson, St. Louis Cardinals – Records and Award Winners: Modern-Era Best 1.12 ERA (1968) – 1,013
20 Carlton Fisk, Boston Red Sox – Historic Moments: Waves Walk-Off HR Fair in Game 6 of World Series (Oct. 21, 1975) – 1,042
21 Ty Cobb, Detroit Tigers – Artist Renditions – 1,549
April 23-30
22 Ken Griffey Jr., Seattle Mariners – Records and Award Winners: AL MVP Award Winner (1997) – 1,145
23 Bill Mazeroski, Pittsburgh Pirates – Historic Moments: World Series Game 7 Walk-Off HR (October 13, 1960) – 960
24 Aaron Judge, New York Yankees – Rookie Campaigns (2017) – 1,342
Autographs
22A Ken Griffey Jr., Seattle Mariners – /99, Green /49, Purple /25, Red /10, Orange /5, Gold 1/1
April 30-May 7
25 Stan Musial, St. Louis Cardinals – Records and Award Winners: NL MVP Award Winner (1943) – 1,019
26 Miguel Cabrera, Detroit Tigers – Historic Moments: Cabrera Earns the First Triple Crown in 45 Years (October 3, 2012) – 1,039
27 Lou Gehrig, New York Yankees – Artist Renditions by Graig Kreindler – 1,579
May 7-14
28 Pedro Martinez, Boston Red Sox – Records and Award Winners: AL Cy Young Award Winner (2000) – 816
29 Enos Slaughter, St. Louis Cardinals – Historic Moments: Scores Go-Ahead Run from 1st in World Series Game 7 (Oct. 15, 1946) – 713
30 Tim Raines, Montreal Expos – Rookie Campaigns (1981) – 809
May 14-21
31 Steve Carlton, Philadelphia Phillies – Records and Award Winners: NL Cy Young Award Winner (1972) –
32 Chicago Cubs – Historic Moments: End Longest World Series Title Drought in History (November 2, 2016) –
33 Roberto Clemente, Pittsburgh Pirates – Artist Renditions by Graig Kreindler –
2019 Topps 150 Years of Baseball Gallery