2020 Donruss Optic Baseball cards bring another round of bright colors, a deep list of parallels, autographs and its customary mix of modern nostalgia. As with past years, a lot of the product revolves around giving the main Donruss set a chromium makeover. But it's not just a new take on an existing set. Several additional elements are on the checklist as well.
One of the similarities it has with 2020 Donruss Baseball is the variety in every box. In addition to a pair of autographs, hobby boxes have 20 inserts and ten Prizms parallels.

2020 Donruss Optic Baseball Base Set Basics
Optic has a main set that totals 200 cards. Veterans make up half of that. Youngsters get plenty of space with 66 Rated Rookies. Thirty Diamond Kings and four All-Stars round things out.
But that's really just the beginning. Every card has more than a dozen different Prizms parallels that showcase a broad rainbow of colors and parallels.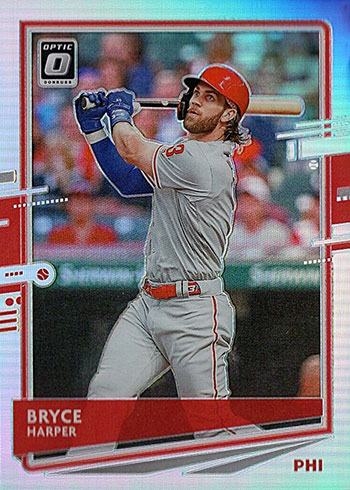 To chase all of these parallels, you'll have to look beyond just hobby. Multiple retail configurations have their own exclusives. Blaster boxes have three Pink parallels. Included in every fat pack are four Lime Green cards. Mega boxes come with ten packs and eight eight Carolina Blue and White parallels not available anywhere else.
Autographs and Inserts
Rated Rookies Signatures feature more than 60 different signers, all with on-card autographs. An adaptation of the base set design, these also come with additional parallels.
In a similar vein are Rated Prospects Signatures. These highlight autographs from more than a dozen players still working their way through the minors.
Highlights Signatures put a modern spin on a retro design. This is one of the places where hard-signed ink from veterans like Juan Soto and Aaron Judge can be found.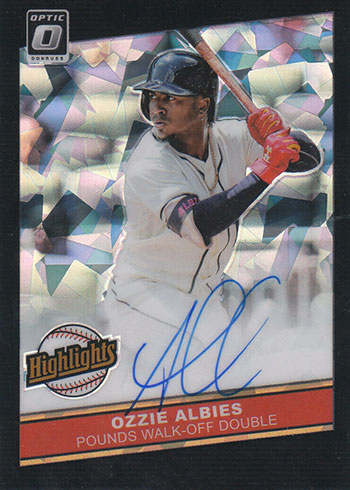 Other autograph themes include Fireworks Signatures, Optic Autographs and Retro 1986 Signatures.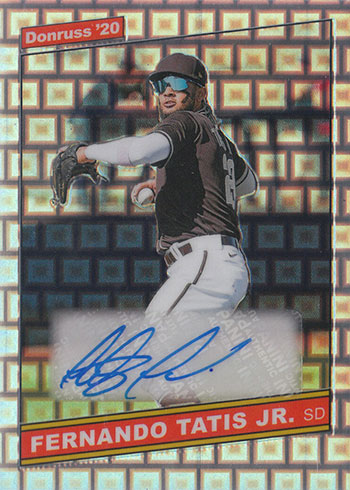 As with a lot of Panini products, inserts in 2020 Optic Baseball are a mix of sets that range from the somewhat common to the downright scarce.
The Rookies makes the jump from Donruss with ten key first-year players.
Other insert sets include Optic Illusions, Stained Glass and Mythical.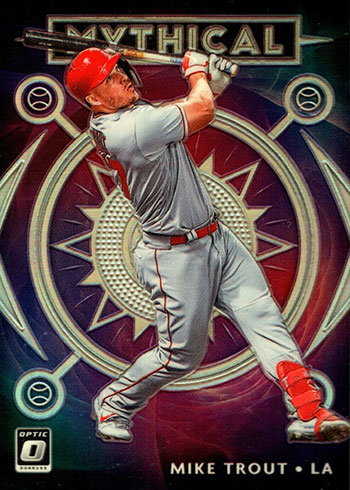 Among the rarities are Stars and Stripes, and Fort Knox.
2020 Donruss Optic Baseball Hot Boxes
Every hobby case of 2020 Optic Baseball includes four special hot boxes. Two of these have five autographs instead of the usual two. The other two are Prizms hot boxes that come with 20 numbered parallels.
2020 Donruss Optic Baseball cards at a glance:
Cards per pack: Hobby – 4, Blaster – 4, Mega Box – 4, Fat Packs – 16
Packs per box: Hobby – 20, Blaster – 7, Mega Box – 10
Boxes per case: Hobby – 12
Set size: 200 cards
Release date: July 22, 2020
Shop for 2020 Donruss Optic Baseball boxes on eBay:
What to expect in a hobby box:
Autographs – 2
Inserts – 20
Prizms Parallels – 10
2020 Donruss Optic Baseball Checklist
Please note that print runs for cards without serial numbers have not been released.
You can also download a customizable spreadsheet version of the checklist here:
Base
Autographs
Inserts
Team Sets