Does 2020 Topps Stadium Club Baseball have autographs? Of course. It's the usual two per hobby box. Are there inserts? Yes, again. Tough parallels? Just like there have been since the brand came back in 2014.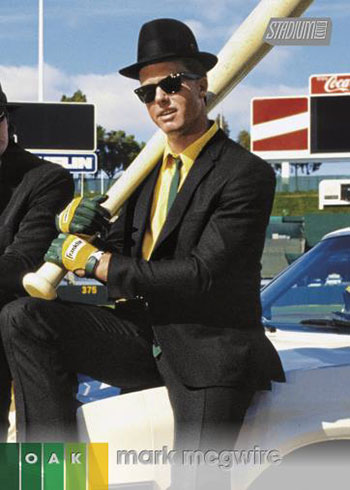 But if you get to the heart of the product, 2020 Stadium Club focuses on the base set — specifically the top-level photography. That's what Stadium Club has been about from the beginning and it's not changing now.
2020 Topps Stadium Club Baseball Base Set Basics
A total of 300 cards make up the base set. It's a far-reaching checklist, blending veteran stars, rookies and retired players. And while this isn't a huge set, it's not easy to complete either. Without landing a lot of doubles, it takes about three hobby boxes to complete it. Realistically, you're probably looking at four because extras can be unpredictable.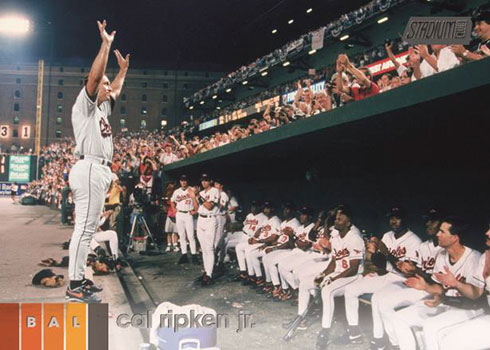 With the full-bleed images and minimalist name plates, many of the parallels are on the subtle side, often changing up the foil logo on the front or adding a small stamp. Some, like Black and White and Rainbow Foilboard, are much more obvious.
Parallel specifics include:
Red Foil
Black Foil
hobby-exclusive Black and White
Rainbow Foilboard – /25
First Day Issue – ten copies per card
Members Only – case hit
Photographer's Proof
Gold Rainbow Foil – 1/1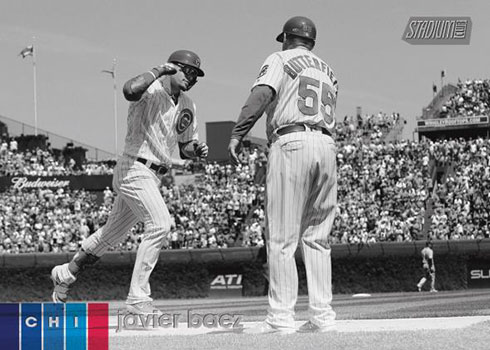 Landing one per hobby box, Stadium Club Chrome is a large partial parallel set covering 90 of the base set's 300 cards. Additional parallels for these are Refractors, Orange (/99), Gold Minted (one per case) and hobby-only Superfractors (1/1).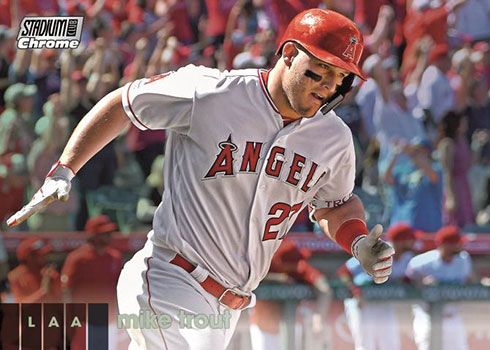 Autographs
On-card signatures are front and center with a lot of 2020 Stadium Club's autographs.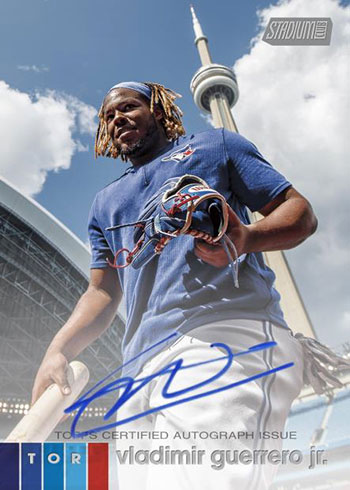 Base Autographs are the main source for ink. These use the same general design as the main set and add hard signatures. Parallels include Red (/50), Black (/25), Rainbow Foilboard (/10) and Gold Rainbow (1/1).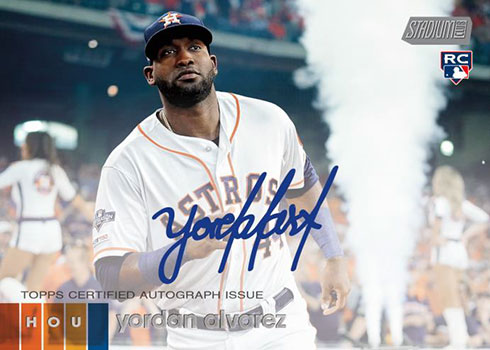 Lone Star Signatures (/25) and Co-Signers dual autographs (/10), a pair of Stadium Club staples are both back. Besides the regular versions, there are Orange (/5) and Gold Rainbow (1/1) parallels.
Bash and Burn (/10), In the Wings (/15) and Power Zone (/15) all have autograph versions for select cards, which have their own Orange (/5) and Gold Rainbow (1/1) parallels.
Inserts
2020 Stadium Club Baseball inserts are a mix of returning and retro themes.
The home run-centric Power Zone and pitcher-focused Emperors of the Zone are both back, each with 1:8 odds.
Bash & Burn (1:8) is a double-sided insert set that spotlight players who have both power and speed. These are inspired by a 1996 Stadium Club insert set.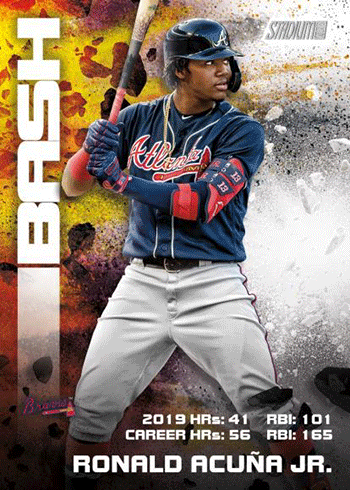 The theme for In the Wings (1:16) is young and emerging stars. This set has roots in 1998 Stadium Club.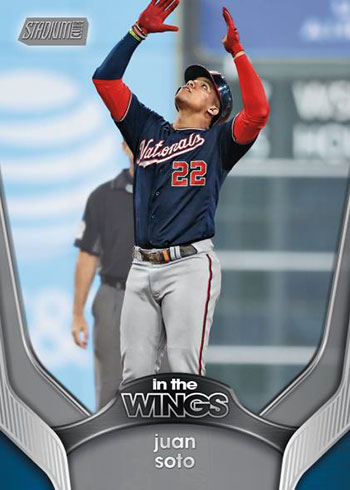 All four of these have four levels of parallels: Red, Black (/99), Orange (/50) and Gold Rainbow (1/1).
Instavision is another returning insert set. These are among the toughest cards in 2020 Topps Stadium Club Baseball, falling one per hobby box. The checklist here is all major stars with cards that mix traditional stock with a Refractor piece embedded into the card. It's not like the holograms Instavision cards from the 1990s had, but it does make for a different look.
Every 2020 Topps Stadium Club Baseball hobby box includes on Oversized Base box topper as well.  Autograph versions, which are on-card can also be found. Autographs have no more than ten copies each.
2020 Topps Stadium Club Baseball cards at a glance:
Cards per pack: 8
Packs per box: 16
Boxes per case: 16
Set size: 300 cards
Release date: June 24, 2020
What to expect in a hobby box:
Autographs – 2
Bash and Burn – 2
Emperors of the Zone – 2
In the Wings – 1
Power Zone – 2
Stadium Club Chrome – 1
Oversized Base Box Toppers – 1