As the new MLB season dawns 2020 Topps Summer Blockbuster Baseball looks to the colors of the sunrise for an online-exclusive mini set. Part of the Topps On-Demand line, there's a small base set plus a variety of chase elements, all of which are stylized in a similar "Endless Summer" sort of fashion with lots of bold pinks, oranges and purples.
Running $40, each Summer Blockbuster set starts with a full 20-card base set. It's a who's who of star veterans including Mike Trout, Ronald Acuna Jr., Bryce Harper and Juan Soto.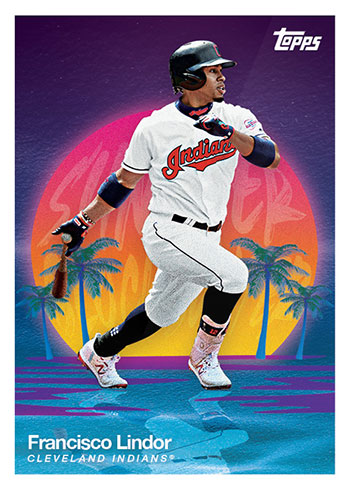 Sets also come with one chase card, which come in a variety of forms.
The base set has three levels of parallels, all of which are numbered to 10 or less.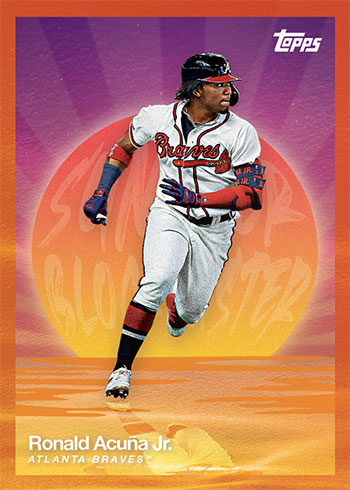 Additional insert themes run with the summer concept. Ten rookies are part of Heating Up. Summer Legends features ten retired stars. Five Summer Legends also have autograph versions that have five copies each.
2020 Topps Summer Blockbuster Baseball is available on the company's website for one week starting July 23. However, like other On-Demand sets, it's possible it could sell out sooner.
2020 Topps Summer Blockbuster Baseball cards at a glance:
Cards per pack: 21
Set size: 20 cards
Release date: July 23, 2020
What to expect in a hobby box:
20-Card Base Set
Additional Inserts or Parallels – 1 Total
2020 Topps Summer Blockbuster Baseball Checklist
Base Set
20 cards.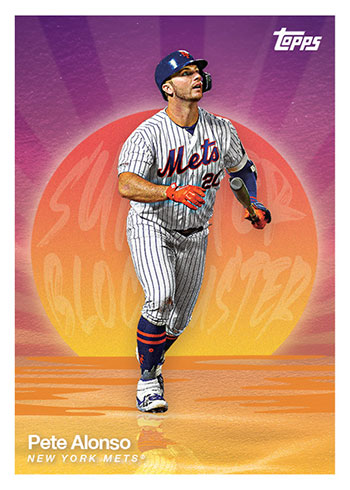 Parallels:
1 Mike Trout, Los Angeles Angels
2 Pete Alonso, New York Mets
3 Max Scherzer, Washington Nationals
4 Christian Yelich, Milwaukee Brewers
5 Aaron Judge, New York Yankees
6 Paul Goldschmidt, St. Louis Cardinals
7 Ronald Acuña Jr., Atlanta Braves
8 Alex Bregman, Houston Astros
9 Fernando Tatis Jr., San Diego Padres
10 Walker Buehler, Los Angeles Dodgers
11 Francisco Lindor, Cleveland Indians
12 Rafael Devers, Boston Red Sox
13 Bryce Harper, Philadelphia Phillies
14 Justin Verlander, Houston Astros
15 Nolan Arenado, Colorado Rockies
16 Juan Soto, Washington Nationals
17 Jacob deGrom, New York Mets
18 Shohei Ohtani, Los Angeles Angels
19 Javier Baez, Chicago Cubs
20 Vladimir Guerrero Jr., Toronto Blue Jays
Heating Up
10 cards.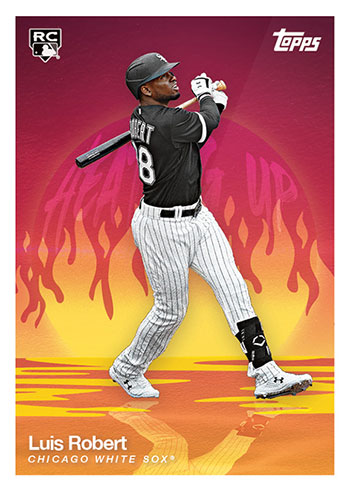 1 Luis Robert, Chicago White Sox
2 Dustin May, Los Angeles Dodgers
3 Nico Hoerner, Chicago Cubs
4 Jesus Luzardo, Oakland Athletics
5 Yordan Alvarez, Houston Astros
6 Gavin Lux, Los Angeles Dodgers
7 Kyle Lewis, Seattle Mariners
8 Bo Bichette, Toronto Blue Jays
9 Brendan McKay, Tampa Bay Rays
10 Zac Gallen, Arizona Diamondbacks
Summer Legends
10 cards.
1 Ichiro, Seattle Mariners
2 Derek Jeter, New York Yankees
3 Jim Thome, Philadelphia Phillies
4 Lou Brock, St. Louis Cardinals
5 Pedro Martinez, Boston Red Sox
6 Roberto Clemente, Pittsburgh Pirates
7 Willie Mays, San Francisco Giants
8 Don Mattingly, New York Yankees
9 Lou Gehrig, New York Yankees
10 Nolan Ryan, Houston Astros
Summer Legends Autographs
5 cards.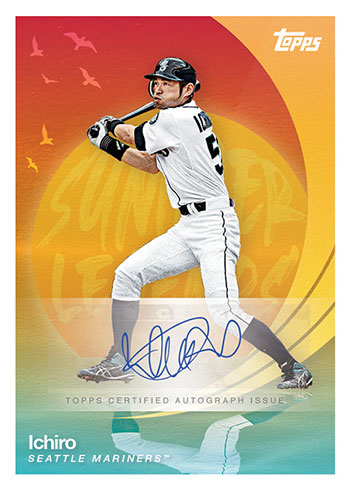 1A Ichiro, Seattle Mariners /5
3A Jim Thome, Philadelphia Phillies /5
4A Lou Brock, St. Louis Cardinals /5
5A Pedro Martinez, Boston Red Sox /5
8A Don Mattingly, New York Yankees /5