2020 Panini Stars and Stripes USA Baseball Goes Global
2020 Panini Stars and Stripes USA Baseball is mostly about the American national squads. But not entirely. The checklist includes some autographs and memorabilia from other corners of the globe as well.
Hobby boxes offer a hit in every pack.
2020 Panini Stars and Stripes USA Baseball Base Set Basics
The product starts with a base set covering current national team members as well as USA Baseball alumni from the recent past. All told, it's 100 cards including three checklists.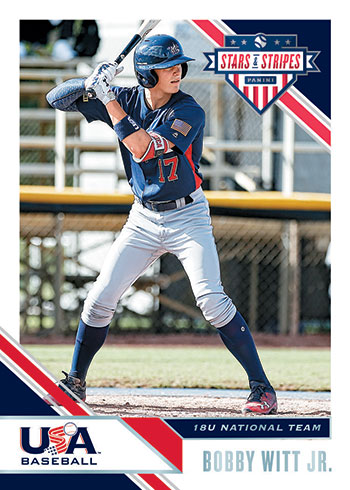 Parallels include Longevity, Longevity Holo Foil (/99), Longevity Team Logo Gold (/25) Longevity Stars Platinum (/10), Longevity USA Flag Black (/5) and Printing Plates (1/1).
Autographs and Memorabilia Cards
For some players, including many eligible for the 2020 MLB Draft, 2020 Stars and Stripes is among the first products to include their autographs.
18U National Team Signatures and Collegiate National Team Signatures both come with on-card autographs. Base versions come signed in black while parallels use other colors: Blue Ink (/25 or less), Red Ink (/10 or less) and Green Ink (/5 or less).
Stars and Stripes Signatures have both an autograph and piece of memorabilia. Prime versions carry a premium swatch.
USA Baseball Silhouettes Signatures has a massive checklist of 200 cards. These cards come with a jumbo piece of memorabilia. The Collegiate National Team, 18U National Team, 17U National Team Development Program, 15U National Team, 16U National Team Development Program and 14U National Team Development Program are all featured.
Reaching beyond USA Baseball and into the international baseball scene are Chinese Taipei Signatures, Japanese Collegiate All-Stars Signatures. Both of these are hobby-exclusive autograph memorabilia cards that have Prime, Button and Laundry Tag parallels.
The Chinese Taipei National Team and Japanese Collegiate All-Stars are also part of the Silhouettes Signatures set.
Among the memorabilia-only inserts in the product are various types of Jumbo cards. These come with pieces of jersey numbers, brand logos, patches, team logos and more.
2020 Panini Stars and Stripes USA Baseball cards at a glance:
Cards per pack: 8
Packs per box: 5
Boxes per case: 20
Set size: 100 cards
Release date: March 11, 2020
What to expect in a hobby box:
Autographs or Memorabilia Cards – 5 Total
Parallels – 5