2020 Panini Absolute Baseball Cards Checklist, Team Set Lists and Details
2020 Panini Absolute Baseball is the first time the brand has hit the diamond for a standalone release since 2005. It has made a couple of appearances in Chronicles, including 2019, but that was a part of a much larger whole.
A lot has changed in the last 15 years but Absolute's hits-heavy focus remains. Despite having just two packs per hobby box, they come with four autographs and a pair of memorabilia cards.

2020 Panini Absolute Baseball Autographs and Memorabilia Cards
Although it hasn't been around much in baseball in recent years, Absolute has been moving forward in football and basketball. They've maintained some brand staples that are coming back here. Perhaps none are more notable than Tools of the Trade Signatures. These have multiple swatches of either two, three, four or six.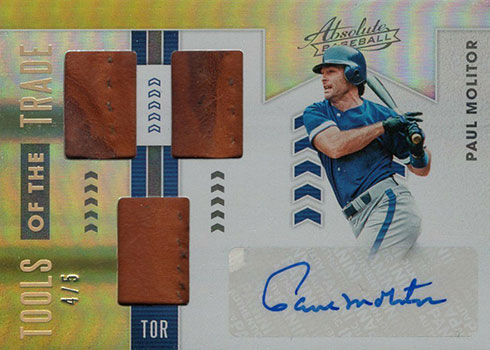 Iconic Ink is another place for autographs. These have single, dual and triple versions.
Baseball Material Signatures use ball leather as the signing surface with a checklist that's virtually all retired stars.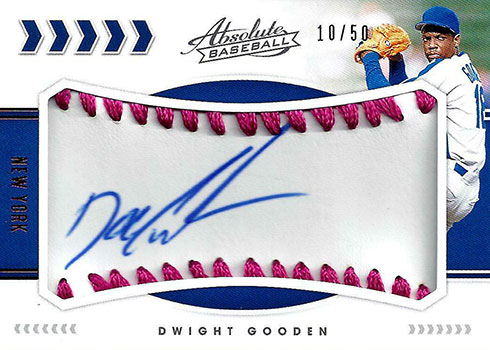 Team Tandem Materials have memorabilia from two teammates. Current and past players are in the mix. These and Absolute Rookie Materials are both hobby exclusives.
On the retail-only side of the checklist are Rookie Threads and Rookie Threads Duals.
More relics are in Absolute Heroes Materials and Grip It-N-Rip It.
Base Set and Other Inserts
The main base set has 100 cards. Hobby boxes have a pair of serial numbered parallels from Silver (/199), Spectrum Red (/99), Spectrum Gold (/10), Printing Plates (1/1) and Spectrum Black (1/1). Retail blasters are the only place to find Spectrum Blue versions, which fall 1:2 packs.
Rookie Baseball Material Signatures use ball leather as a signing surface, similar to the old Upper Deck Sweet Spot line or 2019 Panini Leather and Lumber. These are numbered as part of the main set, bringing it up to 166 total cards.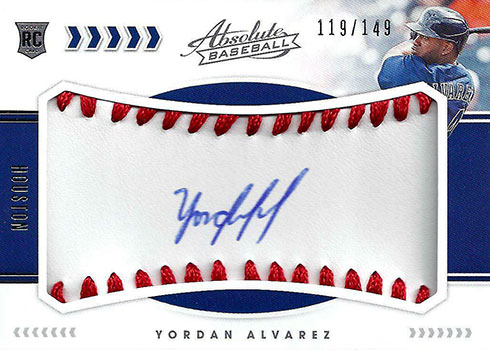 2020 Absolute Baseball has some regular insert sets as well. On the hobby side, they're two per pack (four per box). Absolute Legends has a 20-card checklist of retired greats. One-Two Punch showcase ten pairs of teammates. Rookie Round Up is just as it sounds with 25 young players.
Other themes in the product include Absolute Heroes, Introductions and Unsung Heroes.
Collectors can look for inserts parallels as well.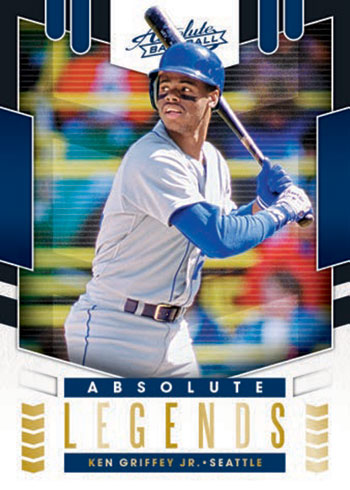 2020 Panini Absolute Baseball cards at a glance:
Cards per pack: Hobby – 10, Blaster – 5
Packs per box: Hobby – 2, Blaster – 2
Boxes per case: Hobby – 10
Set size: 166 cards
Release date: July 10, 2020
Shop for 2020 Panini Absolute Baseball boxes on eBay:
What to expect in a hobby box:
Autographs – 4
Memorabilia Cards – 2
Inserts – 4
Parallels – 2
2020 Panini Absolute Baseball Checklist
For cards without serial number info, print runs have not been released.
You can download a spreadsheet with the 2020 Panini Absolute Baseball checklist here:
Base
Autographs
Memorabilia
Inserts
Team Sets