Top 10 Baseball Cards of 2019
Dozens of sets and thousands of cards later, another year of cards has come to a close. So what are the top 2019 baseball cards? That probably depends on your perspective and what you collect. Here are ten cards that we think embody the year that was in 2019. These are the baseball cards that got us taking notice and looking to the future.
In short, they left an impression in some way. Some are fun. Some command big prices. Others feature gimmicks that are up for debate. And, of course, there are rookies and prospects that headlined some of the year's biggest products. These are the 2019 baseball cards that got us talking.
Top 10 Baseball Cards of 2019
10. 2019 Topps Walmart Holiday Francisco Lindor Variation #HW74
Sometimes you just have to own a gimmick to make it better. For its first couple of years, the Walmart-exclusive Topps Holiday line was simple but kind of bland, adding snowflakes and not much else to the flagship line it's based on. 2019 Topps Walmart Holiday goes bigger with a red and green motif and some additional design elements.
But the set really comes into its own with its variations, which are real obvious and up front about their Photoshopping in Christmas elements. And while some may argue the results border on tacky at times, so too are ugly sweaters. It's all about fun. This particular Francisco Lindor variation embodies that spirit. It gets bonus points for not making the variation portion of the card so obscure you have to squint or second guess yourself trying to figure it out.
---
9. Topps Living Set Mike Trout #200
2019 was a settling in period for Topps Living Set Baseball. After debuting to big numbers in 2018, many have abandoned the weekly marathon. Others, who were likely drawn in by big early returns for the set and speculating, moved on. As a result, year-over-year numbers dropped significantly. In 2018, print runs consistently topped 5,000 copies per card, no matter the player. In 2019, 2,000 to 3,000 became the norm.
But there were exceptions, like Mike Trout. Landing the hero spot of #200 on the checklist, his card sold 22,017 copies. Trout is currently the only non-rookie in Topps Living Set Baseball to top 20,000 copies. The only card in the set to sell more in 2019 was Vladimir Guerrero Jr. His 27,749 shouldn't be a shock, though, given it went up for sale just days after his MLB debut and at the height of his hobby hype.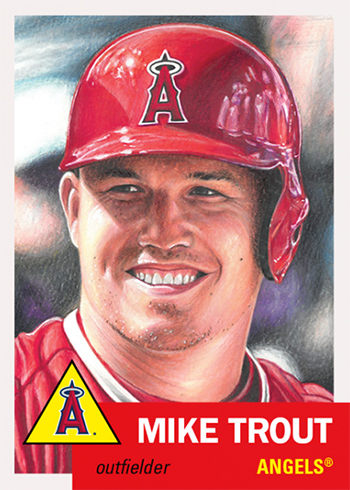 ---
8. 2019 Panini Prizm Draft Picks Jasson Dominguez #122
Jasson Dominguez is ranked by many to be the top international prospect in baseball. By the time the 2020 opens, the outfielder — who happens to be part of the New York Yankees organization — will have just turned 17.
Signed as an international free agent, Dominguez didn't make the cut for 2019 Bowman Draft. He wasn't a draft pick, after all. While collectors wait for his first MLB cards, Panini already has Dominguez in a couple of their products including his first autographs in 2019 Prizm Draft Picks.
If you're not a prospector, there's a good chance Dominguez's name has escaped you thus far. There's a good chance you'll be hearing a lot more about him in the near future.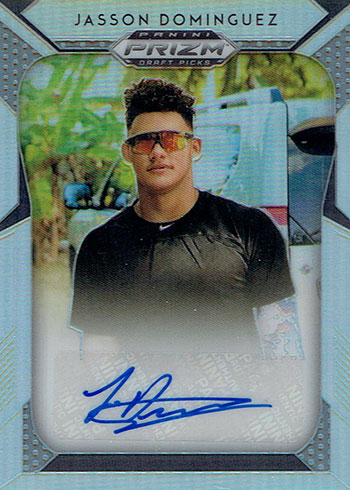 ---
7. 2019 Stadium Club Shane Bieber #72
An old-school style slip up on the back saw Topps refer to the Cleveland pitcher as "Justin," as in the pop star for his base card in 2019 Stadium Club. Bieber, the pitcher, called Topps out over the mistake in August and the card hit the mainstream with even Justin Bieber chiming in at one point. Prices on the card soared to upwards of $30 at one point. It has since settled in significantly lower (it was never corrected) but it's still one of the most talked about baseball cards of 2019.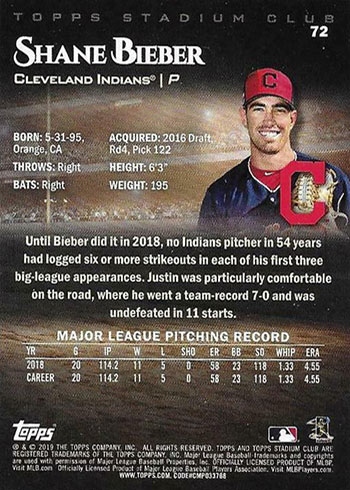 ---
6. 2019 Topps Now Vladimir Guerrero Jr. #137
Vladimir Guerrero Jr. has a lot of cards in 2019 Topps Now Baseball. Seemingly, every "first" he achieved was documented in the daily print-on-demand set. The card commemorating his first hit in his first game set a Topps Now record, selling 19,396 copies. By comparison, the second highest print run in the 2019 set was 9,945 copies for Pete Alonso's rookie record 53rd home run.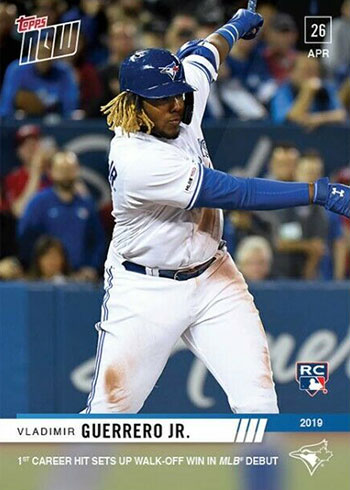 ---
5. 2019 Bowman Chrome Draft Draft Pick Autographs Adley Rutschman #CDA-AR
The first pick in the 2019 MLB Draft, Adley Rutschman has been the early top seller in 2019 Bowman Draft. In particular, collectors are chasing his Bowman Chrome Draft Pick Autograph and its many colors. The base version is currently an easy seller at $250-$300. The one-of-one Superfractor closed on eBay for more than $23,000.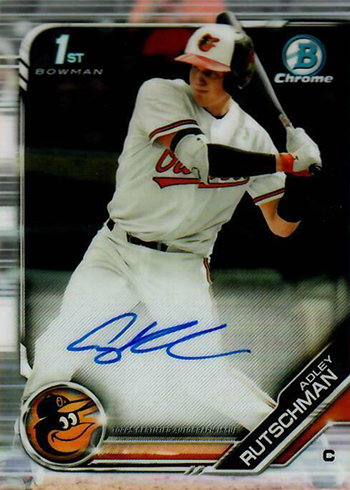 ---
4. 2019 Topps Chrome Rookie Autographs Pete Alonso #RA-PA
Before Spring Training, Pete Alonso wasn't on a lot of radars. The rookie first baseman got some attention for cracking the Mets' Opening Day roster. Still, more people were counting down the days until Vladimir Guerrero Jr. made the inevitable official and suited up for the Blue Jays for the first time. Then the home runs started to fly. And they didn't stop until the season ended and Alonso broke Aaron Judge's short-lived record for home runs by a rookie.
Needless to say, Pete Alonso cards have enjoyed some success in 2019.
If you want to factor in parallels, collector have right around 500 different Pete Alonso autograph cards to choose from in 2019 products. While it might not be the most valuable, the 2019 Topps Chrome Rookie Autographs has to be considered one of the best. It carries the flagship design, has on-card ink, has lots of Refractors and comes from one of the most popular products of the year.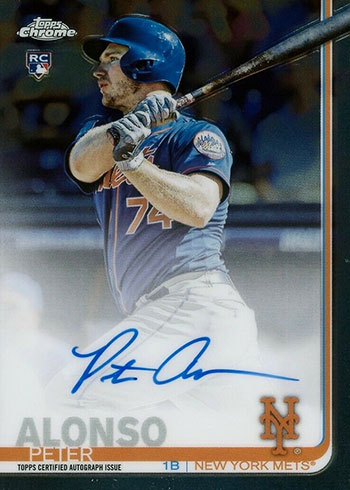 ---
3. 2019 Topps Series 2 Vladimir Guerrero SP
Following in the footsteps of the 2018 "Bat Down" Ronald Acuna Jr., as well as several other rookies in the past decade, Vladimir Guerrero's first flagship Topps baseball card is a Series 2 short print. It's not nearly as rare as the highly coveted Acuna, Bryce Harper or Gleyber Torres cards from the past decade but it's still tougher to find than other base cards. The chatter around Guerrero may have cooled significantly in the second half of the season, but the third baseman is still a major part of the 2019 baseball card conversation and this is, arguably, his most significant card.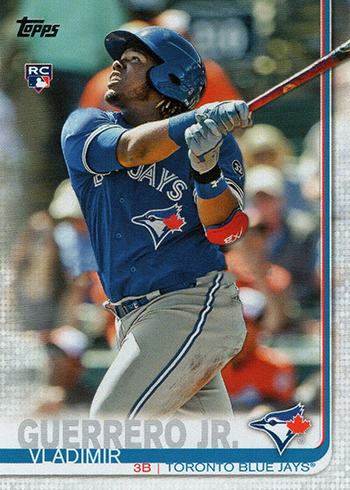 ---
2. 2019 Topps Series 2 Pete Alonso RC #475
If you collect Rookie Cards, base Topps isn't the place to find the rarest cards. In fact, it's probably on the opposite end of the spectrum in most modern instances. But there's something to be said for tradition. Being the creatures of habit that we are, Topps RCs often get elevated above a lot of other lines, even if they are more scarce. But availability can help drive demand, not to mention some 70 years of history and continuity.
Pete Alonso is baseball's top rookie in 2019. And of his cards, his 2019 Topps Series 2 RC is probably his most recognized. One day, it might even be referred to as iconic, but it's early to make that call.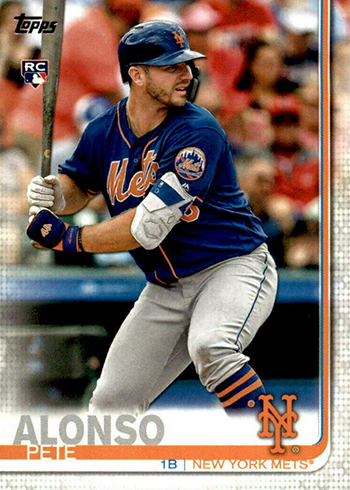 ---
1. 2019 Bowman Chrome Prospect Autographs Wander Franco #CPA-WF
No prospect had a bigger 2019 in the baseball card world than Wander Franco. The Tampa Bay Rays shortstop is expected to do big things in Florida in the near future. If you go by the prices of his 2019 Bowman Chrome Autograph, some might be expecting the next generational talent along the lines of Ken Griffey Jr. or Mike Trout.
Realistic expectations or not, this has been a big card since its release in 2019 Bowman Baseball. You're looking at least $500 for a raw base version of the card. In baseball card currency, it's roughly the equivalent of a mid-grade 1968 Topps Nolan Ryan RC. The one-of-one Superfractor sold privately for more than $60,000. Franco turns 19 shortly before the start of the 2020 regular season.
In the weeks and months ahead, you're likely to find Franco make lots of headlines as annual top prospect lists are published and his name is at the top. But in the baseball card world, Franco is already tops in 2019.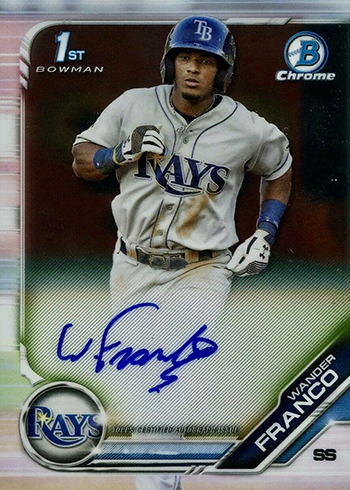 ---