2019 Bowman Chrome Wander Franco Superfractor Autograph Pulled — And Sold
When you click on links to various merchants on this site, like eBay, and make a purchase, this can result in this site earning a commission.
Steve Bybee's shop, S & S Sport Cards, Memorabilia and More in Amarillo, Texas, was supposed to be closed on Monday. He'd just returned home from a card show when he got a phone call from Randy Rogers, one of his customers. Rogers was looking for some 2019 Bowman Baseball.
"He wanted to buy some so I told him I'd be at the shop." Bybee said.
Shortly after, it happened.
Rogers, a general contractor who runs his own business, was opening the hobby box at the shop and he got the card of the product — the one-of-one 2019 Bowman Chrome Wander Franco Superfractor Autograph.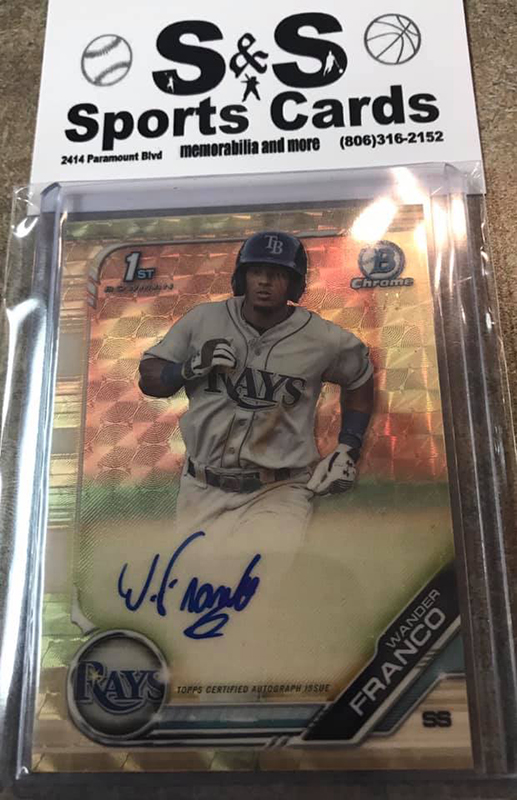 "He was speechless. He really didn't know what to say," said Bybee. "We were both just shaking."
Franco has quickly ascended the ranks of baseball's prospect lists. Just 18-years old, he's currently playing for Bowling Green of the Single-A Midwest League. Through 23 games, Franco is hitting .306 with three home runs, a pair of triples and 11 RBI. This comes after a 61-game Rookie ball performance in 2018 where he belted 11 home runs and hit .351.
Even with the small sample size, momentum surrounding Franco has been building. In a world where five-tool talents get tossed around loosely at times, should Franco reach his potential, he's one where it's not an exaggeration.
So when you combine a major prospect like Franco with, arguably, the most popular card in the modern hobby — a player's first Bowman Chrome Superfractor Autograph — big things happen.
Not long after Rogers pulled the card, it was posted on social media. Word spread. Bybee's phone began to ring.
"I've been getting phone calls from people I thought I'd never talk to in this hobby," he said.
And without any fanfare, the 2019 Bowman Chrome Wander Franco Superfractor Autograph sold. It was an old-fashioned, in-person cash transaction. Bybee didn't disclose the exact amount but did say it was somewhere between $60,000 and $100,000. The buyer wished to remain private.
Bybee is happy how things played out.
"Randy's one of our really good customers and really super great guy," he said. "It couldn't have happened to a better person."
For those hoping to find the unsigned Chrome Prospects Wander Franco Superfractor as a next-best-thing, it's been pulled as well.
Unbelievable pull here guys. ?.
I shipped Mark26 3 sealed Bowman hobby boxes on release day and he got this card. 1/1 Superfractor Wander Franco. @Topps. Crazy hit ? pic.twitter.com/3jSKtHGEZ7

— Chris J. (@CardsInfinity) April 22, 2019