2019 Topps Holiday Walmart Baseball Checklist, Team Set Lists and Details
2019 Topps Holiday Walmart Baseball brings the festive Mega Boxes back to the retail giant. And while there are a lot of similarities to past years, some new additions make for a noticeably bigger checklist.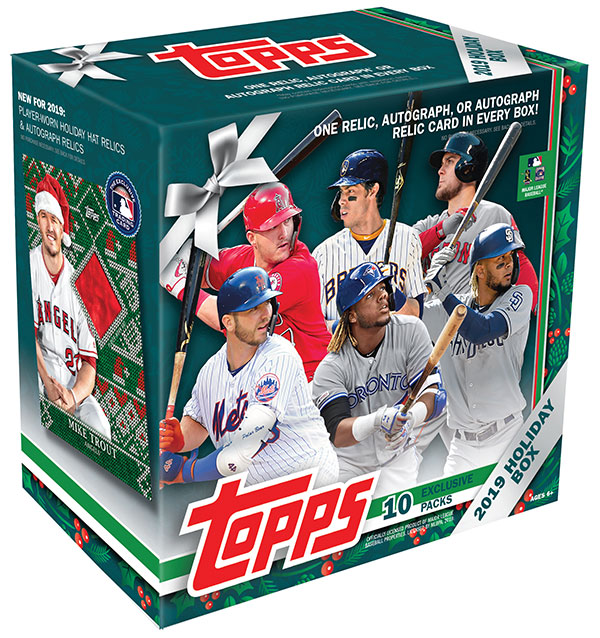 2019 Topps Holiday Walmart Base Set Basics
The base set has 200 cards, which is inline with the last couple releases. Collectors can look for a new spin on the 2019 Topps Baseball flagship design, this time with wintery accents.
The checklist includes lots of rookies including Pete Alonso, Vladimir Guerrero Jr., Fernando Tatis Jr., Keston Hiura and Eloy Jimenez.
Something else that's notable is the fact that a couple of late-season trades are reflected on the 2019 Topps Walmart Holiday that aren't in 2019 Update Series. For example, Zack Greinke is on the Astros and Trevor Bauer has a Reds card.
Metallic parallels are once again 1:2 packs. However, this year, the snowflakes have been dropped for other festive design embellishments.
Perhaps the biggest change in 2019 Topps Walmart Holiday is the addition of variation short prints. And there are a lot of them, landing in three different tiers of rarity. The most common variations have the largest checklist with 50 cards. Rare and Super Rare Variations each have 25 cards. There is a lot of overlap with many players having SP and SSP cards.
Autographs and Memorabilia Cards
Every 2019 Topps Holiday Walmart Mega Box has one autograph or memorabilia card.
Sixty-four players have traditional Relics. This year, there are also separate Holiday Relics, which highlight 25 players and have pieces of Santa hats worn during spring training photo shoots. Select cards for both of these have autograph versions.
Also new are Faux Holiday Relics that imagine if Christmas icons like Santa and Mrs. Claus, elves, Frosty the Snowman and Ebenezer Scrooge had items that were embedded into baseball cards.
Rounding out the 2019 Topps Walmart Holiday Baseball checklist are more than 40 regular autograph cards.
While the product has no official release date, the Walmart website has a shipping date of October 30 for those ordering Mega Boxes online.
2019 Topps Holiday Walmart Baseball cards at a glance:
Cards per pack: 10
Packs per box: 10
Set size: 200 cards
Release date: October, 2019
What to expect in a Mega Box:
Autographs or Relics – 1 Total
Parallels – 5
2019 Topps Holiday Walmart Baseball Checklist
Base
Variations
Autographs
Memorabilia
Team Sets