2019 Topps Walmart Holiday Baseball Box Break and Review
In the first couple of years of Topps Walmart Holiday, I can't say I was overly excited. I did start buying some of the 2018 boxes, but that was only after they started going on clearance. Things felt too much like the flagship set. Sure, there were the snowflakes, but it wasn't enough to make me excited to double-dip on cards I essentially have already. 2019 Topps Walmart Holiday Baseball, on the other hand, takes things further, both in design and in content.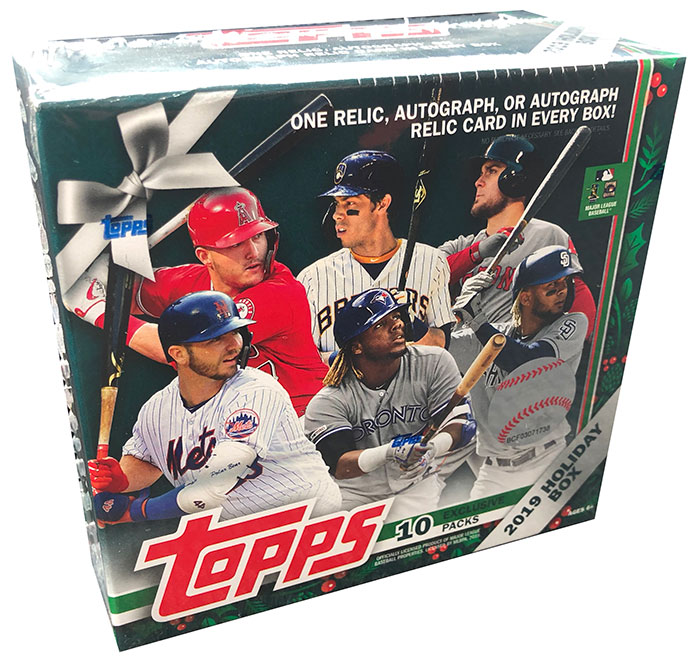 Overall, the cards share the same layout as 2019 Topps Baseball and 2019 Topps Update. But instead of white snowflakes in a corner or two, the side border has been engulfed with a colorful bunch of holly. It's a bolder look that's hard to miss.
This is the ugly sweater equivalent of a set of baseball cards. It knows there's a certain level of tackiness to it and wears it proudly. And that's why it works for me. Topps has gone all-in with the theme and sticks the landing.
Of course, that's not going to appeal to everyone. There's not a lot that's slick about this release. And that's okay. No set it all-pleasing and one with holly borders and secret Santas is going to be no different.
Product Thoughts:
I like simple checklists. And that's something 2019 Topps Walmart Holiday definitely has. The 200-card base set is small but it also means it's got a lot of big names and, like 2018, some strong rookies.
Parallels are kept simple and minimal as well. The Metallic cards are okay if you're a fan of sparkles and glue. Given this is the only product they're used in, I don't mind them.
I'm not usually a fan of variations, especially with this many in one product, but when I feel they work best is when there's a consistent theme. And here, they certainly do. But I actually want to see this approach given to the main Topps Holiday base set. Let's make all the regular cards a little goofy with holiday enhancements. But not as variations. Help make the cards more distinct with nods on the base cards like Santas, snowmen and bats channeling Lucille from The Walking Dead.
But what if the product were to truly embrace its "Holiday" name and go beyond just Christmas. How about some Jewish imagery for Hanukkah? Or Kwanzaa? You can't tell me a card with a Festivus pole wouldn't be fun. Reindeer, gingerbread men, turkeys, brussel sprouts — let's see them all in their rough Photoshop glory.
Maybe Topps could compliment things with some online sets around Easter or the 4th of July. There are lots of opportunities here. I'm not sure how viable they are, but the potential is there to take the theme started by the variations and go even further — as the base set.
Autographs and Memorabilia
Being a set builder, I gravitate towards products where autographs and memorabilia cards are more of a bonus than a driving factor. That definitely seems to be the case here. There's some solid potential on the autographs portion of the checklist and the tough Santa hat Holiday Relics seem to have some fans, but I didn't feel like I was chasing the impossible here. And with a plain Adalberto Mondesi relic, I didn't get anything big. And I'm perfectly good with that.
2019 Topps Walmart Holiday Box Breakdown
Cards per pack: 10
Packs per box: 10
Total cards: 98
Base: 89
Doubles: 0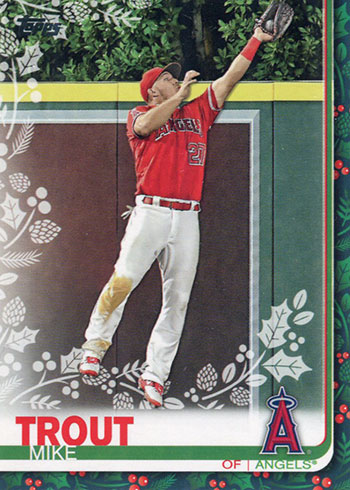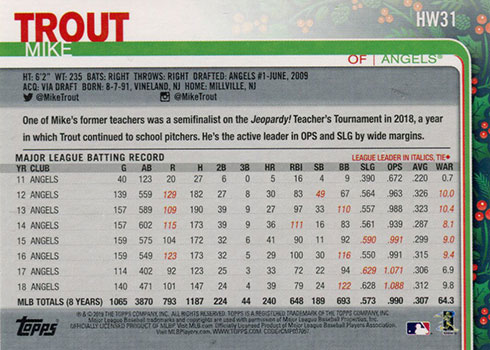 Inserts:
Metallic Parallels: 5
HW8 Juan Soto
HW72 Christian Yelich
HW113 Ozzie Albies
HW142 J.T. Realmuto
HW149 David Peralta
SP Variations: 2
HW57 Matt Chapman
HW189 Cavan Biggio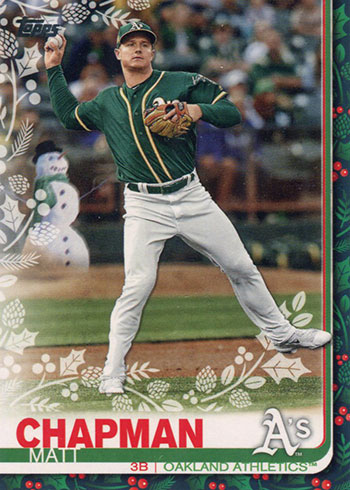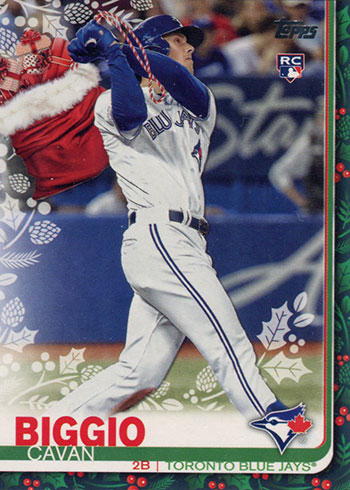 Rare Variations: 1
HW42 Cody Bellinger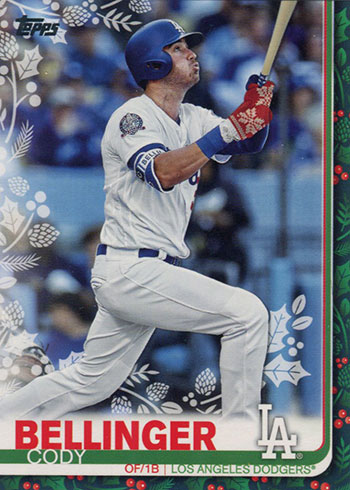 Relic Cards: 1
WHR-AM Adalberto Mondesi