When you think of all-time great sports card parallels, what comes to mind? Refractors, Precious Metal Gems, Prizms and Exclusives are some of the biggies. And while it was prominent for several years in the '90s through the early part of the 2000s, Fleer Ultra Gold Medallion probably wasn't one of the first parallels you thought of. And while they don't have the same history as the Refractor or command anything close to a Ron Mercer PMG, Ultra Gold Medallion cards might be worth another look.
Personally, I'm partial to 1996 and 1997 baseball.
In the mid '90s, it seemed like the sports card world was obsessed with gold foil. Even the Ultra line had it as early as 1992 in baseball. At first the gold foil was an accent on the base cards.
Gold Medallion cards made their debut in 1995 Ultra Baseball, landing one per pack. The idea wasn't exactly groundbreaking, but it did add a chase. These cards simply took the main Ultra logo on the front and made it into a gold foil medallion.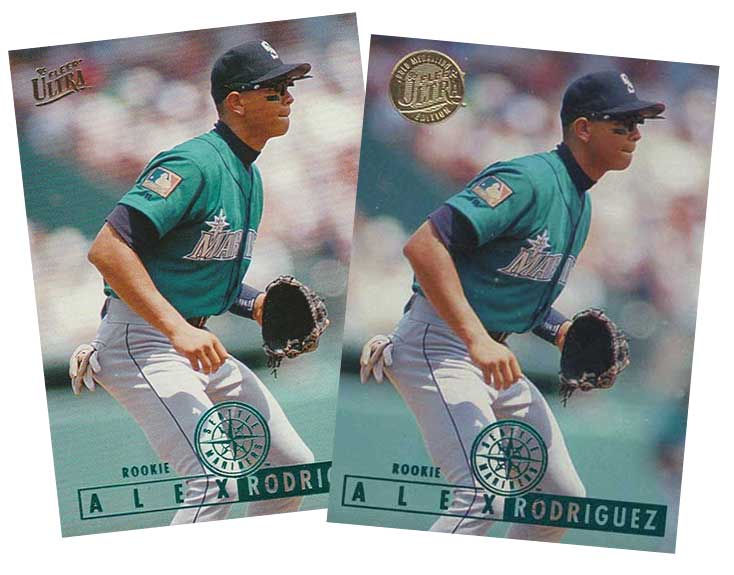 Simple enough but not exactly the kind of thing worthy of consideration for a classic hobby addition. Perhaps the biggest move here was the fact that Ultra also did Gold Medallion versions of inserts, not just the base cards.
1996 Ultra Gold Medallion: Embossed Boss
The small medallion gave way to something much more bold — and memorable — the following year. Instead of a small circle of gold foil, the entire background became embossed gold. So not only do the cards have an intense shine, but there's a textured element as well.
1996 Ultra Gold Medallion parallels require no second glances other than to admire them.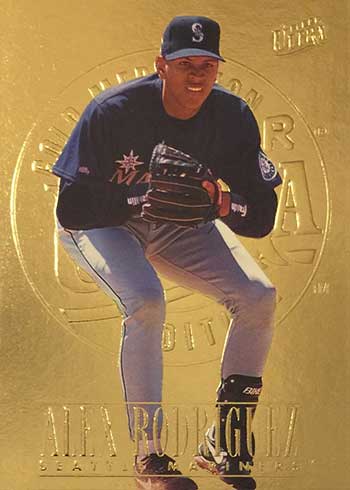 While 1996 Ultra inserts have Gold Medallion versions, the big look is reserved for just the base set. And that's just fine as it would take away from the design elements that make the inserts different in the first place.
Inserted one per pack like the previous year, 1996 Gold Medallion cards don't command any real premium. It's not like they're particularly rare and the checklist is devoid of any major rookies (save for Wonderful Monds' wonderful name doesn't count).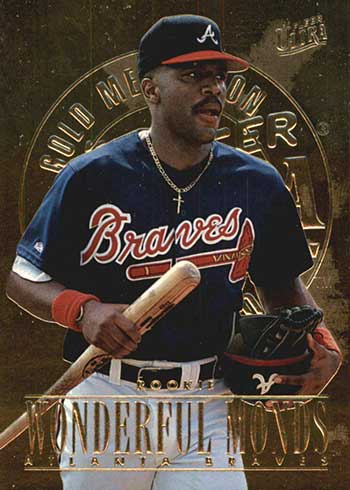 But as much as the cards standout, the premise didn't last.
1997 Ultra Gold Medallion Gets Candid
One of the reasons card makers likely like parallels is the fact that they can create new cards with minimal changes. Images cost money. So do designs. Overall, most parallels keep both of these elements.
1997 Ultra Gold Medallion cards keep the same layout as the base cards. The foil behind the nameplate has a gold tint as well.
But when you put the base card next to the parallel, it's like an entirely new card. That's because the parallels have a different photo. Technically they're parallels, but many might view them more akin to variations in today's hobby.
From a collecting standpoint, different is usually good. And when photography is one of the brand's cornerstones, it's more of a good thing.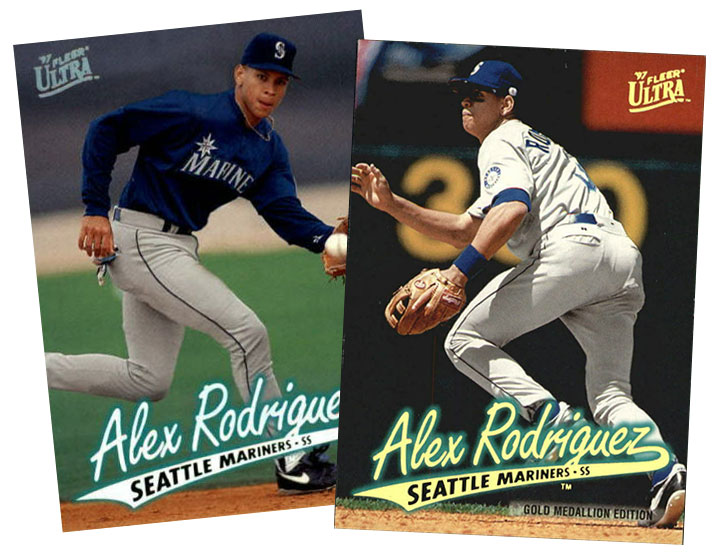 Back to Basics
Gold Medallion parallels were a part of Fleer Ultra Baseball every year through 2006. But after 1997, the cards took a much more traditional route. Usually it was a gold overlay in the background that was more like a tint than the dramatic change from 1996. Some years, the name plate was also given a gold treatment of some kind. For a couple of years, a bit of a die-cut curve was used as well.
Being part of the Ultra line, the cards themselves are attractive. That's a given. But they became like so many other parallels that they lost that extra kick that made them so memorable, even if only for a couple of year.
Ultra Gold Medallion Big Guns
Another likely reason that Gold Medallion baseball cards don't get a lot of attention is the fact that the brand never had a lot of major Rookie Cards. The rookies and prospects the checklist did have usually had earlier appearances in other products like Bowman.
But there are a couple of notable Gold Medallion rookies.
David Ortiz is the first, although if you're looking for his 1997 Ultra Gold Medallion card, you'll have better luck if you look for David Arias. He was with the Twins at the time. And while the name on the front might be different and the smile isn't as big, it's Big Pappi.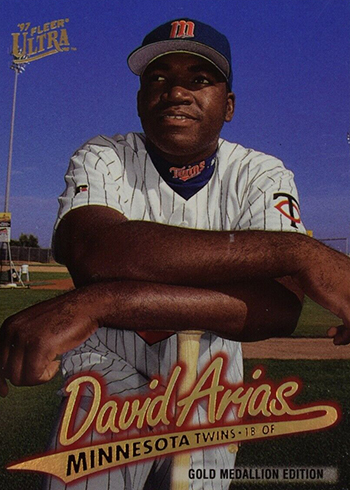 While Fleer was often behind with rookies compared to Topps and Upper Deck, they were the only company to include Ortiz in 1997 products. 1997 Ultra is one of only two RCs for the Red Sox legend.
Fast forward several years and you'll find the next biggest Gold Medallion version of an RC. This time it's Yadier Molina, one of the greatest and most beloved catchers of his generation.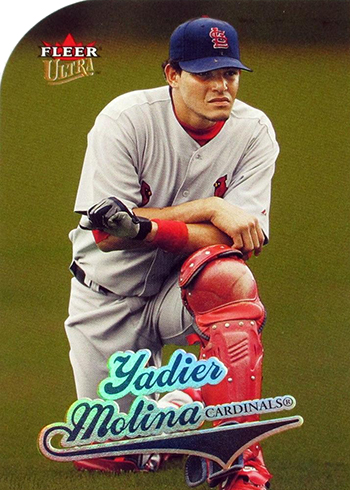 Ultra Gold Medallion cards aren't likely to catch on as far as demand or prices go. But if you're looking for an affordable and attractive parallel of your favorite team, player or era, this is a place worth looking.