2021-22 Fleer Ultra Hockey Checklist, Team Set Lists and Details
When you click on links to various merchants on this site, like eBay, and make a purchase, this can result in this site earning a commission.
New and retro collide in 2021-22 Fleer Ultra Hockey. The checklist includes both fresh content and some familiar names with new designs.
There's also the distribution, which is different from the past. This time around, the product is exclusive to Upper Deck's e-Pack platform. That means some digital-only content but lots of physical cards as well.
2021-22 Fleer Ultra Hockey Checklist Overview
The base set has 263 total cards. But there are a few things happening here. For starters, standard versions of the first 250 cards are digital-only.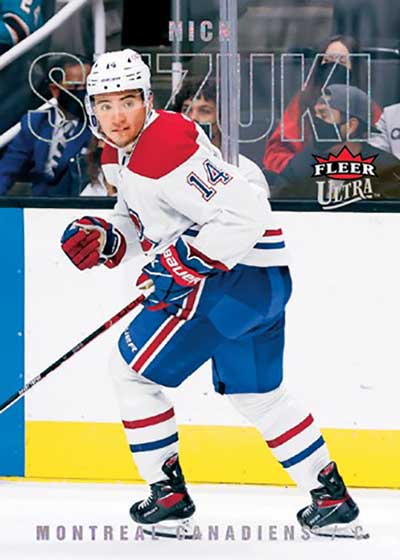 Parallels, though, are all available in physical form and can be taken in hand. Levels include:
Rainbow Foil
Speckled Rainbow Foil
Gold Speckled Rainbow Foil
Silver Foil
Blue Foil – /399
Red Foil – /91
Green Foil – /25
Gold Spectrum Foil – 1/1
Printing Plates – 1/1
The final cards on the checklist, Lucky 13 Rookies, draw from Ultra's past. These short prints are physical cards. All of the players were taken within the top 13 picks of their respective draft.
Select base cards also have autographs. Versions for these come in Silver Rainbow Foil, Red Rainbow Foil (/99 or less) and Gold Rainbow Foil (/10 or less).
Inserts and Additional Autographs
The 2021-22 Fleer Ultra Hockey checklist has lots of additional inserts, all of which are physical cards. Many of these take a nostalgic turn, drawing inspiration from the brand's early days in the 1990s.
This starts with 30th Anniversary, a 40-card set done with the design of Ultra's debut, 1991 Fleer Ultra Baseball. In addition to the regular inserts, the majority of cards also have autographed versions.
Medallions are a nod to the parallels found in 1996 Fleer Ultra Baseball. However, instead of just going with gold, several other colors are used including:
Gold – /200
Platinum – /100
Ruby Red – /50
Sapphire – /25
Emerald – /10
Black – 1/1
Other '90s-inspired inserts include Fabulous 50s, Seeing Double and Ultrabilities.
Acetate appears in a couple of spots, Ultra Stars and Exclamation Points.
Benito Gallego provides the art for Pop Culture. Each of the 11 players in the set has four different cards. Gallego also signed 10 copies of each card.
Pucks, which fall one per box, are die-cut.
For those looking to chase rare inserts, there's Premier Pad Men, Scoring Kings and Slot Machines.
To Be Fair…
High Profile Fans is the only standalone autograph set on the 2021-22 Fleer Ultra Hockey checklist that aren't essentially parallels. Rather than hockey players, these include signatures from several stars of the TV show Letterkenny. Nathan Dales (Daryl), Michelle Mylett (Katy), Dylan Playfair (Reilly) and Andrew Herr (Jonesy) are among the signers.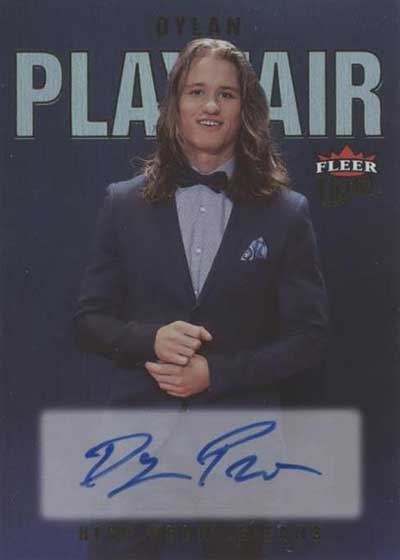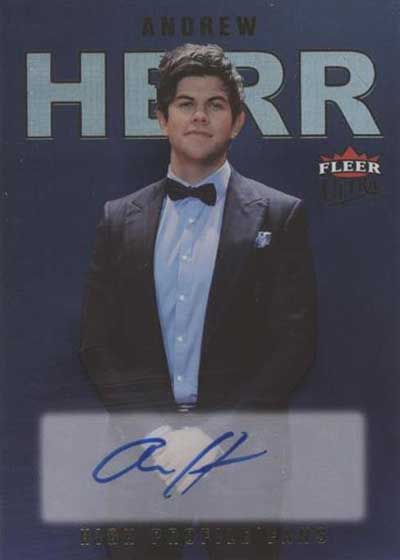 2021-22 Fleer Ultra Hockey cards at a glance:
Cards per pack: 8
Packs per box: TBA
Boxes per case: TBA
Set size: 263 cards
Release date: June 12, 2023
2021-22 Fleer Ultra Hockey Checklist
You can also download a customizable spreadsheet copy of the checklist:
Please note that print runs for cards without serial numbers have not been announced.