2019 Topps Update Series Baseball cards bring the year's flagship line to a close. Some elements from Series 1 and 2 continue while others are entirely fresh. In true traded fashion, veterans on new teams get new updated cards while many early call-ups get their first Topps flagship Rookie Cards. On top of that, the checklist has the usual deep assortment of inserts and other chase elements.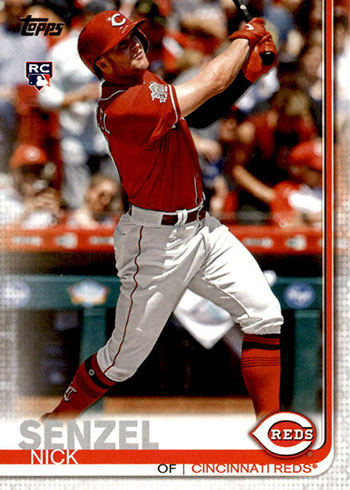 For those chasing the premium stuff, hobby boxes have the standard one autograph or one relic. Hobby jumbo boxes come with an autograph and two memorabilia or manufactured relic cards.
2019 Topps Update Series Baseball Base Set Basics
Like recent years, the base set has 300 cards. This is lower than the 350 cards Series 1 and 2 each had. And while Update Series has different numbering and is considered different, it brings the full flagship line to 1,000 total base cards.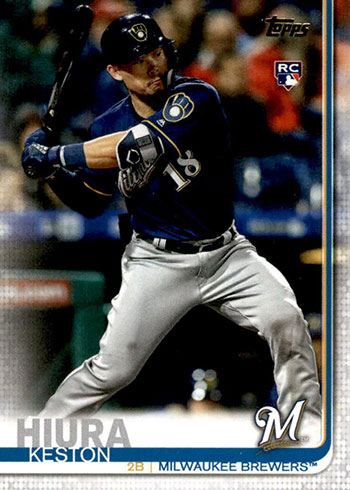 In addition to regular player cards, there are subsets that cover in-season events like the All-Star Game and Home Run Derby.
As far as what's in hobby and hobby jumbo packs, parallels are very much the same as the earlier releases. These include 150th Anniversary (1:6 hobby packs), Rainbow Foil (1:10), Gold (/2019), Vintage Stock (/99), Independence Day (/76), Black (/67), Father's Day Powder Blue (/50), Mother's Day Hot Pink (/50), Memorial Day Camo (/25), Printing Plates (1/1) and Platinum (1/1). Black are not available in any retail configurations.
Clear (/10) also return, although these are usually a partial parallel that doesn't cover the entire base set. Clear are only found in regular hobby, not hobby jumbo and not in any retail.
Both short print and SSP rookie variations exist for select cards.
Inserts
On the insert front, there are three themes that carry over from the previous 2019 Topps Baseball sets. 150 Years of Professional Baseball expands further into the game's history on this anniversary season. This large set is broken down into three sections: Greatest Moments, Greatest Players and Greatest Seasons.
1984 Topps Baseball continues as well. These are new cards based on the 35-year-old set's design. This time around the checklist is primarily rookies, traded players and other veterans.
Iconic Card Reprints take some of the most recognizable Topps cards from the past, at least those not used earlier in the year, around the block for another spin.
2019 Topps Update Series Baseball has some new inserts as well. Est. 1869 goes somewhat hand-in-hand with the 150 Years of Professional Baseball theme. However this particular set sticks with just one team, the Cincinnati Reds (or Red Stockings as they were originally known as). The franchise was baseball's first professional team, hence the Est. 1869 name.
The Family Business looks at baseball lineage. The checklist highlights players who have family members who were also pro ball players.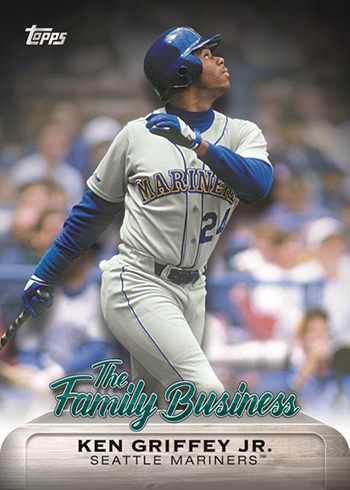 All of these inserts except the Iconic Card Reprints have a similar parallel structure with Blue, Black (/299), 150th Anniversary (/150), Gold (/50), Red (/10) and Platinum (1/1) versions. For the Iconic Card Reprints it's just 150th Anniversary as well as, for select cards, Autographs (/25 or less).
As far as manufactured relic cards go, 150th Anniversary Medallions are only in hobby and hobby jumbo packs. These take on the entire history of baseball and offer up players spanning more than a century. Parallels are 150th Anniversary (/150), Gold (/99), Red (/10) and Platinum (1/1). Some cards also have autographs (/10).
Autographs and Memorabilia Cards
Many of the hits in 2019 Topps Update Series come with a Mid-Summer Classic theme. These start with All-Star Stitches memorabilia cards.In addition to the regular versions are Silver (/50), Red (/25) and Gold (1/1) parallels.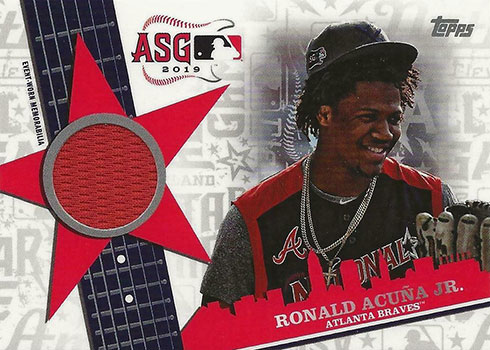 All-Star Stitches Dual and Triple cards come with just 25 copies each. There are also a small number of All-Star Jumbo Patch cards (/5 or less), which have a one-of-one Red version as well.
All-Star Stitches Autograph and Dual Autograph cards are numbered to 25 or less with additional Red (/10 or less) and Gold (1/1) parallels. All-Star Autograph Jumbo Patch cards top out at ten copies apiece.
It's not all All-Star hits, though. Legacy of Baseball Autographs and 1984 Topps Baseball Autographs are both back with new installments. Besides the base versions, these come in 150th Anniversary (/150), Gold (/50 or less), Red (/25 or less) and Platinum (1/1).
Exclusive to hobby and hobby jumbo packs are Topps Reverence Autograph Patch cards (/10).
Cut Signatures can also be found, but with all being one-of-ones, they're among the scarcest cards in the product.
Additional memorabilia cards include Major League Material, which have 150th Anniversary (/150), Gold (/50 or less), Red (/25 or less) and Platinum (1/1) parallels. Own the Name Relics are only in both hobby versions. These have letters from the back of a jersey. Each is a one-of-one on its own but players usually have multiple cards with different letters.
Silver Packs
Like last year, the 2019 Topps Silver Pack promotion carries over to Update Series. Collectors who buy from participating dealers get one exclusive pack for each hobby box and two for a hobby jumbo.
Inside the packs are special 1984 Topps Baseball Chrome cards not available anywhere else. Additional parallels and autographs are randomly inserted as well.
2019 Topps Update Series Baseball cards at a glance:
Cards per pack: Hobby – 14, Hobby Jumbo – 46
Packs per box: Hobby – 24, Hobby Jumbo – 10
Boxes per case: Hobby – 12, Hobby Jumbo – 6
Set size: 300 cards
Release date: October 16, 2019
Shop for 2019 Topps Update Series Baseball boxes on eBay:
What to expect in a hobby box:
Autographs, Memorabilia or Manufactured Relic Cards – 1
150th Anniversary Parallels – 4
Rainbow Foil Parallels – 2
What to expect in a hobby jumbo box:
Autographs – 1
Memorabilia or Manufactured Relic Cards – 2
2019 Topps Update Series Baseball Checklist
Base
Autographs
Memorabilia
Inserts
Team Sets