How Rare Is the 2019 Topps Series 2 Vladimir Guerrero Jr. Short Print?
If you're wondering how rare the 2019 Topps Series 2 Vladimir Guerrero Jr. is, it's unlikely we'll ever have an exact number. The card maker isn't revealing much beyond the fact that it's a short print, a broad term than can range anywhere from a little bit tough to near impossible.
With some basic observations we can start to figure out which end of the spectrum the Guerrero card is on. And it's definitely not near impossible. About a week after the release of 2019 Topps Series 2 Baseball and hundreds are available on eBay. And that's on top of the more than 400 that have already sold just on the one site in the same time frame.
So short print? Yes. Rare? Not really.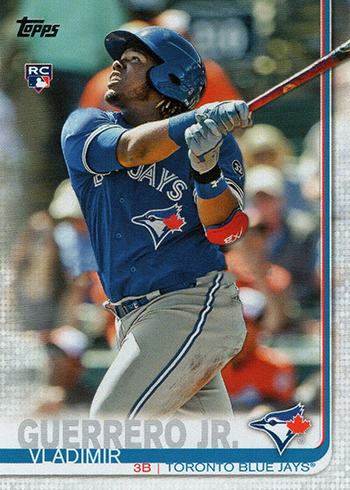 Getting Into the Numbers
According to some breaking 2019 Topps Series 2 in any quantity, hobby and hobby jumbo boxes are your best bets of finding a Guerrero. It looks as though four or five are landing in every 12-box hobby case. For hobby jumbo, they're falling almost every box with around five in every six-box case. Retail, things appear to be tougher but not by much.
According to Brent Williams (brentandbecca on eBay), he expects to build nine or ten base sets from a hobby case and usually seven per jumbo case.
So if these line up, it looks like there are about half as many 2019 Topps Series 2 Vladimir Guerrero Jr. cards in packs than there are the other 350 base cards, maybe a little more. That's not an exact number but between it should give you a ballpark idea. The bigger thing here is that they're around and not going to dry up like the set's Super Short Print variations.
2019 Topps Series 2 is one of the bigger sets of the year. Compared to print runs of the year's other products, it's definitely on the high end. So this isn't a scarce card you should be forking over huge amounts for based solely on the idea of rarity. It does carry some weight being the first Vladimir Guerrero Jr. card from the main Topps Baseball set. But then you're looking at price and value more from the player perspective.
It's also worth noting that the Guerrero card does not have any parallels.
2019 Topps Vladimir Guerrero Jr. Factory Set Variation
The story of the 2019 Topps Vladimir Guerrero Jr. does not end there.
2019 Topps Baseball factory sets will have a Vladimir Guerrero Jr. variation. Different from the card found in packs, it will have a different image on the front. The factory set version will also have a card number on the back, #700. The pack-inserted version of the card has no number.

It's actually the second card with #700 in the factory sets as Alex Bregman also holds that number. So it makes for a 701-card factory set.
The situation is similar to a couple of scenarios in the last decade. Most recently, Ronald Acuna Jr. and Gleyber Torres had 2018 Topps Series 2 variation short prints and different versions in the factory set. Bryce Harper in 2012 is another example.