Before you ask, no, ranking the 20 greatest sports cards of 2018 is not an easy task. It's incredibly hard, honestly. But it's also lots of fun!
Looking back at another year in the hobby, we started jotting down the most important, popular and impactful cards that released in 2018. We didn't use any specific criteria. We didn't want to come up with some convoluted mathematical formula. We just wanted to keep it fun. The list includes baseball, football, basketball and hockey cards.
To help create the list, we considered things such as Hot List appearances, increase in value, player popularity and impact, number of market sales,
and just overall hobby buzz. The list represents the 20 new sports cards that mattered most in the past year. Values range from a few dollars to thousands. You might already have a few, or you may have been chasing some for months.
Of course, we had to draw a line for cards that could be considered. They have to be cards that released in the 2018 calendar year, or were part of 2018 products. So, this could include 2017-18 or some 2018-19 basketball and hockey cards, or some late-release 2017 football cards.
So, we hope you enjoy the list as much as we did creating it.
1. 2018 Bowman Chrome Rookie Autographs Shohei Ohtani
The 24-year-old American League Rookie of the Year was the No. 1 rookie to collect all season. He's a do-it-all pitcher/designated hitter who's fun to watch, and hasn't reached his full potential. He totaled 93 hits and 22 homeruns. His Bowman Chrome Rookie Autograph was his most popular signed card, making several high-ranking Hot List appearances. The one-of-one Superfractor version, graded BGS 9.5, made national news when it sold for more than $180,000 in September.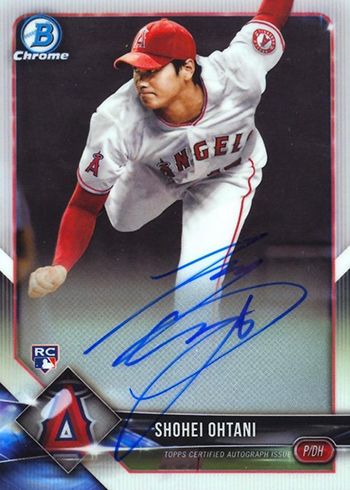 2. 2017 Panini National Treasures Patrick Mahomes RC Auto Patch /99
Patrick Mahomes Rookie Cards remained hot through most of 2018 even though he didn't play much as a rookie last season. This was one of his last RCs to release, and was eligible for the list since it came out in March, 2018. National Treasures always delivers high quality with a patch and on-card signature. Mahomes took over as Kansas City's starting QB and has been phenomenal and in the MVP conversation. This card went from $1,200 to $4,000 in early November, making it one of the most valuable football RCs in the hobby.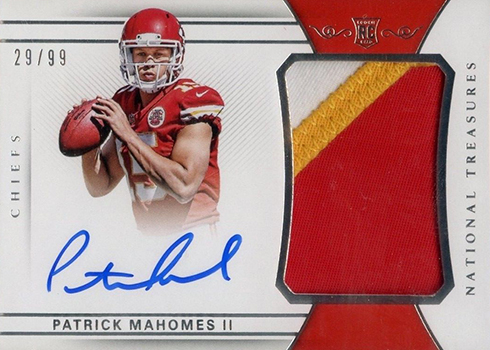 3. 2018 Topps Heritage Action Variations Shohei Ohtani
Ohtani underwent elbow surgery at the end of the season, which could keep him off the mound until 2020. But he still should be serving as DH next season. That hasn't deterred collectors from fighting over this Topps Heritage Action Variation. It's not autographed, but is a short-printed variation that made No. 1 Hot List appearances. Don't confuse it with card #600 in the 2018 Topps Heritage High Number update set.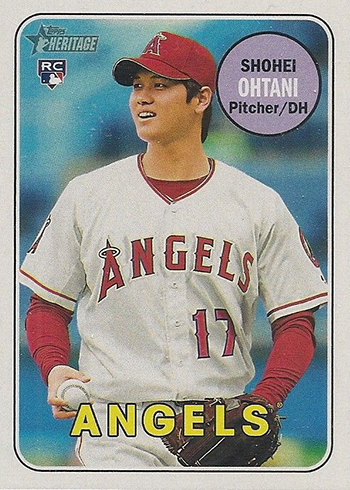 4. 2018 Panini Contenders Draft Picks Baker Mayfield RC Autograph
From former college walk-on to Heisman Trophy winner to No. 1 pick in the NFL Draft, Baker Mayfield carried incredible hype. This was arguably the hottest 2018 football Rookie Card during the spring and summer. Panini Contenders Draft Picks has been at hit with collectors since it debuted a few years ago, leading all draft picks products. The card made three consecutive top-five Hot List appearances and is still one of Mayfield's most popular RCs, attracting a lot of Oklahoma Sooners collectors.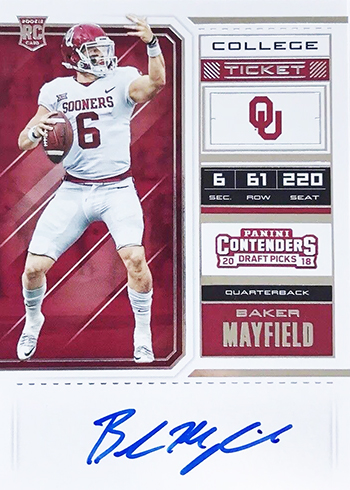 5. 2017-18 The Cup Brock Boeser RC Auto Patch /99
The top card in the premiere hockey set belongs to young star Brock Boeser. The right-winger for the Canucks scored 55 points during the 2017-18 season, tied for the team lead. This Rookie Card is limited to 99 copies and has both an on-card autograph and a patch. Between Boeser and Elias Pettersson, the hot rookie for 2018-19, it looks like the goals could be flying in Vancouver for years to come.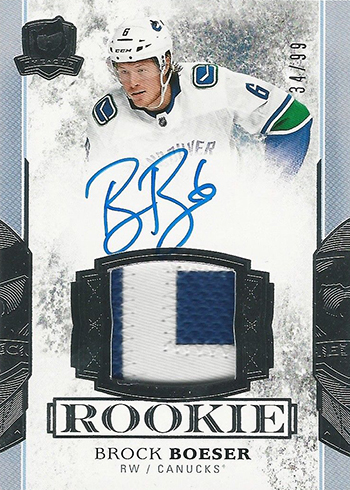 6. 2017-18 Panini National Treasures Donovan Mitchell RC Auto Patch /99
Donovan Mitchell was one of the standouts in a loaded 2017-18 NBA rookie class. And none of his Rookie Cards is bigger than National Treasures. Highlighted by the traditional mix of on-card signature, massive patch and 99 copies, the card was going for thousands the moment it arrived and it hasn't let up.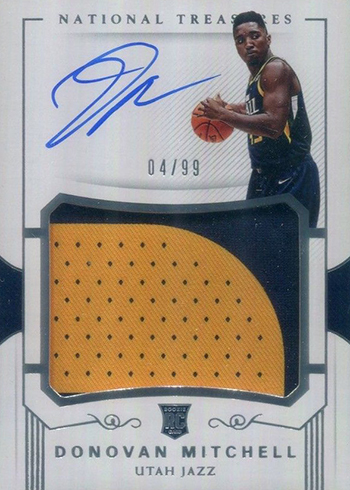 7. 2018 Topps Heritage Real One Autographs Shohei Ohtani
The autographed version of Ohtani's Topps Heritage Action Variations card ranked higher than his Bowman Chrome Rookie Autographs on some Hot Lists. This one has an on-card signature. There are 69 copies of a red ink version, one of which was pulled by MLB pitcher Pat Neshek who made headlines for selling it right before Ohtani cards soared.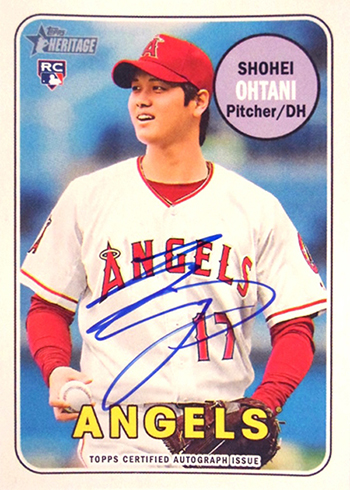 8. 2018 Panini Contenders Draft Picks Saquon Barkley RC Autograph
Saquon Barkley was one of the most NFL-ready prospects in years, and collectors immediately made this card one of the most valuable RCs of the year. Barkley has already proven to be an elite all-around offensive weapon with more than 2,000 yards and 11 TDs in his first season with the Giants. Despite many new Barkley RCs releasing over the summer and fall, none remained hotter for a longer period of time than this one. Including variations, Barkley has four different versions. All are short prints, meaning you may have an easier time finding parallels.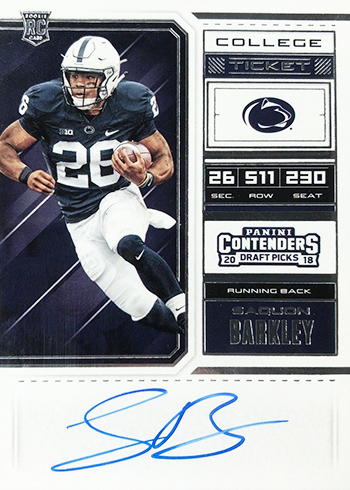 9. 2018-19 Panini Prizm Luka Doncic RC
Luka Doncic has become an instant-star with the Dallas Mavericks, bringing with him plenty of international recognition. But that's not the only thing this card has going for it. 2018-19 Panini Prizm Basketball is one of the biggest sellers of the year, driving sales at hobby, retail and international levels.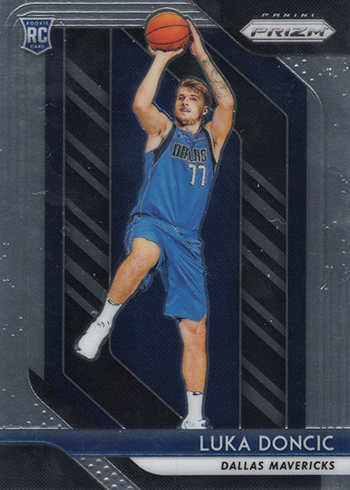 10. 2018 Topps Archives Juan Soto RC
2018 Topps Archives has one of the most popular Juan Soto Rookie Cards. It also has added significance being his first pack-inserted RC. He debuted as a 19-year-old rookie and totaled 121 hits, 25 homers and 70 RBI last season. This card may not be worth a lot, but it's one that any collector can own. It's also a reminder of how simple a significant card used to be.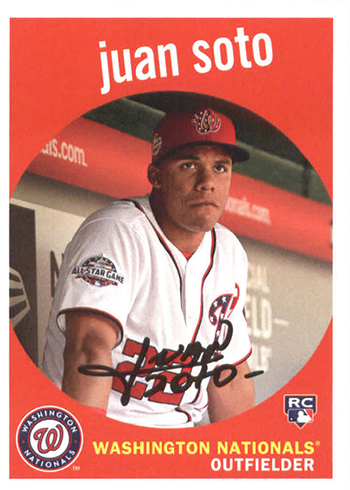 11. 2017 Panini Optic Contenders Patrick Mahomes RC Autograph
Mahomes led the NFL in passing touchdowns in 2018 with 50. He commands, perhaps, the most exciting offense in football. Not bad for a first-year starter. His Rookie Cards have exploded in popularity and value. This one from the debut release of the Panini Optic Contenders brand quickly became a top choice for collectors. It released in 2018, bringing the design of the regular Contenders RC (which released at the end of 2017) and adding the familiar chromium finish of the Optic brand.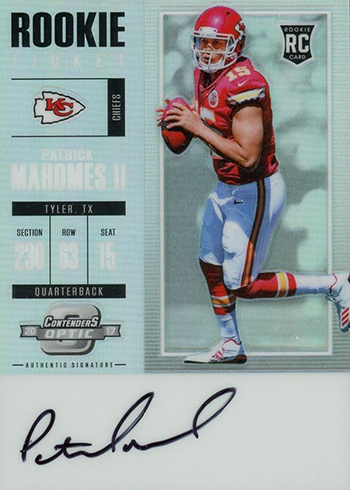 12. 2017-18 Panini Contenders Donovan Mitchell RC Autograph /125
Panini Contenders has become a go-to product for basketball Rookie Cards much like it has been for football RCs for years. The autographed RCs in the 2017-18 set are limited to 125. Combine that with Mitchell's star power and it's easy to understand this card's popularity and value.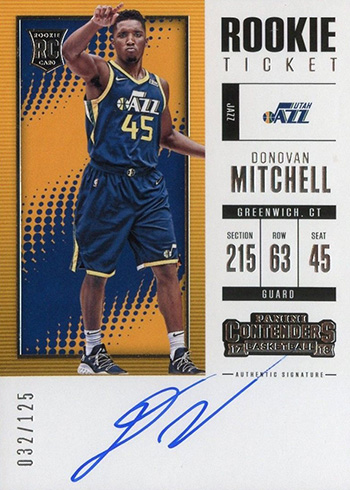 13. 2017-18 Panini Contenders Jayson Tatum RC Autograph /125
It was hard to decide which Contenders RC to rank higher. This Tatum actually ranked higher than the Mitchell on a couple Hot Lists. It will be interesting to see which card, and which young star, eventually ends up on top. For now, this is one of the top basketball Rookie Cards from 2018 that collectors are still chasing.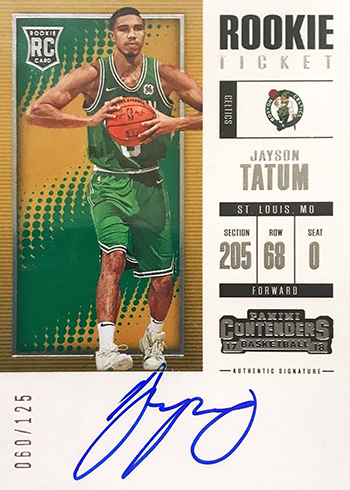 14. 2017 Panini National Treasures Deshaun Watson RC Auto Patch /199
Deshaun Watson was having a Rookie of the Year-worthy season last year until he was knocked out with an injury. He was the third rookie QB drafted in 2017, but was a collector-favorite. His card values remained higher than any other 2017 rookie, and this National Treasures ended up being his best choice. It released in 2018 after his injury, but still carries a hefty price tag.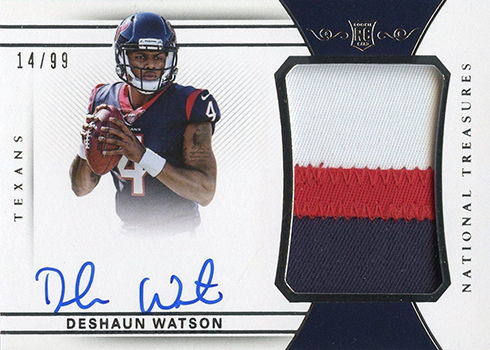 15. 2018 Topps Living Set Nick Markakis
This might be the most unique card on our list being from the online-only Topps Living Set. Unlike most cards here that picture rookies, this one is of 13-year vet Nick Markakis. This card just happens to be the toughest card to acquire from the set. The limited run, the lowest thus far for the popular release, created a frenzy that pushed the value into the hundreds as more people jumped on board. Because print runs are limited to the initial week's sales, it meant a more people were chasing a card with little extra supply. It's also just a cool-looking card, designed after the 1953 Topps set.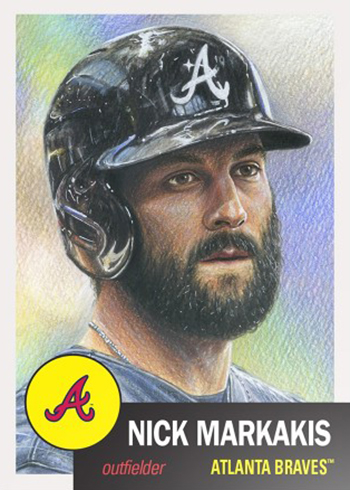 16. 2018-19 Upper Deck Elias Pettersson RC
When it comes to hockey, Upper Deck's Young Guns are what the masses chase. And the release of 2018-19 Upper Deck Series 1 just so happened to coincide with Elias Pettersson catching fire for the Vancouver Canucks. The result? One of the subset's most coveted cards in a couple of years.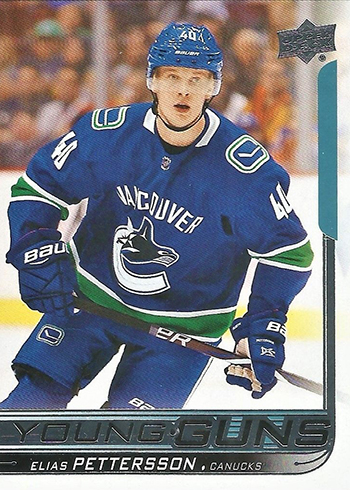 17. 2018 Topps Base Set Photo Variations Ronald Acuna Jr.
The rookie trio of Shohei Ohtani, Ronald Acuna and Juan Soto was a fun competition to watch in the AL and NL Rookie of the Year races. Ohtani became the clear AL winner, but the NL was a tight one between Acuna and Soto. Acuna won out with his .293 batting average and 26 homers. This photo variation from 2018 Topps Series 2 Baseball was a surprise inclusion and one of his first MLB cards following his call-up.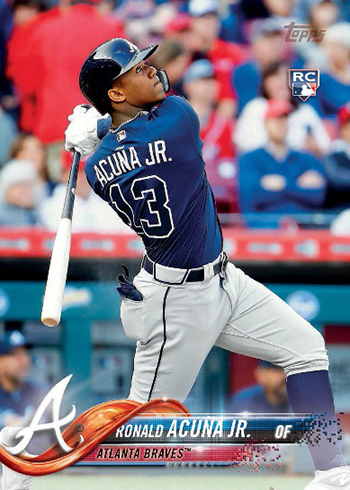 18. 2018 Panini Origins Rookie Autographs Lamar Jackson
With a fantastic close to the regular season, the Baltimore Ravens have found their quarterback of the future in Lamar Jackson. One thing to look at with Jackson's cards is that he has noticeably fewer autographs than a lot of other top 2018 draft picks. One of his key early releases is the 2018 Panini Origins Rookie Autographs. It has a distinct design and an on-card signature. The price tag remains reasonable, although it's not the easiest one to find.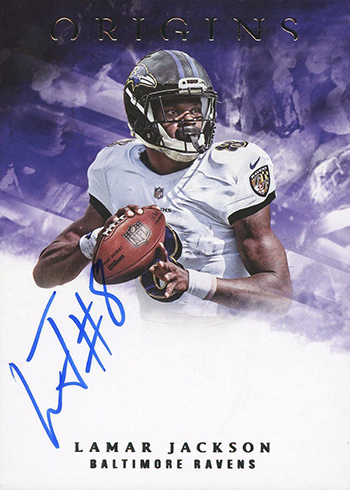 19. 2018-19 Panini Contenders Luka Doncic RC Autograph
2018-19 Panini Contenders Basketball was one of the last major releases of the year. That means that Doncic's RC, an autograph, has had time to make any Hot Lists yet. But it's already creating a frenzy. Unlike 2017-18 Contenders Basketball, these Rookie Ticket Autographs aren't serial numbered. Doncic has both a regular Rookie Card and a variation that has a different photo and a slight difference with the logo.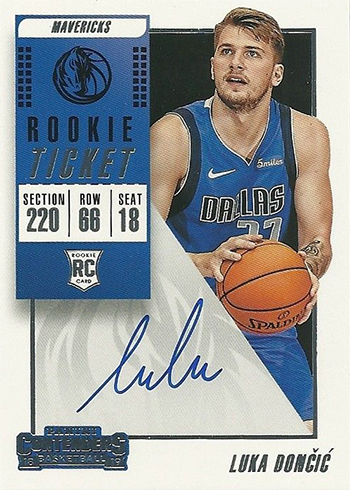 20. 2017-18 Upper Deck Day with The Cup Phil Kessel
This might be the coolest card on the list. The Upper Deck Day with the Cup cards picture NHL champions in public posing with the Stanley Cup. This one of Pittsburgh Penguins RW Phil Kessel shows him on the golf course, and the cup filled with hot dogs. He even tweeted "Hotdogs taste better out of The Cup!"