Top 21 Sports Cards and Trading Cards of 2021
2021 was another big year for the world of sports cards. The boom continued for much of the year, even if there are signs of some areas levelling off. One thing that didn't slow was the number of releases. Between mainstream and online releases, more than 300 products were released in 2021 across all sports and entertainment. That's a lot. So what were the top sports cards of 2021? It depends on how you look at it.
Here are 21 of the key sports cards and trading cards from the year that left an impression and helped define the year that was in the hobby. A couple of things to consider here. First, the list covers cards and products released during the 2021 calendar year. Second, while value is certainly a criteria for some cards, this is definitely not a list of "The Most Valuable Cards of 2021." These are more the conversation starters and trendsetters.
21 Sports Cards and Trading Cards That Helped Shape the Hobby in 2021
21. 2020 Topps Now USA Election Bernie Sanders #21
Can a meme become a trading card? A mittens-wearing Bernie Sanders proved emphatically that it can. The card, which shows the Vermont senator at the presidential inauguration, went on to sell a massive 91,169 copies. That's the most ever for any Topps Now card. It garnered plenty of mainstream attention and likely made its way into the hands of many non-collectors looking for a timely souvenir from a memorable moment.
Buy on: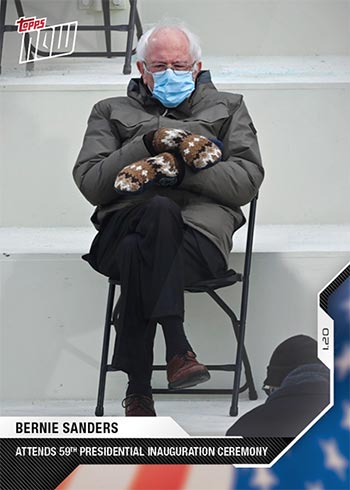 20. 2020-21 Hoops SLAM Kobe Bryant #19
The retail-only SLAM inserts in 2020-21 Hoops might not be the most valuable inserts of the year. That doesn't mean that they didn't tap into something, particularly some recent nostalgia with cards recreating some of SLAM magazine's most iconic covers. When Hoops first came out, this was one of the big retail chases.
Buy on: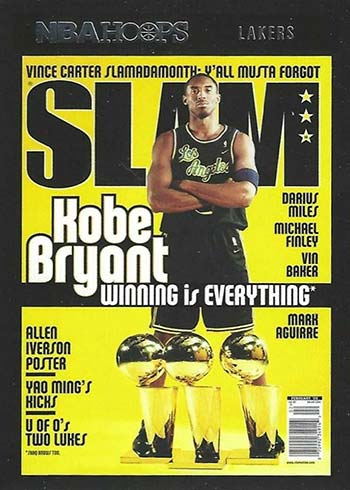 19. 2021 Topps Update Ultra Rare Variations Fernando Tatis Jr. #US1
Variations have been a big part of Topps Baseball for several years. Every year there are a lot of them, some that stand out more more than others. It didn't take long for these Ultra Rare cards in 2021 Topps Update Series to become known as the Big Head Variations. Odds on these weren't announced but they are extremely tough. Although all are fun, Tatis' card stands out even more. The energetic photo lends itself nicely to the caricature take.
Buy on: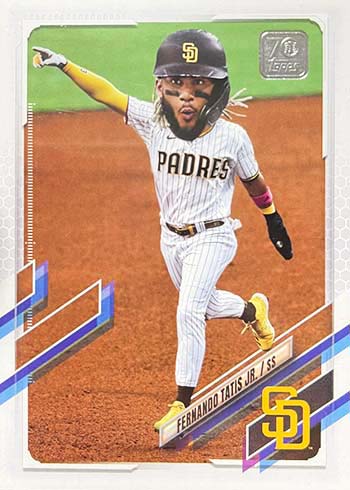 18. 2021 Topps Now Baseball Wander Franco #402
2021 Topps Now Baseball has several debuts. None were bigger than the one commemorating Wander Franco's first game in the bigs on June 22. In a span of about 24 hours, it sold 61,305 copies, a record for a Topps Now baseball card. Five levels of parallels, each numbered to 49 or less, were also sprinkled in. A small number of autograph relic versions were also available but sold separately. The print-on-demand cards may not be traditional Rookie Cards, but their direct connection to players' debuts is still significant.
Buy on: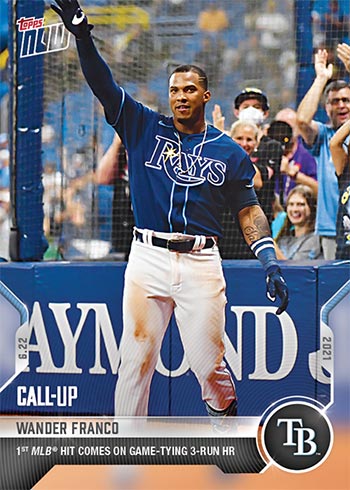 17. 2019-20 Upper Deck The Cup Cale Makar Auto Patch #62 /99
The Cup is always a late release. However, with the pandemic causing major delays on a lot of fronts, it pushed 2019-20 Upper Deck The Cup all the way back to February, 2021. As usual the product has many of the season's biggest hockey Rookie Cards with Cale Makar acting as one of the headliners. Now in his third season, the Avalanche standout has already emerged as one of the league's top defensemen.
Buy on: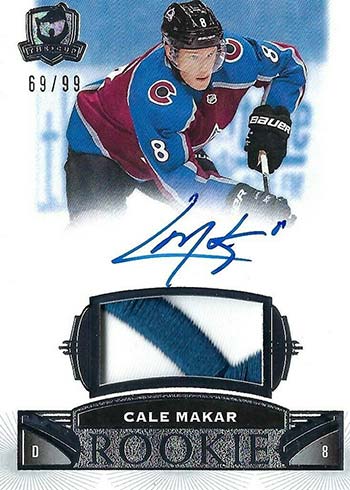 16. 2020-21 Panini Chronicles Contenders Optic Historic Rookie Ticket Autographs David Beckham #1 /99
The international soccer scene didn't have massive rookie in 2021 like it did with Erling Haaland in some releases from the 2020 calendar year. 2021 did see one of the sport's most influential modern icons appear on his first autographs in a long time. David Beckham's signature is in several products released by Panini in 2021 but the Contenders Optic Rookie Ticket Autograph from Chronicles gets the nod here thanks to its connection with a longstanding brand as well as Beckham's early years. With 99 copies, it's also one of his more plentiful autographs. Even still, if you manage to land one for under $1,000 you're likely getting a deal considering how these have sold.
Buy on: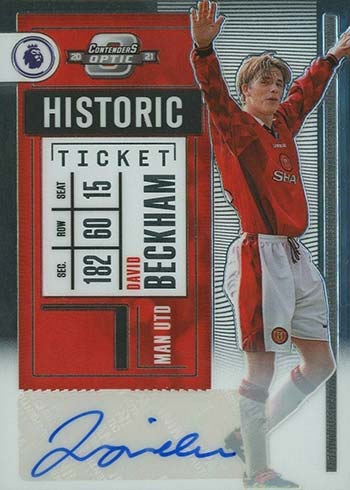 15. 2021 Panini Prizm UFC Color Blast Conor McGregor #15
2021 saw Panini take over the UFC license. Parallels were big draws in both Prizm and Select with several low-numbered cards of top fighters fetching several thousands of dollars. But they weren't the only cards packing a punch. As Panini's rare inserts continue to build momentum, Prizm Color Blast cards have emerged as some of the most coveted. This includes the first batch of UFC Color Blast, which are led by Conor McGregor.
Buy on: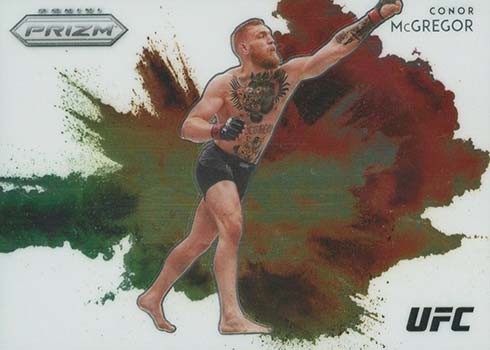 14. 2021 Parkside NWSL Premier Series Vol. 2 Signature Series Trinity Rodman #SS-TR
Just 19-years old, Trinity Rodman has a lot of soccer ahead of her. Currently a member of the NWSL's Washington Spirit, she already has experience with the U17 and U20 national teams. It's likely she'll be representing the United States at the World Cup and Olympics over the next several years. Rodman's first card is in 2021 Parkside NWSL Premier Series Vol. 1. However, it's her autograph in the follow-up release that has been fetching more than $500.
In case you were curious, yes, she is Dennis Rodman's daughter.
Buy on: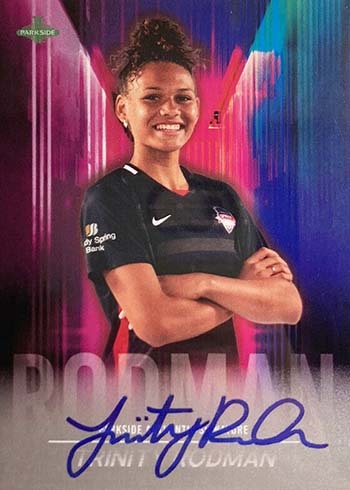 13. 2021 Panini National Treasures Base Assistant to the Traveling Secretary Jason Alexander #GC /99
This is one of those cards that just seems to pop out of nowhere. It certainly points towards Seinfeld with the actor, photo and reference to Alexander's character with the card number and, of course, his character's job with the New York Yankees in the classic sitcom. As for the jersey swatch — it's not actually from the show. Think of it as a fun card that's totally a Seinfeld card even if it isn't officially a Seinfeld card. It's also one that was topping $1,000 for a time not long after its release.
Buy on: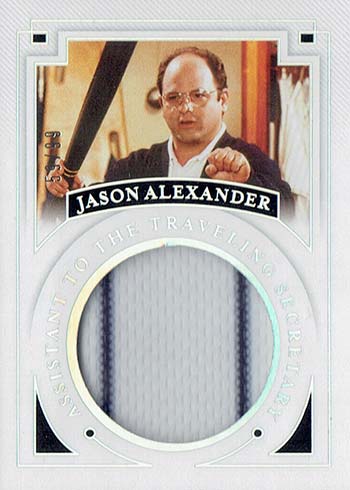 12. 2021 Bowman Chrome Draft Autographs Marcelo Mayer #CDA-MM
This one came in under the wire, coming out at the very end of the calendar year. That hasn't stopped Marcelo Mayer, the fourth overall pick in the 2021 MLB Draft, from becoming one of the most valuable of the year's Bowman Chrome Prospect Autographs. It's very possible someone else could emerge over the next couple of years, but for now Mayer is king of this year's crop of the most influential cards in baseball right now — the 1st Bowman Chrome Autograph.
Buy on: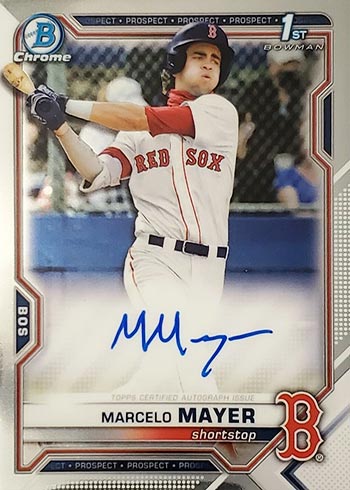 11. 2021 SP Game Used Collin Morikawa Auto Shirt #69 /299
Upper Deck returned to the links in 2021 with Artifacts and SP Game Used. With seven years between releases, it meant some new faces on golf cards. Enter Collin Morikawa. He won't turn 25 until February but he's already won a pair of majors and currently sits second in the world on the PGA rankings. Outside of some extremely scarce inserts and parallels, Morikawa's First Tee Rookies autographed memorabilia card in 2021 SP Game Used ranks as his key card. Because he has a more common base card in the product, this one isn't a Rookie Card but in the modern hobby, it doesn't matter. This is the pace setter for everything else at the moment.
Buy on: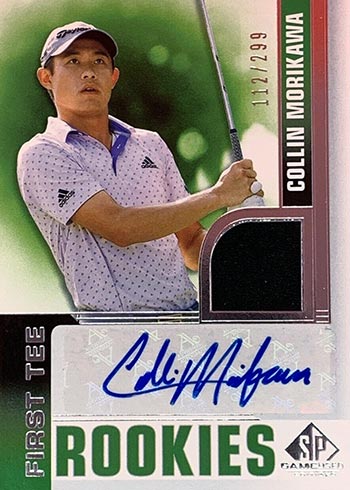 10. 2021 Pro Set Trevor Lawrence #PS1
The hobby's biggest comeback in 2021 was the return of Pro Set. Acquired by Leaf, an online-exclusive multi-sport release helped relaunch the brand that was synonymous with the hobby in the late '80s and early '90s. Done with a print-on-demand format using the 1989 Pro Set Football design, the Trevor Lawrence kicked things off by selling a massive 56,111 copies. The card also has a reverse image variation with a print run of 1,000 copies.
Buy on: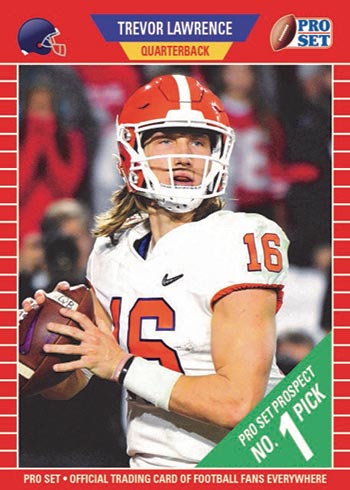 9. 2020-21 Upper Deck Kirill Kaprizov #451
When it comes to rookies, the 2020-21 hockey season was supposed to revolve around Alexis Lafreniere. To a certain extent, it did but the first overall pick did not light things up as expected. It was Minnesota's Kirill Kaprizov that lit things up. With Lafreniere's Young Guns RC arriving in Series 1 and significant delays pushing a lot of popular hockey releases to the 2022 calendar year, Kaprizov's key Rookie Card, found in 2020-21 Upper Deck Series 2, stands out even more.
Buy on: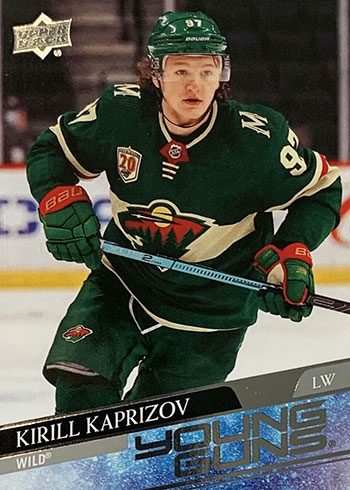 8. 2020 Topps Dynasty Formula 1 Autographed Patches Max Verstappen /10
The 2021 Formula 1 World Champion has three standard Autograph Patches cards in 2020 Topps Dynasty, each numbered to 10. Dual- and Triple-Patch Autographs are also available. No matter the card, all are scarce and command thousands. Verstappen may not command the level of attention as Lewis Hamilton but he's also just 24-years old. He's also got a built-in rivalry with Hamilton now thanks to the drama and the way the historic racing season played out. As F1 continues to grow and expand, 2020 Topps Dynasty should prove to be the crown jewel of modern racing cards.
Buy on: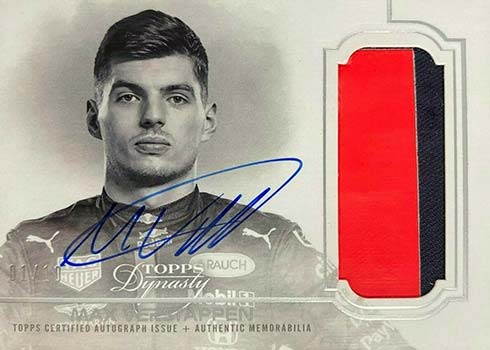 7. 2021 Topps Star Wars Stellar Signature Natalie Portman #A-NP /40
For decades, Natalie Portman hasn't been the most readily available autograph in any form. However, that changed a little bit in 2021 as Topps was finally able to get the Oscar winner's signature onto trading cards. Found the the ultra high-end 2021 Star Wars Stellar Signatures, there aren't a lot but it's something. The first few copies to sell have typically been in the $4,000 range. This fills one of the biggest holes for Star Wars actors without certified autographs connected to the franchise.
Buy on: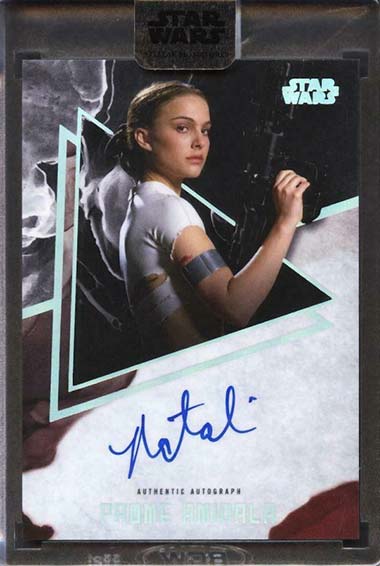 6. 2021 Topps Project70 Ronald Acuna Jr. by Alex Pardee #34
Topps Project70 might not have captured the same level of hobby excitement or sales levels as the similar Project 2020 but there are still lots of amazing pieces of art on the massive checklist. Alex Pardee made a lot of people take notice with his Ronald Acuna Jr., his first card in the set. Similar to Ermsy's Mike Trout from Project 2020, Pardee's vision pushes the boundaries of what a baseball card can be. Here, it borders on the monstrous and horror. Pardee hasn't let up in his run, bringing his Brightmares every time out. Print runs reflect the artist's popularity in Project70. Five of the top 10 sellers in the set are from Pardee including the top three overall. Although the Acuna has almost 15,000 copies, it's still commands a solid premium over its original price.
Buy on: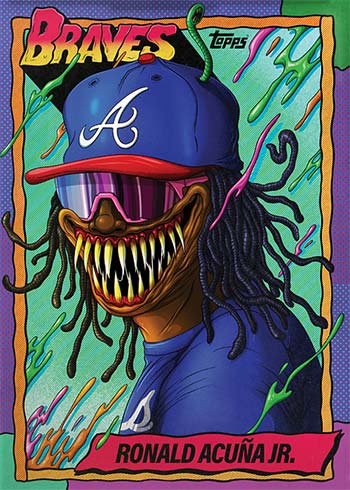 5. 2020-21 Panini Prizm LeBron James #1
Come on, now. That photo is perfection. When people look back on James' career, there's going to be his block in Game 7 of the 2016 NBA Finals and there's going to be this shot. It's instantly icon, combining athleticism and angles in a way that could make some question gravity. From a 36-year-old, no less. Sports Illustrated's Ben Pickman spoke with photographer Andrew Bernstein about how the shot came together.
In its base form, this isn't a big-money card compared to some of the Rookie Cards in 2020-21 Panini Prizm Basketball. That said, it still fetches more than you'd expect from a readily available 18th-year LeBron James card. Many of the tougher parallels bring thousands. If you're looking for some basketball card perfection, color-match gold or purple Prizms are out there.
Buy on: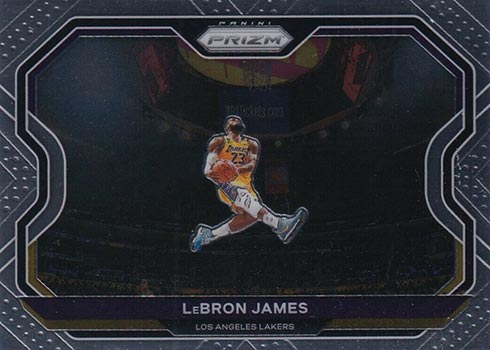 4. 2021 Absolute Kaboom Mac Jones #K44
As far as inserts go, 2021 was the year of Kaboom. Although not exclusive to the sport, it was 2021 Absolute Football that appears to have gotten the biggest boost from the lively cards. Among the leaders on the checklist is Mac Jones. The Patriots quarterback had a lot of big cards released in 2021. With several key RCs like Prizm, National Treasures and Contenders to come in 2022, this one stands out that much more.
Buy on: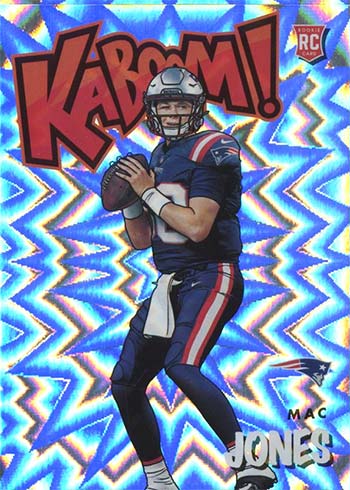 3. 2020 Panini National Treasures Justin Herbert RC Auto Patch #138 /99
Joe Burrow might be hot entering 2022, but Justin Herbert carried the torch for most of the year as the top quarterback from the 2020 draft class. Since its release in April, 2021, Herbert's Rookie Card from 2020 Panini National Treasures has been among the hottest football cards in the hobby, consistently netting $30,000 and up depending on the grade.
Buy on: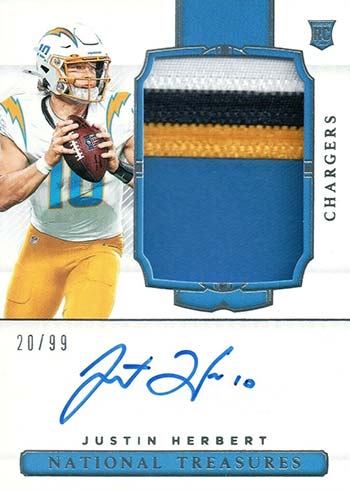 2. 2020 Topps Chrome Formula 1 Lewis Hamilton #1
Formula 1 made a massive splash in the hobby in 2021. Prior to the 2020 racing season, there had never really been mainstream F1 cards. Their deal with Topps changed that. As F1 surges in popularity, Lewis Hamilton's stock in the collectibles world has soared. He's not only one of the greatest drivers of all-time but his cultural impact is also massive. All of this is on a global level so hobby norms might not be as noticeable. What is, though, are the prices his 2020 Topps Chrome Formula 1 card are fetching. The base version is over $100 raw while Refractors and the Image Variation can draw thousands. Then there's the Topps Chrome Sapphire card. It, too, can top $1,000. It is one of the reasons that hobby boxes for it and the complimentary 2020 Topps Chrome Formula 1 Sapphire are now approaching $2,000.
Buy on: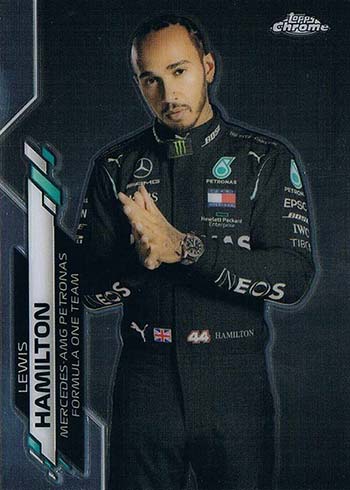 1. 2020-21 Panini National Treasures LaMelo Ball RC Auto Patch #130 /99
A lot of people gave a warning that the 2020-21 NBA rookie crop wasn't as strong as the ones in the years immediately before. That may very well be true, but that doesn't mean there aren't standouts. LaMelo Ball is making the Charlotte Hornets relevant again, like they were in the days of Starter jackets and Larry Johnson. Ball is one of those players where you turn on a game or even the nightly highlights package and you never know what's going to happen. Combine that with the drawing power of National Treasures and you've got a truly significant card.
Buy on: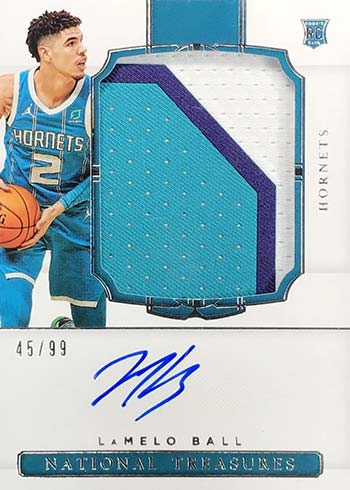 In case you're wondering how they stack up, here's our list of the top cards of 2020.