Pat Neshek's 2018 Topps Heritage Shohei Ohtani Autograph Sells for Over $6,000
Last week, Phillies pitcher and noted card collector, Pat Neshek pulled one of the most significant baseball cards of 2018 thus far — a 2018 Topps Heritage Shohei Ohtani Red Ink Autograph. Not only that, but it was numbered 01/69, giving it some added significance.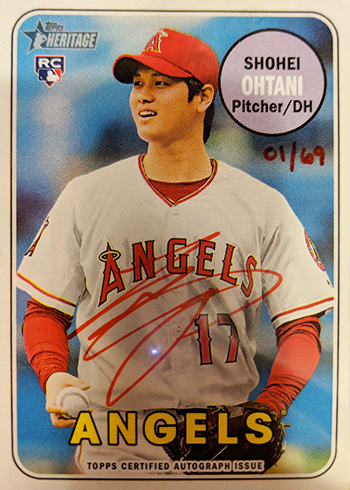 Neshek promptly put the card on eBay where it sold on Sunday night for $6,101.
Neshek pulled the Ohtani autograph on April 2 during a personal break of several products.
Ripping open packs in ny, I found it!!!!!!! Ohtani #'d 1/69 pic.twitter.com/irUdhBOxvL

— Pat Neshek (@PatNeshek) April 2, 2018
Given the combination of his fame and the importance of the Shohei Ohtani card, it got mainstream media attention. The timing probably couldn't have been better, either.
Related Reading: Shohei Ohtani Rookie Card Guide
As the story was being passed around, Ohtani went on to have one of the most impressive weeks ever for a rookie, first homering in three straight games then throwing 6 1/3 perfect innings on Sunday night.
2018 Topps Heritage Red Ink Shohei Ohtani autographs have seen some tremendous swings in the first few weeks since they came out. Some have gone as low as around $1,450. The only other one to come close to $6,000 was a PSA 10 copy of the card that sold for $5,999 the day before Neshek's sold.
This particular version of the card is much more scarce than the regular one that has blue ink. The production run for that one hasn't been announced.
A tweet from Neshek shows that he might already be regretting his decision to sell the card.
Having major regret listing this card, I think I should've held on to this. Guy is unreal https://t.co/ZZC5gjoj6s

— Pat Neshek (@PatNeshek) April 8, 2018
Comments? Questions? Contact Ryan Cracknell on Twitter @tradercracks or by email.