The Mystery of the 2018 Bowman Chrome Shohei Ohtani Kanji Autograph
When Topps first teased Shohei Ohtani autographs in 2018 Bowman Baseball, they showcased a pair of Blue Refractors. One had the Japanese phenom's regular signature. The other was written in Kanji.
Through the first couple of weeks of the product's release, plenty of Ohtani autographs came out of packs. But none in Kanji (at least not shown publicly).
Some speculated the special cards might have been held back for another promotion or for some other reason.
But then one popped up. In fact, it's the same one that Topps initially previewed (022/150). And that's leading to more questions on just how rare this particular version of the card is.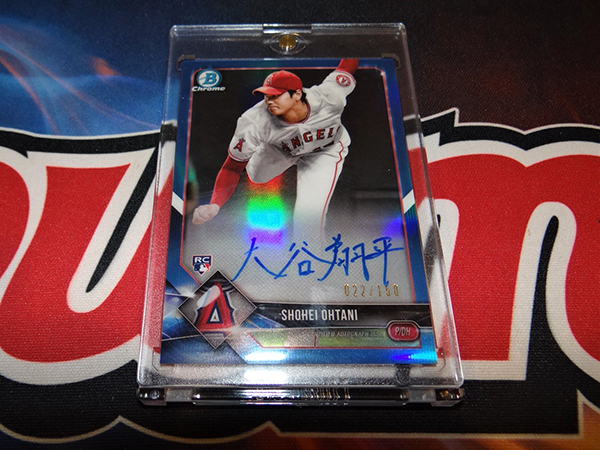 The card was found on Friday, May 11 during a half-case group break of 2018 Bowman jumbo boxes. The breaker was Julie Spoonamore who operates Leader of the Pack Breaks.
"My first thought when I saw the card was 'It's about time!  We were due to hit Ohtani!'  It came out very early in the break and I was trying not to go entirely fangirl on it because I still had a lot of cards left to open," Spoonamore recalled. "It took me a minute to process that it was the Japanese signature and I also wasn't sure at that point just how rare that version might be."
Spoonamore mentioned that the buyer of the Angels in the team-style break was watching live.
"He was doing some research and reporting back in chat and it was then we began to think it might be extremely rare," she said.
The collector already has the card in hand. Spoonamore said they'll likely have it graded first then sell it. He has already received multiple offers.
How Many 2018 Bowman Chrome Shohei Ohtani Kanji Autographs Exist?
The 2018 Bowman Chrome Shohei Ohtani Kanji autograph is a Blue Refractor numbered to 150. However, all the other versions of the card that have surfaced so far are his usual autograph.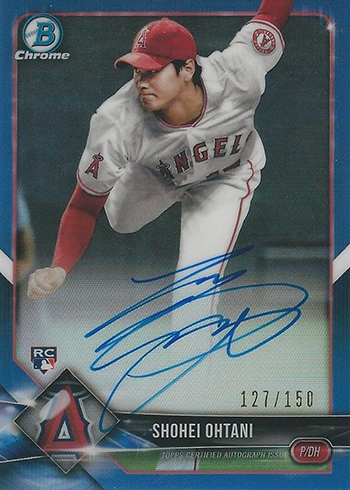 Is this a one-of-a-kind variation?
Topps isn't giving an exact number, although they did there was a "small amount" of Kanji Ohtani autographs.
That leaves it open to some interpretation and will lead to continued speculation whether it's a one-of-one of sorts. But whether there's one, ten, more than that or somewhere in between, it is proving to be an intriguing card in an ever-expanding landscape of Shohei Ohtani autograph cards.
Comments? Questions? Contact Ryan Cracknell on Twitter @tradercracks or by email.