2018 Topps Heritage Baseball Checklist Takes It Back to the Summer of '69
The 2018 Topps Heritage Baseball checklist takes it back to an era of Neil Armstrong was taking one giant leap, Jimi Hendrix laying out his soul on the Woodstock stage and a young slugger named Reggie Jackson got his Rookie Card. The set imagines today's players as though they were part of 1969 Topps Baseball.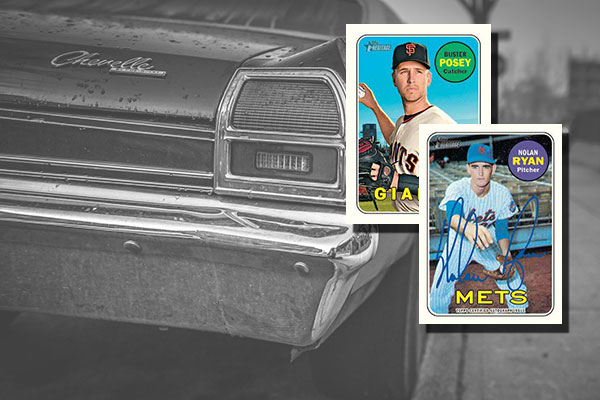 As has been with the brand for years, 2018 Topps Heritage takes its inspiration from the past, making something entirely new in the process.
2018 Topps Heritage Baseball is also the first pack-based set to include Shohei Ohtani in a MLB uniform.
2018 Topps Heritage Base Set
Hobby history is most apparent in the base set, which takes on the same general design as Topps' 1969 release. The means a white border with a rounded frame, the team name in large block letters along the bottom and the player's name and position in a round circle.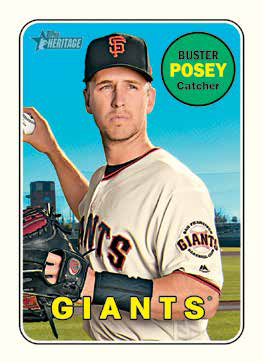 Subsets include Rookie Stars, Topps News All-Stars, League Leaders and World Series Highlights. These also have roots in 1969 Topps Baseball.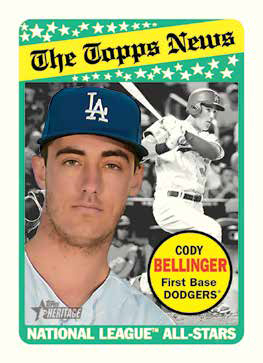 The full 2018 Topps Heritage checklist has 500 cards, the final 100 of which are short prints. Insertion rates for the SP cards has not yet been announced. Traditionally, they're not too rare but tough enough to a a challenge for set builders.
Shohei Ohtani was a late addition to the set. He's included on an additional short-printed card as part of the Action Image Variations.
Parallels are a mix of new and returning themes. 100th Anniversary parallels debut with a foil stamp featuring the MLB Silhouetted Batter logo from 1969. These have 25 copies each. Magenta Backs are even harder to pull. They have ten copies each.
2018 Topps Heritage Baseball hobby packs have a pair of exclusive parallels, Black Border (50 copies each) and Flip Stock (5 copies each). Flip Stock cards have a matte front and glossy back, basically the opposite of regular cards. It's what you'd get if a card sheet was flipped over before the cards were printed.
Chrome cards return as a partial parallel of 100 cards. Parallels include Refractors (/569), Black (/69), hobby-only Gold (/5) and Superfractors (1/1). Hot Box Refractors also return.
Select cards have Mini parallels as well numbered to 100.
2018 Topps Heritage Baseball Variation Short Prints
Variations return in 2018 Topps Heritage Baseball. Announced versions include Throwback Uniforms, Action Image and Team Name Color Variations.
Action and Team Name versions are only in hobby packs.
Heritage consistently has some surprise variations as well, such as errors.
Autographs
All basic autographs in 2018 Topps Heritage Baseball come with on-card signatures. For the most part, they stick with the brand's history.
Real One Autographs make up the bulk of the autograph content. These are a mix of current and retired players done on the 1969 design. Special Edition Red Ink parallels return, hand-numbered to 69 copies or less. Shohei Ohtani has been confirmed for the autographs checklist. This is his first MLB autograph card.
Other signers on the 2018 Topps Heritage autograph checklist include Nolan Ryan, Kris Bryant, Hank Aaron, Mike Trout and Manny Machado. Rookies besides Ohtani with Real One Autographs are Rafael Devers, Victor Robles and Clint Frazier, among others.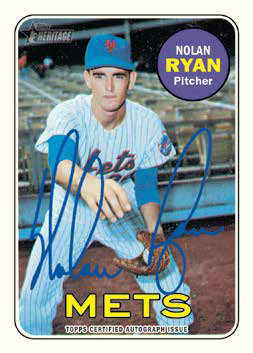 Multi-signed cards are also available in the hobby-exclusive Real One Dual Autographs (/25 or less) and Real One Triple Autograph (/5). Aaron Judge and Reggie Jackson are together on one of the combo autographs. They're joined by Derek Jeter for a triple autograph card.
Seattle Pilots Autographs feature players the team's 1969 roster or was part of the franchise in some form. It was the only year for the Pilots. The 15-card checklist has several rare names but they're not necessarily big ones. Ball Four author Jim Bouton is likely the biggest name to most.
1969 Topps Baseball featured Reggie Jackson's Rookie Card. Ten have been repurchased by Topps and signed for 2018 Topps Heritage Baseball. They're included in packs as Reggie Jackson Buyback Rookie Autographs.
One-of-one Cut Signatures are a mix of players featured in 1969 Topps Baseball and the era's celebrities.
Relic Cards
Clubhouse Collection Relics return for another year in 2018 Topps Heritage Baseball. Base versions have swatches and bat pieces from active players. Parallels include Gold (/99) and Patch (1/1).
The checklists for Clubhouse Collection Dual (/69), Triple (/25) and Quad (/10) Relics is a mix of those playing now and retired players. All three of these have hobby-only one-of-one Patch parallels.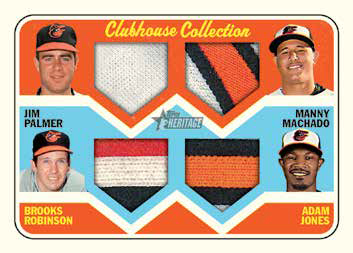 On the signed memorabilia side, there are Clubhouse Collection Autograph Relics (/25 or less) and Clubhouse Collection Autograph Dual Relics (/10 or less). Flashback Autograph Relics (/25 or less) all have retired players from 1969. These all have on-card autographs.
Stamp and coin relics both return in 2018 Topps Heritage Baseball. 1969 Mint cards are only in hobby packs. They have a 1969-minted coin embedded in them. Versions include Nickel (/15), Dime (/10), Quarter (/5) and Half Dollar (1/1).
1969 U.S. Postage Stamp Relics (/50) take a similar approach with 1969 stamps. Images are of players or events from the same year.
Other Inserts
The main insert mix on the 2018 Topps Heritage Baseball checklist should be familiar to those who have collected the brand over the years. These include New Age Performers (1:12 packs), Baseball Flashbacks (1:20), News Flashbacks (1:20), and Then & Now (1:20), which pair up a current player with someone with similar stats from 1969.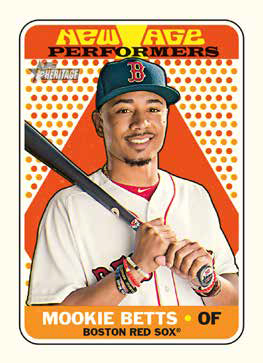 1969 Topps Deckle Edge (1:10) recreates the original inserts only with current players.
2018 Topps Heritage has some retail-exclusive inserts as well. 1969 Bazooka All-Time Greats are spread across all retail and not limited to a specific store. 1969 Collector Cards are only available at Target while 1969 Topps Decals are special to Walmart.
Every 2018 Topps Heritage Baseball hobby box comes with one of three styles of box loaders: 1969 Topps Bazooka Ad Panels, 1969 Posters (50 copies each) and stamped buyback 1969 Topps Originals.
2018 Topps Heritage Baseball at a glance:
Packs per box: 24
Cards per pack: 9
Boxes per case: 12
Set size: 500 cards
Release date: February 28, 2018
What to expect in a hobby box:
• Autographs or Memorabilia Cards – 1
• 1969 Topps Deckle Edge – 2
• Baseball Flashbacks – 1
• • News Flashbacks – 1
• New Age Performers – 2
• Then & Now – 1
• Box Loaders – 1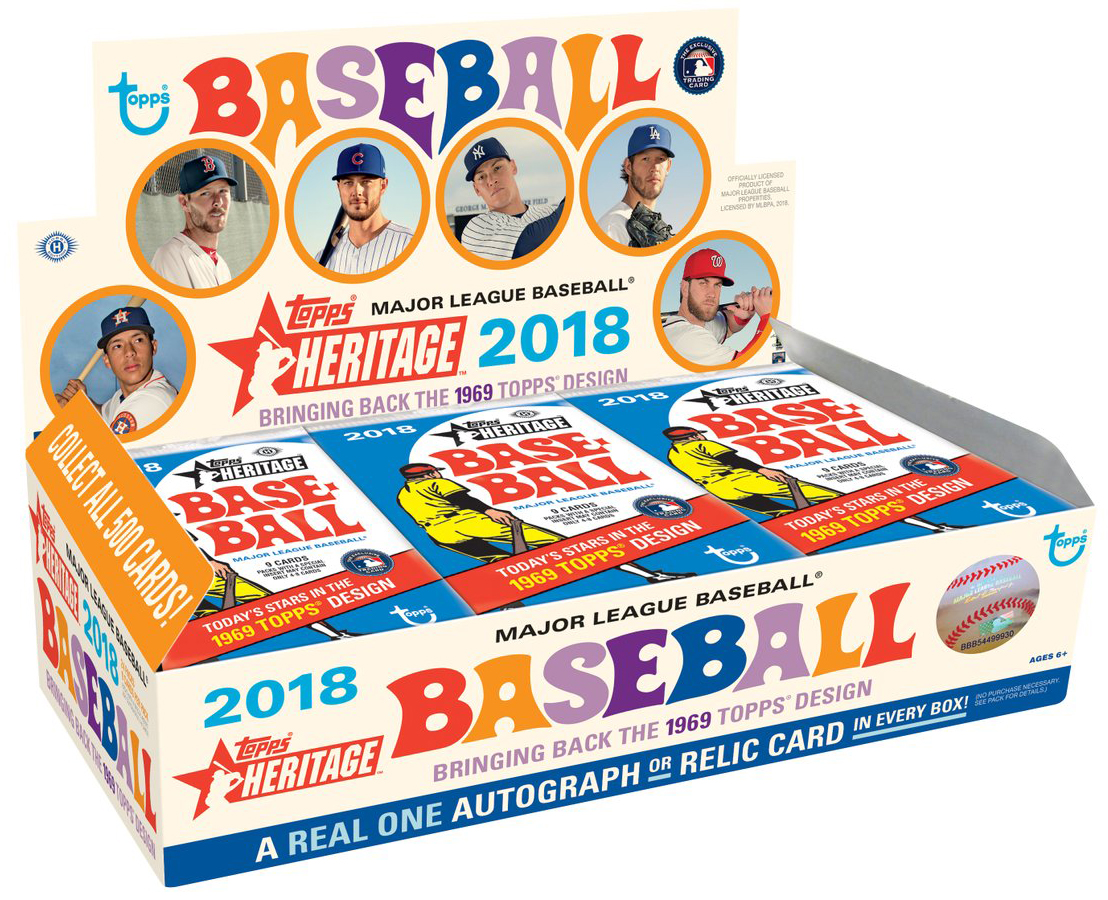 2018 Topps Heritage Baseball Checklist
Base
Autographs
Memorabilia
Inserts
Team Sets
Comments? Questions? Contact Ryan Cracknell on Twitter @tradercracks or by email.