One Year Later: Some Notable Recent 2018 Topps Heritage Baseball Sales – Beckett Pricing Insider
Topps Heritage is back in a few days.
Year in and year out, Topps Heritage is one of the most popular brands when it comes to baseball cards. Heritage takes collectors back in time, using designs from decades years earlier.
This year, Topps hits 1970, a set which contains several notable inclusions, such as Thurman Munson's Rookie Card.
Last year, Heritage was designed based off of 1969 Topps, home of the Reggie Jackson RC. 2018 Topps Heritage soared at its release, thanks in part to some of the first Shohei Ohtani MLB card to come in pack form.
High prices for several key cards have continued in the last year. Here are some notable recent sales from the main 2018 Topps Heritage release (not including the later High Number update).
Real One Autograph Red Ink Shohei Ohtani
One of the most popular players for collectors in 2018, it is no surprise that this on-card autograph numbered out of 69 is still sell strong. On December 14, a copy of this card graded a PSA 10 sold for $5,500. On the raw side of things there is some fluctuation: On December 29, this card sold raw for $4,500. But less than a month later, on January 25, it went for less than half that price, $2,000.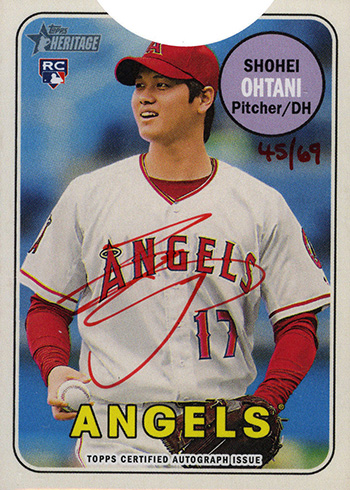 Throwback Variation Mike Trout
Some of the favorite cards in Heritage are the variations. From the Action Variations to the Color Swap Variations, the variations are plentiful every year. The most popular variation set (and one of the rarest at 1:6,573 hobby packs) tends to be the Throwback Variations. Put Mike Trout on one and you've got a big card, even without an autograph.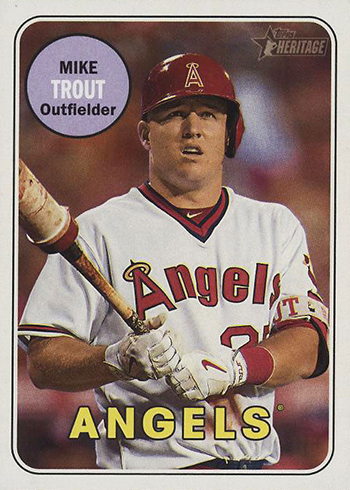 On November 26, a PSA 10 copy went for $900. A raw version sold for $450 on December 23.
Real One Triple Autographs Noah Syndergaard/Nolan Ryan Jacob deGrom
With odds at 1:50,906 to find one and just five copies each, these Triple Autographs are tough to find. This one was originally an exchange card so Topps could get all the signatures on-card. This copy sold for $900 on January 12.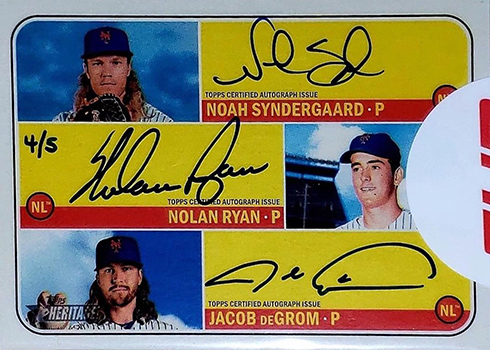 1969 Baseball Cut Signatures Roger Maris
Another difficult one to pull, this one-of-one contains a cut signature of Yankees great and former single-season home run record holder. Maris had his number 9 retired by the Yankees and also has a plaque in the famed Monument Park. Many argue Maris deserves a spot in the Baseball Hall of Fame. Either way, Maris is popular with collectors. This cut signature sold for $800 on February 11.