How to Recognize the 2018 Topps Heritage Parallels and Their Print Runs
2018 Topps Heritage Baseball isn't the type of set that has a massive color rainbow to it. While there are parallels, for most players, there are only a few. And of those, the majority are relatively rare.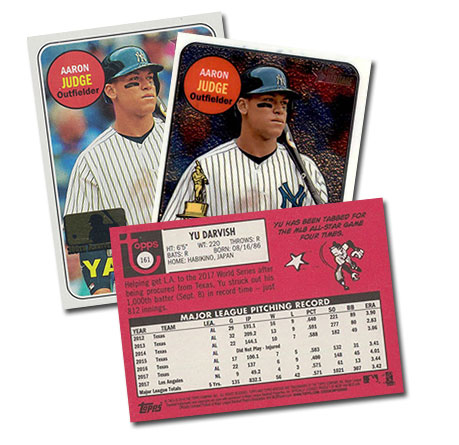 That said, the 2018 Topps Heritage parallels aren't all straightforward. Some have small quirks and can be a little tough to spot unless you know exactly what to look for. It's not to the same extremes as 2017, but not all of the parallels are easy to see at a glance. Others are pretty obvious, but they're not numbered so determining their rarity might be a bit of a mystery.
Let's take that mystery away with a breakdown of the various 2018 Topps Heritage Baseball parallels.
100th Anniversary
100th Anniversary cards are noted by the gold MLB logo stamp on the front of the card. This is a nod to 1969 being the century mark for professional baseball.
The print run for these is 25 copies.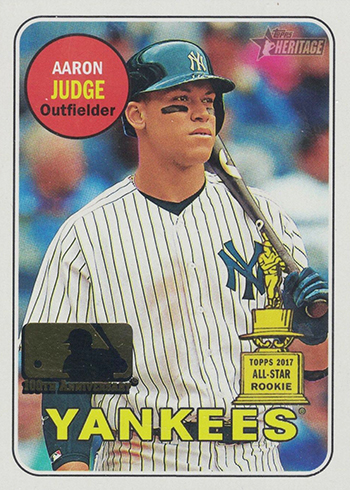 Black Border
Black Border cards are some of the easiest parallels to spot. The frame is a big difference to the white of the regular cards.
Although not numbered, these have 50 copies each making them relatively rare on the individual level. They're also exclusive to hobby packs and not in retail.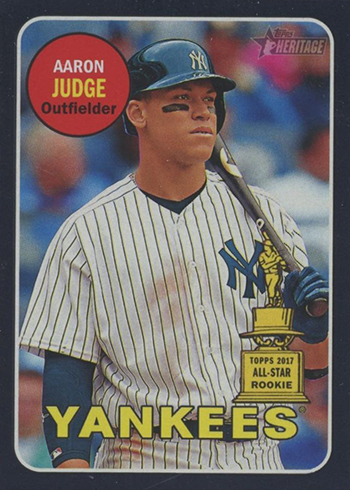 Flip Stock
2018 Topps Heritage Flip Stock cards might feel a little strange. They get their name for have the front and back of the card being basically flipped around. So card fronts are a little rougher — like backs usually are. Flip Stock backs are a little more slick to the touch. Essentially, it's like the sheet of cards was upside down when printed.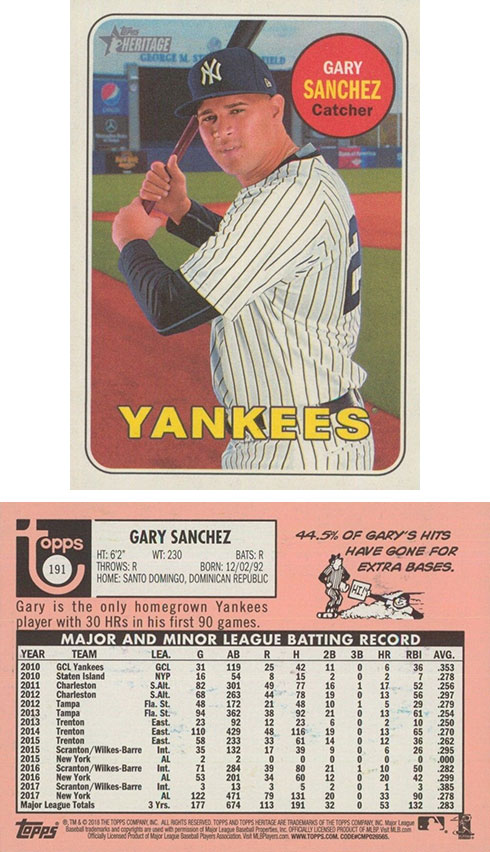 Flip Stock cards aren't numbered but they are scarce. Each card in the base set has just five. They're also exclusive to hobby.
Magenta
You're not going to find a Magenta parallel by looking at the front. That's because it's all about the color on the back. Instead of the usual peach, Magenta backs are much brighter and reddish. They're hard to miss if you're fanning through card backs.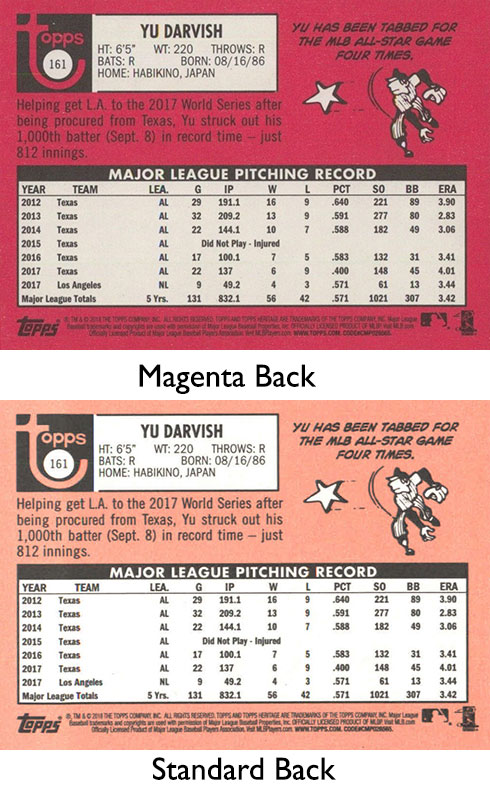 The trick is finding on. Each card has a print run of ten Magenta parallels.
Mini Parallels
2018 Topps Heritage Mini parallels are shrunken down versions of select base cards. A total of 132 cards are included, each numbered on the back to 100.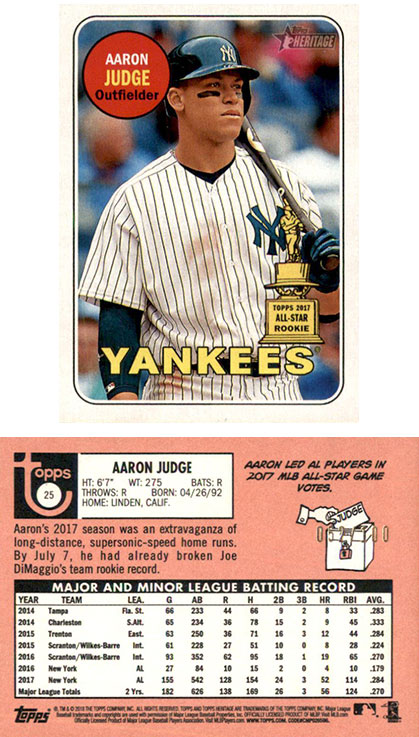 Chrome
Like the Minis, Chrome cards are another partial parallel in 2018 Topps Heritage Baseball. The skip-numbered set has 100 cards.
These are done on chromium stock, giving them a metal look on the front.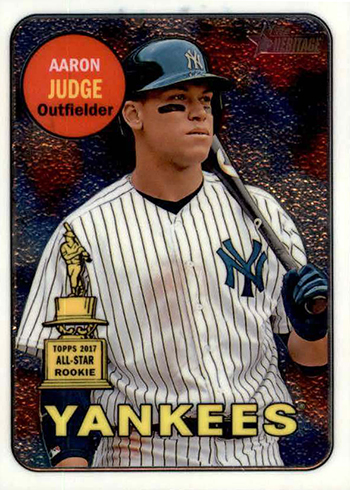 Base versions are numbered to 999.
On top of those are a handful of additional Refractor parallels that reflect a rainbow in the background when held under a bright light.
Basic Refractors have 569 copies.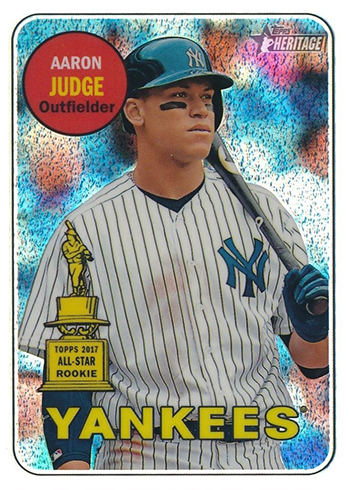 Purple Refractors are not numbered. These are one per pack in special hobby and retail boxes. You don't know you have a hot box until they're opened.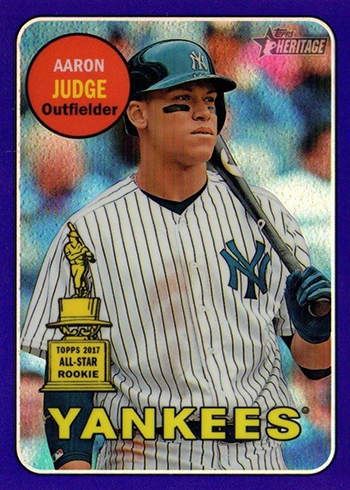 Other 2018 Topps Heritage Chrome parallels include:
Black Bordered Refractors – /69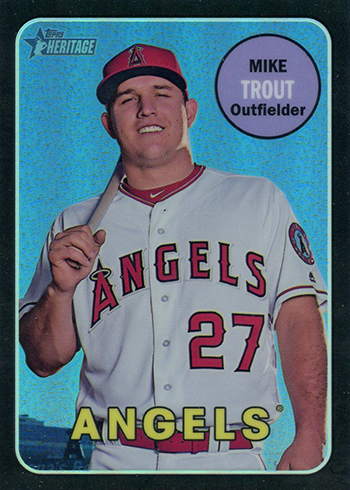 Gold Bordered Refractors – /5 (hobby only)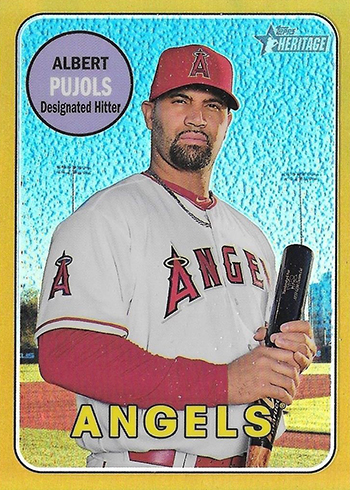 Superfractors – 1/1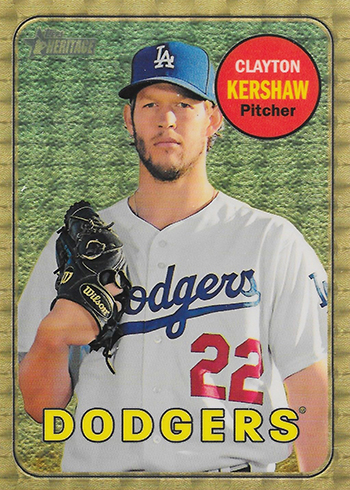 Comments? Questions? Contact Ryan Cracknell on Twitter @tradercracks or by email.