Tradition plays a big part in 2018-19 Upper Deck Series 1 Hockey. Annually, this line is among the most collected in the entire hobby, not just hockey. So a lot of those elements — like Young Guns — are back. But the checklist also includes some new elements as well to change some things up a bit.
Falling in line with the past few years, the focus is on set building and not hits. While collectors can find autographs and memorabilia cards in several spots, they're not a hobby box guarantee.
2018-19 Upper Deck Series 1 Hockey Base Set Overview
Speaking of tradition, 200 cards make up the main 2018-19 Upper Deck Series 1 Hockey base set. Featuring veterans, design elements are minimal. Photography, another long-time brand focal point, is emphasized with a full-bleed look. Even the name plate is slimmed down to pretty much only the essentials.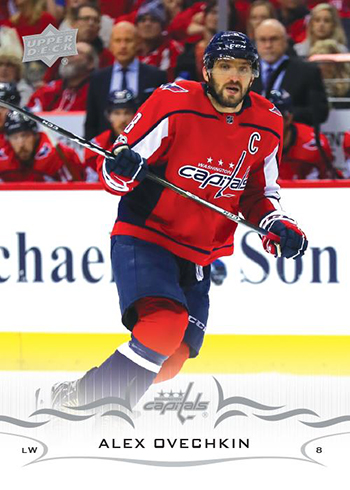 Young Guns Rookie Cards come at the end of the checklist. These highlight top players debuting late in 2017-18 and rookies playing their first games at the start of the season. The Rookie Cards are short prints, but not in the extreme sense. They average out to 1:4 hobby packs with six landing in each box.
Among the 2018-19 Upper Deck Series 1 Young Guns is Buffalo's Rasmus Dahlin, the first overall pick in the 2018 NHL Draft. Others include Elias Pettersson, Jesperi Kotkaniemi and Ryan Donato.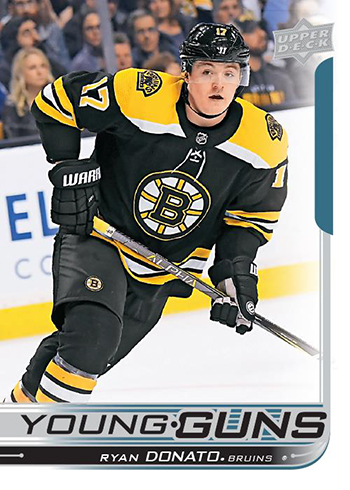 Base set parallels include acetate Clear Cut (1:72 hobby packs), Exclusives (/100) and High Gloss (/10).
2018-19 Upper Deck Series 1 Triple Exposure Variations offer an SSP take on select base cards. They go back to one of the company's earliest innovations in the process.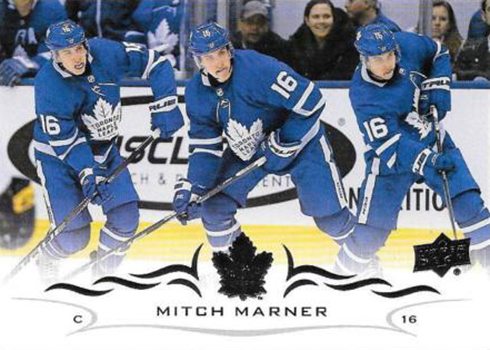 Inserts
2018-19 Upper Deck Series 1 Hockey has a deep insert lineup that's a mix of the somewhat common to the downright scarce.
UD Canvas are back. More a set-within-a-set than a parallel, these come with different photos and card stock. Veterans are 1:7 hobby packs while Young Guns work out to every other box.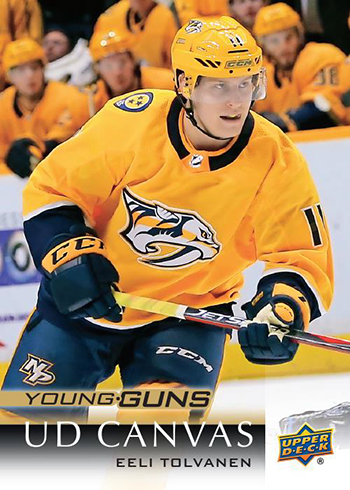 Another returning insert theme is UD Portraits (1:6). Parallels for these come in Gold Foil (Veterans – /25, Rookies – /99) and Platinum Blue Foil (/25).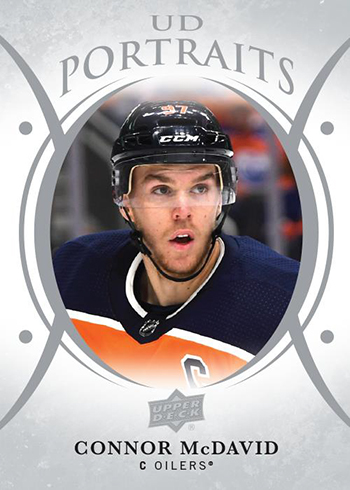 Shooting Stars take a tiered approach based on position. While they average out to one per hobby box, odds vary. Centers are the most common at 1:64. Others found in hobby packs are Left Wingers (1:96) and Goalies (1:192). It's likely Right Wingers and Defensemen are in retail, although we don't have those details at this point. Shooting Stars inserts all have Black parallels (C – 1:192, LW – 1:288, G – 1:576).
As far as relatively common inserts go, 2018-19 Upper Deck Series 1 Hockey has a few more. Stonewalled (1:6) is an insert set dedicated to goaltenders while 25 Under 25 (1:12) spotlights the NHL's young stars. Jagr Years (1:12) takes a look back at the career of one of hockey's all-time greats.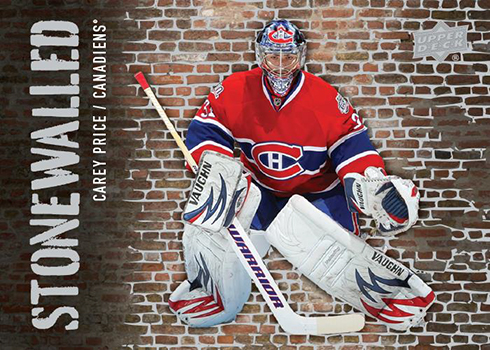 The product also has some tough inserts. Ceremonial Puck Drop and Day with the Cup are both back with long 1:2,000 odds. A 2018 NHL Draft SP is even tougher, landing 1:12,000 while the variation version is 1:72,000.
The Clear Cut theme isn't limited to just base set parallels. Clear Cut Foundation (1:654), Clear Cut Leaders (1:8,104) and Clear Cut Honored Members Update (/100) are all randomly inserted.
Autographs and Memorabilia Cards
Autographs are not common in 2018-19 Upper Deck Series 1. They work out to fall as a hobby case hit and can be found with the following themes: Signature Sensations (1:288), UD Canvas Signatures (numbered to the player's jersey number) and Ceremonial Puck Drop Signatures (1:16,000).
As far as memorabilia cards go, UD Game Jersey are the easiest to find at 1:41 packs. Patch parallels come numbered to 15.
Two other memorabilia sets are essentially parallels of regular inserts. 25 Under 25 Jersey cards have 250 copies each while Patch versions have just ten. There's also The Jagr Years Jersey (/68) and Premium Parallels (/10).
2018-19 Upper Deck Series 1 Hockey at a glance:
Cards per pack: Hobby – 8
Packs per box: Hobby – 24
Boxes per case: Hobby – 12
Set size: 250 cards
Release date: November 8, 2018
What to expect in a hobby box:
25 Under 25 – 2
Jagr Years – 2
Shooting Stars – 1
Stonewalled – 4
UD Canvas – 4
Young Guns Rookie Cards – 6
2018-19 Upper Deck Series 1 Hockey Checklist
Base
Autographs
Memorabilia
Inserts
Team Sets