The 2018-19 hockey card season may have started in the summer, but things really ramp up in November. That's when Upper Deck Series 1 arrives, and with it, the first installment of 2018-19 Upper Deck Young Guns.
Leading the pack is Buffalo Sabres defenseman, Rasmus Dahlin. He was the first overall pick in the 2018 NHL Draft. Dahlin is joined by Montreal's Jesperi Kotkaniemi, the third pick in 2018.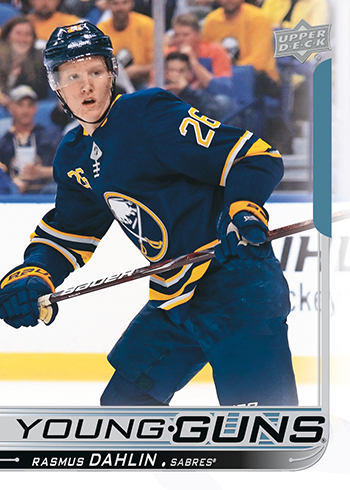 Other notables out of the gate include Elias Pettersson and Ryan Donato.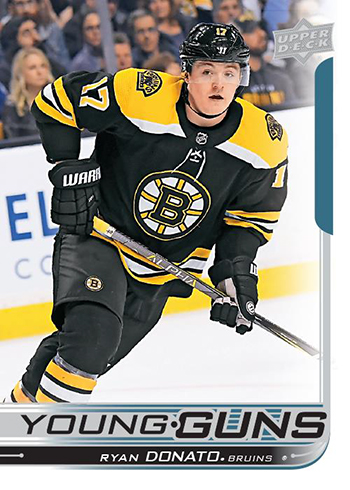 Notable names not in Series 1 (although likely to be in Series 2) include Carolina's Andrei Svechnikov, the second pick in the draft, fourth pick Brady Tkachuk, and Buffalo's Casey Mittelstadt, a high-profile carry-over who made his debut in the latter part of the 2017-18.
As usual, 2018-19 Upper Deck Series 1 has 50 Young Guns Rookie Cards as part of the main checklist. These are moderate short prints, landing 1:4 hobby packs (or six per box). Another 50 arrive in Series 2. If tradition sticks, a final selection of 2018-19 Upper Deck Young Guns will be in SP Authentic later in the season.
In the hockey card world, Young Guns have become some of the most popular Rookie Cards in the hobby. They may not hit the values of high-end options like The Cup or UD Premier, but they're also not autographed or particularly limited. Instead, they're steeped in tradition and attainable, both in packs and on the secondary market, at most budgets.
2018-19 Upper Deck Young Guns Checklist and Breakdown
Here's a full breakdown of all the 2018-19 Upper Deck Young Guns announced so far, including links to their stats, other cards and more. This should not only help you get a hold on who's on the checklist, but offer up a deeper dive and easy resource you can come back to. More images will be added once they're available.
---
---
---
---
---
---
---
---
---
---
---
---
---
---
---
---
---
---
---
---
---
---
---
---
---
---
---
---
---
---
---
---
---
---
---
---
---
---
---
---
---
---
---
---
---
---
---
---
---
---