3 Key Early 2018-19 Upper Deck Series 2 Sales – Beckett Pricing Insider
This edition of the Beckett Pricing Insider is sponsored by Grizzly Sports Cards.

The long wait for 2018-19 Upper Deck Series 2 finally came to an end last week, just in time for  Valentine's Day. Hopefully, some of your Valentines were clued in on the release date and you were able to enjoy ripping open a box of cards rather than a box of chocolates. One hobby box will net you 24 packs, eight cards per pack, six Young Guns rookie cards, and four each of the UD Canvas, Rookie Portraits, and O-Pee-Chee Update inserts, on average.  One thing is for certain with over 10,000 listings on the secondary market, there was a lot of opened across the Hobby.  Here are Three Key Early Upper Deck Series 2 Sales.
2018-19 Upper Deck #491 Carter Hart YG RC
Probably the most anticipated rookie in the entire second series, Carter Hart's Young Gun has not disappointed on the secondary market. The base version is consistent at the $60 – $100 range and the parallels and canvas versions demanding a much higher premium. Examples of Exclusives numbered out of 100 have topped $700 and the Clear Cut version has come in over $400. Needless to say that Flyer fans and hockey collectors alike are all over this kid on the secondary market.
2018-19 Upper Deck Tricksters
Modern collectors have been trained to look for autographs and memorabilia cards as "Hits' in boxes, so it's very refreshing to see cards like the Tricksters inserts still carry weight on the secondary market. They are a tough pull with stated odds of 1:463 packs for both the hobby and retail releases and the checklist is full of names that have been stalwarts in hockey the past few seasons like McDavid, Ovechkin, and Malkin as well as some newcomers as well like Barzal, Boeser, and DeBricat. These have been ranging in price from $15 to $150 with McDavid rounding out the top end.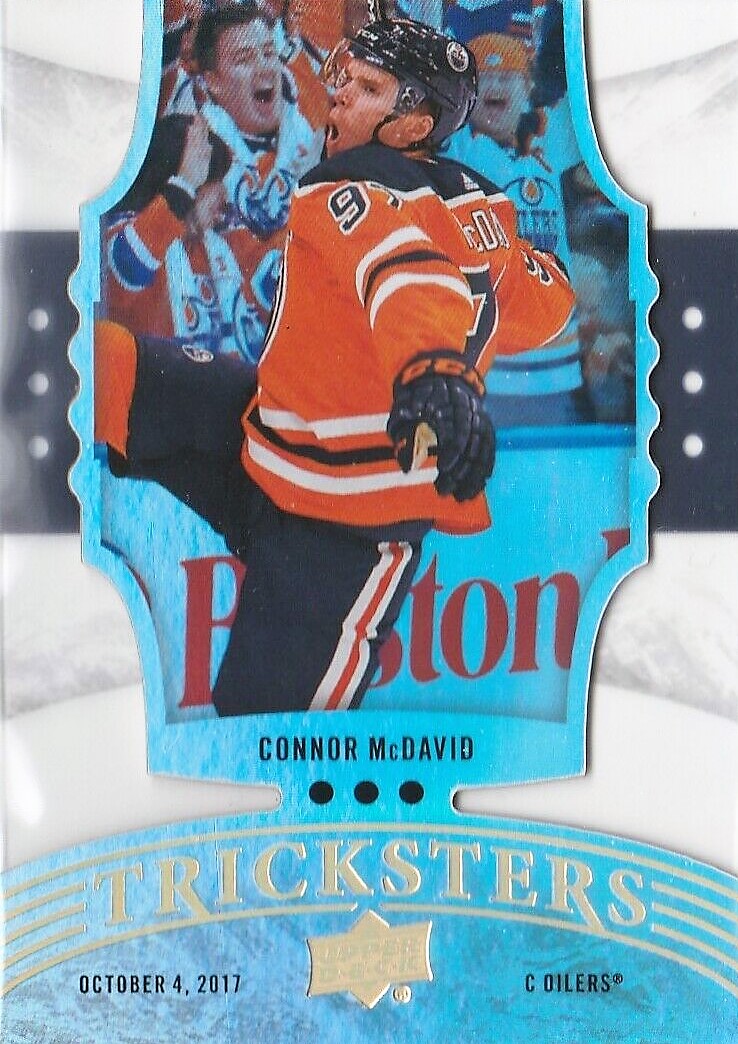 2018-19 Upper Deck A Piece of History 1,000 Point Club Autographs
With autographs falling about one per case hitting one of these cards is an absolute huge pull. The name of the set lets you know that the checklist is full of household names from the sport. It literally reads like a who's who NHL history. Crosby, Sakic, Clarke, Mahovlich, Thornton, and Lemieux just to name a few. With just three sales of these since it's release ranging from $400 to $700 with Super Mario at the top of that list, one can see why there is excitement around the set.