2018-19 Upper Deck Series 1 Hockey Fanimation Inserts Among Set's Easter Eggs
2018-19 Upper Deck Series 1 Hockey Fanimation cards are the first Easter Egg inserts out of the gate for the flagship release.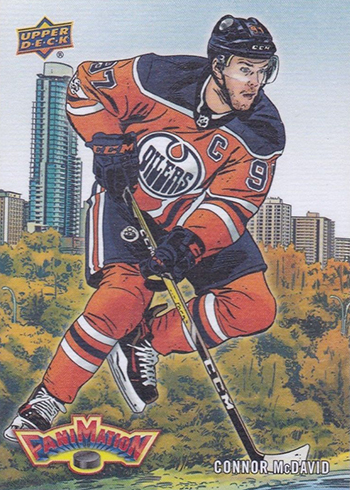 The cards are easy to spot, using cartoon illustrations. The look is somewhat reminiscent of Panini's popular Downtown inserts from the past few years, but Fanimation cards actually go back more than 25 years.
1992 Upper Deck Football has a ten-card Fanimation insert set that players were given superhero personas. Jim Lee and Rob Liefeld provided the illustrations. Cards were exclusive to Series 1 retail packs.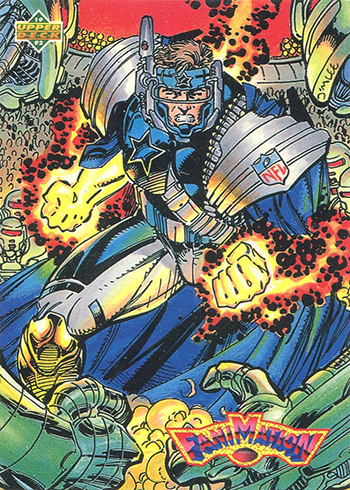 1992-93 Upper Deck Basketball has five similar cards, this time with Lee and Marc Silvestri imagining NBA stars as heroes. And, yes, that is Karl Malone saving the world as The Mailman. Unlike football, these Fanimation cards are part of the base set.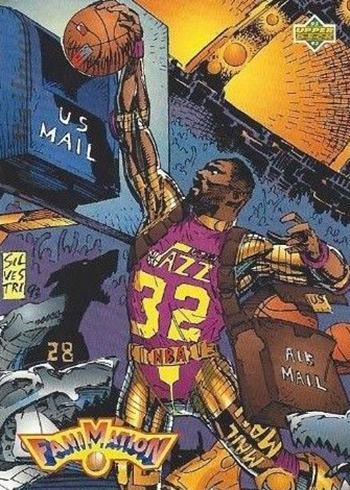 The reboot in 2018-19 Upper Deck Series 1 Hockey is different in that the hero aspect is no longer there. It gives way to something less abstract but still distinct. Backdrops have the player's city. There's no note on who the artists are.
As per usual with surprise Upper Deck Easter Egg insert sets, odds and print runs for the Fanimation cards are not known.
2018-19 Upper Deck Series 1 Triple Exposure Variations are tough short prints that use the same base design and checklist spot as featured players but use a multiple-exposure approach for the shot. A detailed breakdown and gallery is posted here.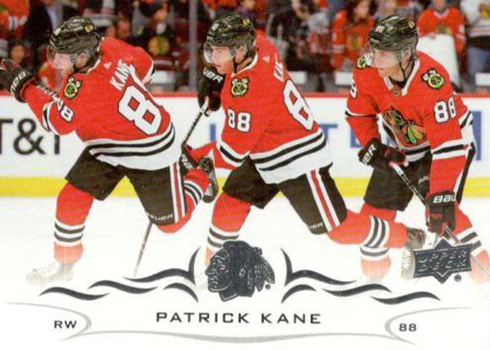 Another Easter Egg is a SP of John Tavares. Pictured with the Toronto Maple Leafs, it's number SP-2. An autographed version is number SP-2A.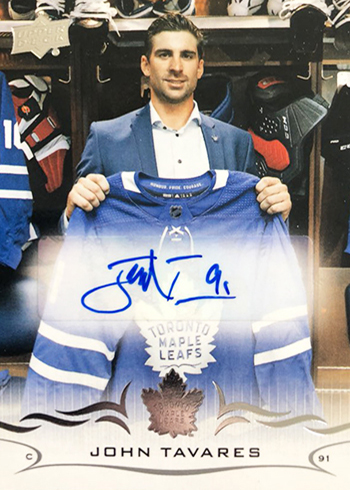 2018-19 Upper Deck Series 1 Hockey Fanimation Checklist
This list is not complete. We'll add more as they pop up. If you're looking for a specific card, click on the links to see what's currently available on eBay.
F-1 Steven Stamkos, Tampa Bay Lightning
F-2 Sebastian Aho, Carolina Hurricanes
F-3
F-4 Tyler Seguin, Dallas Stars
F-5 Auston Matthews, Toronto Maple Leafs
F-6 Claude Giroux, Philadelphia Flyers
F-7 Aleksander Barkov, Florida Panthers
F-8 Brock Boeser, Vancouver Canucks
F-9 Connor McDavid, Edmonton Oilers
F-10 Johnny Gaudreau, Calgary Flames
F-11 Jack Eichel, Buffalo Sabres
F-12 Ryan Getzlaf, Anaheim Ducks
F-13 Jonathan Quick, Los Angeles Kings
F-14 P.K. Subban, Nashville Predators
F-15 Marc-Andre Fleury, Vegas Golden Knights
F-16 Mathew Barzal, New York Islanders
2018-19 Upper Deck Series 1 Hockey SP Checklist
SP-2 John Tavares, Toronto Maple Leafs
SP-2A John Tavares, Toronto Maple Leafs – Autograph