2018-19 Upper Deck Series 2 Hockey Checklist, Team Set Lists and More
2018-19 Upper Deck Series 2 Hockey picks up where the first set left off (there's a reason it's called Series 2). That means new Young Guns, more action shots, a continuation of some inserts and the introduction of others.
2018-19 Upper Deck Series 2 Hockey Base Set Basics
You can add another 250 cards to the 2018-19 Upper Deck base set with Series 2. It fills in the gaps with veterans not in the first release.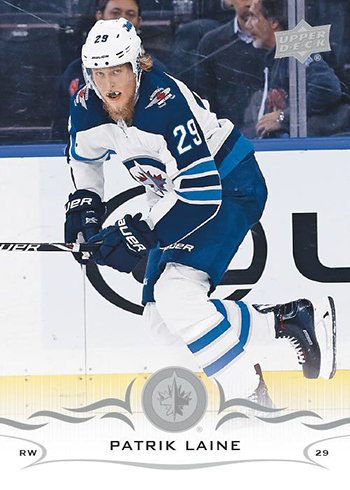 Of course, there are the Young Guns. The Rookie Cards are 1:4 hobby packs once again, which works out to six per box.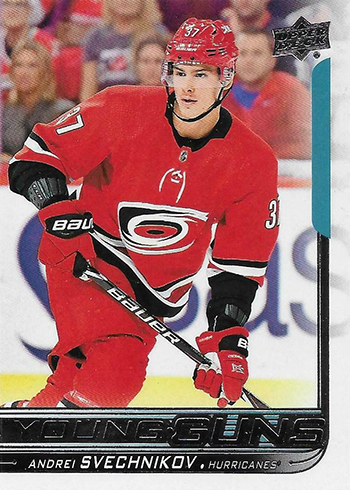 Parallels are a familiar mix. Back are UD Exclusives (/100), High Gloss (/10) and hobby-only acetate Clear Cut cards (Veterans – 1:90 hobby packs, Young Guns – 1:360 hobby packs).
Inserts
There are no guaranteed autographs or memorabilia cards in 2018-19 Upper Deck Series 2 Hockey. This stays in line with other recent releases for the flagship line. They are randomly inserted, just at tougher rates than a lot of other releases. Part of that is because there are focuses elsewhere in the inserts that go with the brand's set-building appeal.
UD Canvas (1:8) offers a textured take. Although it has a similar approach as the base set, the cards are different from both checklist and photo selection perspectives. All UD Canvas cards combine to land 1:6 hobby packs. However, the Young Guns here are tougher than the base set. They're every other box. Additional UD Canvas short print subsets come from Retired Stars (1:192) and Team Canada Program of Excellence (1:192).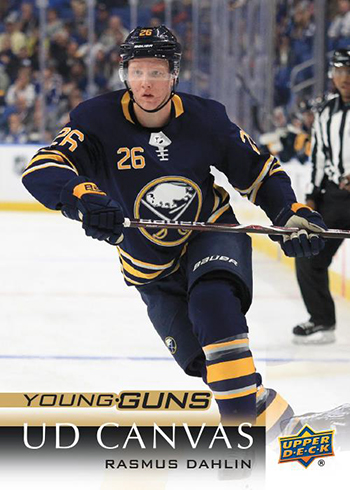 Fluorescence inserts are back for a second year. Like last year, these look bright and both. They come in multiple tiers starting with Gold (/150). Tougher versions are Blue (/50), Green (/15) and Magenta (/5).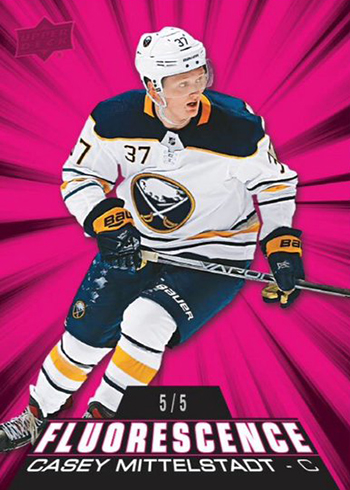 Rookie Breakouts offer up more acetate. Exclusive to hobby packs, they have 100 copies each.
On the opposite end of the pull spectrum are UD Portraits Rookies. These are fairly easy to find at 1:6 hobby packs. Gold parallels have 99 copies each while Platinum Blue are numbered to 25.
More Washington Capitals get their Day with the Cup (1:1,000) showcased on these tough perennial inserts.
Retail tins have a couple of exclusives. Oversized cards return as a tin topper. There's also new Rookie Commence cards, which are also one per tin.
Autographs and Memorabilia Cards
While autographs and memorabilia don't get a major spotlight, they can still be found. Rookie Materials (1:58) are the main source of swatches. These have Patch versions that are numbered to 25 as well.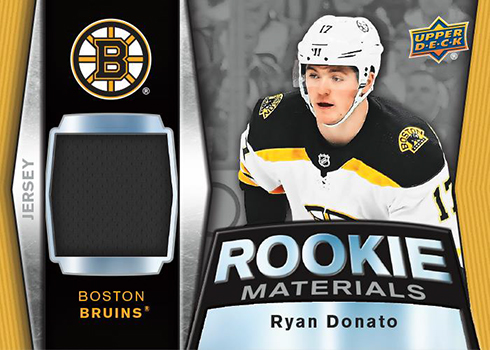 1,000 Point Club Memorabilia (1:864) continues to expand years after its debut. Autographs have ten copies each.
Speaking of debuts, Rookie Photoshoot Flashback Materials (1:288) are new to 2018-19 Upper Deck Series 2 Hockey. Patch (/15) parallels are available also.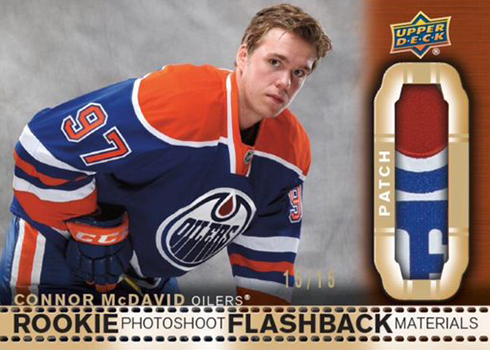 O-Pee-Chee Updates
With 2018-19 O-Pee-Chee Hockey arriving before the start of the season, there's room for expansion. O-Pee-Chee Updates do just that.
This means that players debuting in the early part of the season get O-Pee-Chee Rookie Cards, not just carryovers. It also provides an opportunity for veterans playing for new teams to get fresh cards.
O-Pee-Chee Update Rookies are 1:6 packs (four per hobby box). Veterans are one per hobby box.
Parallels are similar to those found in the main O-Pee-Chee release. These include Silver Border (Veterans – 1:120, Rookies – 1:30), Gold Border(Veterans – 1:960, Rookies – 1:240), Retro (Veterans – 1:60, Rookies – 1:15), and Retro Black Border (/100). Red border cards are exclusive to hobby packs.
2018-19 Upper Deck Series 2 Hockey at a glance:
Cards per pack: Hobby – 8, Tins – 8
Packs per box: Hobby – 24, Tins – 12
Boxes per case: Hobby – 12, Tins – 12
Set size: 250 cards
Release date: February 13, 2019
What to expect in a hobby box:
UD Canvas – 4
UD Portraits Rookies – 4
Young Guns Rookie Cards – 6
O-Pee-Chee Updates – 5
O-Pee-Chee Updates Retro – 1
2018-19 Upper Deck Series 2 Hockey Checklist
Base
Autographs
Memorabilia
Inserts
O-Pee-Chee
Team Sets