2018-19 SP Authentic Hockey cards come with all the brand's hallmarks like Future Watch autographs and Authentic Moments cards. It's also carrying on with another installment of the Upper Deck Bounty program. And if you're looking for NHL autograph cards of Jack Eichel and Nico Hischier? This is the first product you'll find them.
But just because something is still there, doesn't mean there aren't other longstanding parts that have undergone some big changes. There are and they'll be very noticeable to fans of Sign of the Times, one of the longest running insert sets in the hobby.
Each 2018-19 SP Authentic Hockey hobby box includes a pair of autographs, one of which is a Future Watch Rookie Card.
2018-19 SP Authentic Hockey Checklist Overview
The main base set has 100 cards, limiting things to hockey stars. These have Red parallels that combine to land 1:6 packs, or three per box. Select cards also have numbered autograph (1:108 packs) and Limited Autograph Patch (/50 or less) parallels.
Future Watch Autographs, one of the most popular aspects of SP Authentic, return. On the checklist as part of the main set, these traditionally represent some of the top Rookie Cards each year. Even with their fairly large production run compared to other premium inserts. These once again have 999 copies each.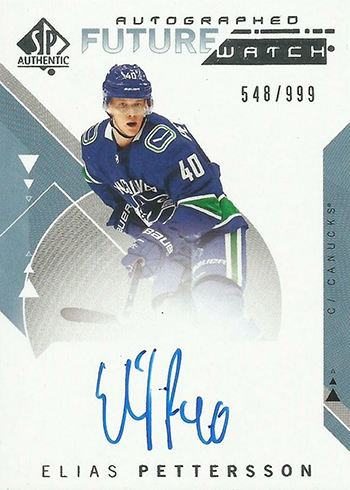 Future Watch Autograph Patch cards return with 100 copies each. Additional parallels include tough Future Watch Patch cards that might not have a signature but they do have a print run of just ten copies. Rounding out the Future Watch theme are Autograph Retro Rookie Patches (/25).
Authentic Moments (1:6), Rookie Year Milestones (1:7) and 1999-00 Retro Draft Picks (1:26) add more depth to the overall checklist. All three of these have additional autograph versions. Authentic Moments Autographs are 1:1,200 packs while Rookie Year Milestones and Retro Draft Picks Autographs come numbered.
Among the returning autograph inserts in 2018-19 SP Authentic Hockey are Immortal Ink (/10) and Marks of Distinction (/25).
Sign of the Times
Sign of the Times Autographs are an SP Authentic tradition dating back to the '90s. They're not going anywhere in 2018-19 SP Authentic Hockey, but they are evolving.
Regular Sign of the Times Autographs are 1:72 packs while rookies are numbered to 99. From there are the usual mix of multi-signature cards with two (/25), three (/15), four (/10), six (/6), and eight (/5) different autographs.
But here's where things change and the line jumps in a time machine. There are additional Sign of the Times Decades cards that not only spotlight players from that era, but use a different design in that's decade's style. The 1960s through to the '90s are covered on these short print versions.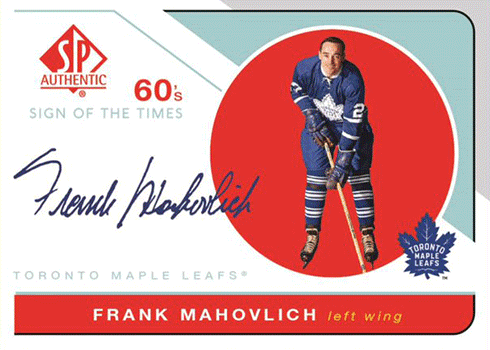 2018-19 SP Authentic Bounty Program
Upper Deck has a new Bounty program for 2018-19 SP Authentic Hockey. Once again, it involves Spectrum FX inserts.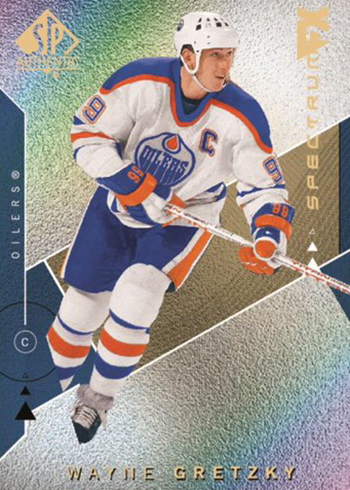 Those who build the entire set of 99 in-pack Spectrum FX cards get an exclusive card #100. On top of that, the first 50 to do so also receive an exclusive set of Gold parallels for all 100 cards.
Completing the set is made somewhat more difficult thanks to the checklist's tiered structure. The most common are Spectrum FX Veterans, which are 1:18 packs. Spectrum FX Future Watch inserts come in three levels: 1 (1:36), 2 (1:90) and 3 (1:360).
2018-19 Upper Deck Hockey Updates
The bulk of 2018-19 Upper Deck Hockey is covered in Series 1 and Series 2. But 2018-19 SP Authentic adds a few more cards including Young Guns.
Veterans are 1:7 packs while Young Guns are 1:19. There are also All-Star Highlights, which are 1:45 packs.
All Upper Deck Update cards have Exclusives (/100) and High Gloss (/10) parallels.
2018-19 SP Authentic Hockey cards at a glance:
Cards per pack: 5
Packs per box: 18
Boxes per case: 16 box (two 8-box inner cases)
Set size: 238 cards
Release date: June 5, 2019
Shop for 2018-19 SP Authentic Hockey boxes on eBay:
What to expect in a hobby box:
Future Watch Autographed Rookie Cards – 1
Additional Autographs – 1
Spectrum FX – 1-2
Red Parallels – 3
2018-19 Upper Deck Hockey Updates – 4
Authentic Moments, Rookie Year Milestones or Retro Draft Picks – 7 total
2018-19 SP Authentic Hockey Checklist
Base
Autographs
Inserts
Updates
UD Update
Team Sets