The Daily: 1991 Upper Deck Darryl Strawberry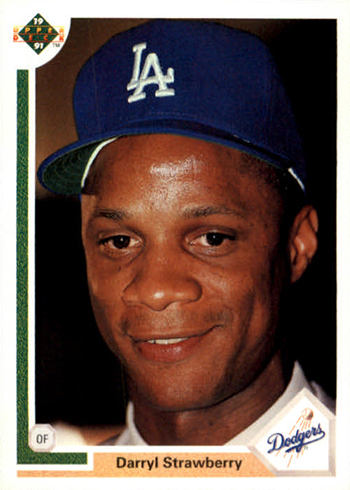 On November 8, 1990, Darryl Strawberry put on a cap that seemed a little weird. After blossoming into a superstar with the New York Mets, he signed a five-year free agent deal with the Los Angeles Dodgers worth over $22 million total.
At the time, that was worthy of a Scrooge McDuck money bin dive. In 2019, Bryce Harper is probably going to make that much by the time August rolls around.
While there are several Darryl Strawberry Dodgers cards from the 1991 baseball card season, most were released a little bit down the road in a Series 2 or Traded set. 1991 Upper Deck Baseball was an exception.
There he is, #245 on the checklist, representing the Dodgers. It was jarring.
Big free agent signings were still pretty rare in 1990. That's not one of those "I remember when candies were three for a penny and cards were a nickel a pack moments." It's simply the way it was. And as those big contracts with players switching teams became more common, sports cards helped make it feel more real.
The Daily highlights a key player or personality in the world of sports or collecting from the past 24 hours along with one of their key cards.