The Daily: 2011 Topps Update Diamond Anniversary Mike Trout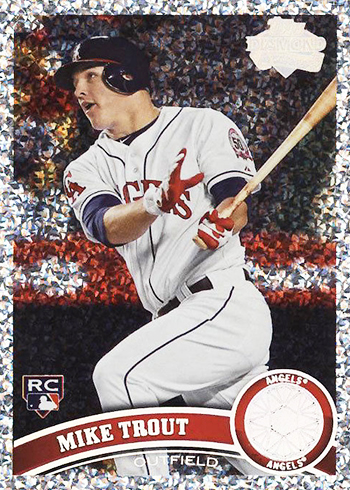 Even by his own standards, Mike Trout is having one heck of a season. With two more home runs last night, he's up to 23 for the year already. And that comes after hitting two more in his previous game. Along with that comes a .310 batting average, 44 RBI, .438 on-base percentage, 56 runs — you get the picture.
You know his 2011 Topps Update Rookie Card
. But there are also some spectacular parallels to go along with. Perhaps none more so than the Diamond Anniversary card. Done with a sparkle background, the idea is that they're intended to celebrate the 60th anniverary of Topps Baseball as we know it. They're among the most common parallels in the product but the stunning look has made it extremely popular.
Copies of the 2011 Topps Update Diamond Anniversary Mike Trout are starting to consistently sell for four figures raw. Gem Mint graded copies have been hitting as high as $3,000 recently online.
The story of Mike Trout continues to unfold. Just a couple of months ago, it looked like there wasn't much more room for his cards to grow. It turns out there was.
The Daily highlights a key player or personality in the world of sports or collecting from the past 24 hours along with one of their key cards.