Selling Stickers at Lunch: Q&A with Panini America CEO Mark Warsop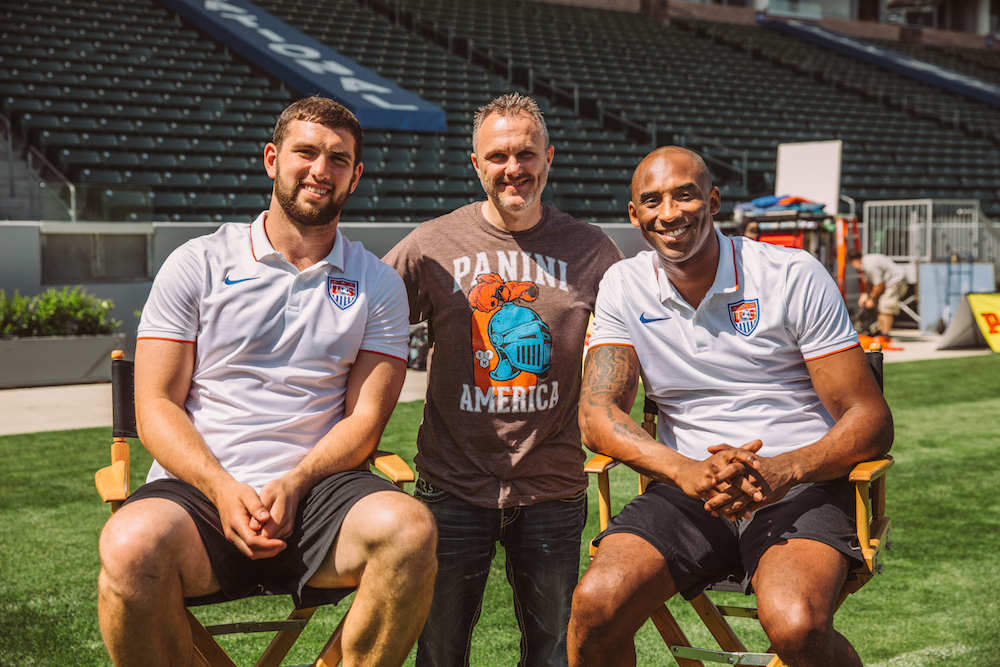 Mark Warsop has been the CEO of Panini America since 2009. We sat down with him in his office at the Panini America Headquarters in Irving, Texas, just south of the Dallas-Fort Worth International Airport.
When Panini purchased Donruss in 2009, they created Panini America and Warsop moved to the US from the UK to become the CEO.
We talked with him about his career, his love for the Panini Stickers, and his World Cup experiences.
SB: Where did you grow up?
MW: We moved around a little but I mostly grew up in the Midlands in England.
SB: Your father has been involved with Panini for a while, is he still working with them?
MW: My father Peter is currently the group licensing director and in charge of customized sales and services for Panini. He worked for the sales and marketing distributor for Panini in the UK as their account manager in charge of Panini. I was a big collector of Panini as a kid. After the Robert Maxwell Company acquired Panini in 1989, my father, along with another guy and two people who were employed by Panini formed Merlin Publishing. My dad was the group managing director and ran the Merlin business until Topps acquired them in 1995 and he stayed on until 1997 there.
SB: How into the Panini Stickers were you as a kid?
MW: I used to sell sticker packets at school. My first World Cup collection that I remember was España 82. I collected that one heavily, I collected Mexico 86 heavy, too. By the time 1990 came along I was involved in the business. I collected all the domestic football collections too. I am a huge Star Wars fan so I collected all of those as well. The other thing that was huge at the time was called Smash Hits, which was a collection of all of the pop stars. It did phenomenal numbers in the 1980s.
I used to sell packets at school and now I do it on a slightly larger scale.
SB: When did you start working for Panini?
MW: I started working for Panini in 2001. I worked for Merlin in 1993 and stayed until 2001. I was the marketing director at Panini and then I was asked to move to the US in 2009 when Panini acquired Donruss.
SB: You get to be part of some cool experiences in this business. What are some of the coolest experiences you remember?
MW: There have been so many cool experiences. I remember when we were doing Swap Shops in England for the domestic collections. The first Premier League collection we did was 1994 and the first Swap Shop that we did was '95. The number of people that came was alarming. We were literally shutting down cities. We were in Southampton and the mayor was phoning the office because we had closed the city down. The queen had been to the city a few weeks prior and we caused more chaos than the queen.
Meeting Ryan Giggs was one of the first athletes that I ever met. He was super cool and remembered my name. Even as a Liverpool fan, I was impressed.
The first US big experience was signing Kobe to his exclusive deal with Panini. The priority when I first came to the US was to get Kobe on board. I remember going through the whole process and negotiating that deal. At the time I remember everyone being incredibly excited, but for me, without a word of a lie, I hadn't heard of Kobe Bryant when I came to the US. The NBA was not near as hot in the UK 10 years ago as it is now or as hot as it was in the 1980s and '90s. It made it easier for me that I was not very familiar with Kobe.
Everyone in the market was wondering what Panini was going to do. He gave us instant recognition and legitimacy.
SB: Kobe grew up in Italy and is a well-known fan of soccer. Did he collect Panini stickers?
MW: Kobe knew everything about Panini. He collected the stickers growing up. He knew who we were. He wanted to be part of the process and developing Panini as a brand in the US. It was a recognizable brand for him having grown up in Italy.
SB: Since the NBA was big in the UK in the 1990s, who was your favorite player?
MW: Scottie Pippen was always my favorite player. One of my prized possessions is my signed Pippen basketball.
SB: Having lived in the US for almost 10 years, have you become a fan of US sports like football and baseball?
MW: I was never a cricket fan in the UK, but I have become a fan of all US sports including baseball. For me, football was the one I found to be the most difficult to get a handle on because of the rules. I love baseball too, but the games are a bit slower. We have a saying about cricket in the UK and I think it applies to baseball as well: "You don't go to watch the cricket, you go to be at the cricket." I think that applies to baseball as well. There's nothing better than going to the Rangers ballpark and sitting with a beer in the sunshine. I know everyone complains about the heat, but for me coming from England where it's gray and it rain every day for the first 35 years of my life you will never hear me complain about the heat in Texas!
SB: Panini's slogan is "Who do you collect?" So, do you collect anyone yourself?
MW: I am not a massive collector in my personal life. For me personally, I collect fish. I have a Koi pond and I love all different types of fish. I don't collect cards because that's our business. But I do go through the process to fill out my World Cup sticker album every year. I have always done that and I love that.
SB: You've gotten to go to a few World Cups, which ones did you go to and what are your memories from those trips?
 MW: I have been to Germany 06, France 98, Italy 90. My first one was unforgettable. I went as a fan instead of for work. The England fans didn't have a very good reputation in the 1990s, as the hooliganism was very strong at that point. So that was very interesting.
World Cups are like nothing else because it's do or die. The toughest game I remember ever going to wasn't a World Cup game but was at Euro 2004 in Portugal. It was the semifinals against Portugal. It felt like it was only English fans in the streets before the game. The game went to penalties and Beckham put it over the crossbar and we lost. It was just awful. That feeling of knowing that's it for four more years was terrible. It was almost like all the England fans disappeared and the Portuguese fans were dancing in fountains and on top of cars and celebrating. It was mortifying.
SB: You've never seen England play a game at the World Cup. Do you think you could physically and emotionally handle that?
MW: I think I could handle a group game, but if it was a knockout game it would be hard. You go through this whole range of emotions.
SB: What do you love about the World Cup?
MW: It's the one time when all the fans of all the various different teams come together and are unified. Soccer unifies people when it comes to World Cup.
SB: So you didn't know who Kobe Bryant was, but who was your "Kobe Bryant" as a kid?
MW: Gary Lineker, for me, was the guy when I was a kid. He won the Golden Boot in Italia 90.
My Kobe Bryant is always going to be Steven Gerrard, though. He came about when I was in my professional career, so not as a kid. I've never gotten to meet him. I've met David Beckham a few times and that's been cool.
SB: So you forgave David Beckham for the missed penalty in Euro 2004?
MW: He was forgiven. He actually had to get forgiven for quite a lot in his career. Another thing he had to be forgiven for was when he got sent off against Argentina in the World Cup. But he made up for that when he scored that goal against Greece to qualify us for the next World Cup. I remember I was playing field hockey at the time and we were in the car on the way back and we were convinced we were out of the World Cup. Then we got a free kick way outside the box and he comes up and curls one in the top corner and that's it, we were going to the World Cup. All forgiven.