The Daily: 1961-62 Fleer Wilt Chamberlain Rookie Card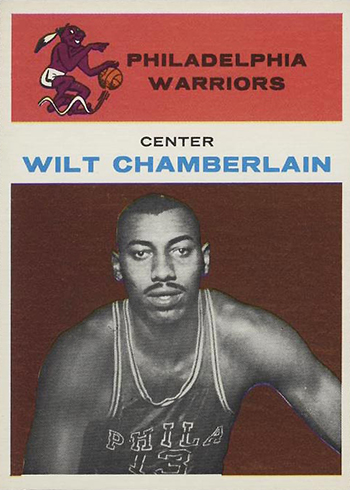 On August 21, 1936, one of the NBA's legends was born, Wilt Chamberlain. Whether he's basketball's greatest of all-time depends on who you talk to, but he's certainly part of any serious conversation.
Chamberlain's legend is a numbers game. In 1962, he became the first player in NBA history to score 100 points or more in a single game, something that hasn't happened since. That season, he set another all-time record for points per game with 50.4. That was one of Chamberlain's seven scoring titles.
Other accomplishments include a pair of NBA Championships, four MVP Awards, 13 All-Star Games and 11 rebounding titles.
Like the player depicted on the front, the 1961-62 Fleer Wilt Chamberlain is one of the hobby's heavyweights. It's a cardboard icon in the truest sense. Over the past couple of years, top-condition copies have sold at auction for as much as $45,000. Even mid-range versions consistently hit four figures.
For those looking for something significantly cheaper, Chamberlain has a second card on the checklist (#47) that's a highlight-style one with the center going up for a dunk.
The Daily highlights a key player or personality in the world of sports or collecting from the past 24 hours along with one of their key cards.