The Daily: 2009-10 The Cup Antti Niemi RC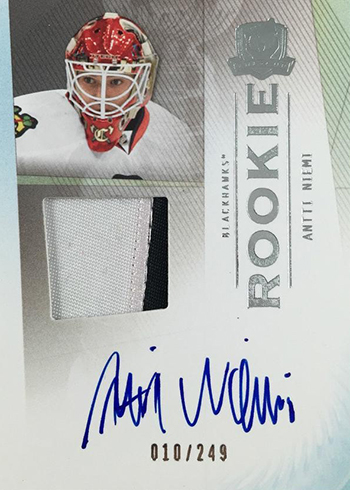 At 35 years of age, time is likely running out for Antti Niemi to make some major waves as an NHL goalie. But he proved last night that he can still have it, stopping 52 shots in Montreal's 5-1 over the Florida Panthers.
It was one away from the team record set by Carey Price in 2009. The huge game also comes just a few weeks after Niemi putting in a 47-save performance.
Make no mistake, Price is still the go-t0 goalie for the Canadiens. But if Niemi is going to continue to turn back the clock, it gives the team options and flexibility should they make the playoffs.
Antti Niemi Rookie Cards can be found in several 2009-10 products. His international cards go back even further. The 2009-10 The Cup Antti Niemi is his top RC. With 249 copies, it's not as rare as the original top-tier players in the set but it still has the on-card autograph, patch combination the line is known for.
The Daily highlights a key player or personality in the world of sports or collecting from the past 24 hours along with one of their key cards.