Paper King: The Impact of the 2011 Topps Update Mike Trout Rookie Card
When you click on links to various merchants on this site, like eBay, and make a purchase, this can result in this site earning a commission.
This is the story of the 2011 Topps Update Mike Trout Rookie Card, a trading card that isn't yet eight-years old, but is rising in price and stature right before our very eyes.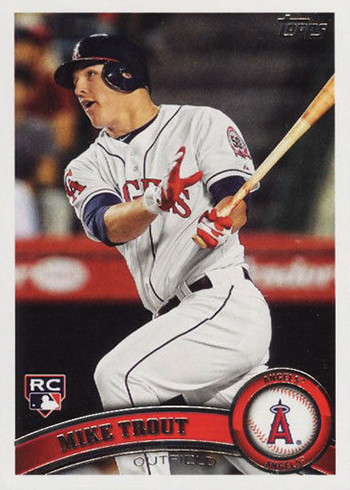 This is the story of a trading card with no ink autograph, no memorabilia swatch and no serial numbering.
It's not shiny and not made of chrome-like product.
Yet this fairly new card featuring the game's brightest young star is selling for anywhere between $300-$600 in high-grade form.
It wasn't seeded in packs at 1:1,000,000 odds. It's not shiny, reflective, nor made from some special chromium material dug from near the earth's core. It's made of paper.
Paper.
Let that sink in for a moment.
Turning Up the Volume
So what is happening with this card? Sales. Lots of sales. Consistent sales, both in graded form and raw. The card has been a staple of the Beckett Baseball Hot List for more than two consecutive years, three times holding down the No. 1 spot in 2017 and five times at No. 2 last year alone.
"Considering what it is –- no autograph or serial numbering – it's really, really strong," says Beckett Senior Price Guide Analyst Brian Fleischer. "We have so many sales in the low $130's to low- to mid-$200's for raw copies. The volume of completed sales is big.
"That card just stays near the top [of the Hot List] because of the volume of sales."
Sales have been strong throughout the winter, perhaps in anticipation of an injury-free MVP season from the Angels' star in 2018. An MVP campaign certainly isn't out of the realm of possibility with Trout. He's already won two American League MVP awards and runner-up for the award three times. And he doesn't turn 27 until next August.
With success like that, no wonder his key cards are among the most popular in the industry right now. Part of the attraction of the Topps Update is the picture itself -– baseball action, vibrant color with a RC logo that pops off the card.
There are other Trout cards that carry higher price tags – 2009 Bowman Chrome, 2009 Bowman Chrome Draft and 2009 Elite
Extra Edition (#'d/495) each feature an autograph – but they were released two years before his big-league debut, and although very collectible in their own right, they are considered pre-Rookie Cards in the eyes of the industry.
Rise of the 2011 Topps Update Mike Trout Rookie Card
The rise of the Topps Update Mike Trout Rookies also has exposed many of us to be less-than-stellar talent scouts. How many of us sold the card upon its release, thinking there was no way this kid was going to live up to the early hype? After all, Mike Trout wasn't MIKE TROUT in the Fall of 2011.
"Honestly expected him to flame out and a base card with 20k+ made to never hold $4 value," wrote collector Andrew Pryor on the Twitter feed of super case breaker Brent Williams (@brentandbecca). "Not my best talent judgement."
Hey, it happens.
In a 2015 message board conversation about the Trout card, nearly three years ago, one collector was lamenting even then of having parted with his Trout card in trade.
"Man, seeing that Trout Update RC these days is kind of depressing," he wrote. "I pulled one about three years ago when me and my brother bought discounted racks at Kmart, looking for the Trout. My friend then pulled duplicate Rizzo autos from 2013 Topps, so we ended up working out a trade. I think it was selling for $10-$12 when I traded it."
The card saw a steady climb in value from the Fall of 2012 to Fall of 2014, then it took off. Not surprisingly, it was in 2014 that Trout won the first of his American League MVP awards, leading the majors in runs (115) and the AL in RBI (111).
Less than a year later, the Trout card reached $100 in value while the player himself was pushing for a second-straight MVP. He ultimately finished second to Toronto's Josh Donaldson in the 2015 MVP voting, despite slugging 41 HR, and leading the league in SLG % (.590) and OPS (.991).
Trout's second MVP in 2016 helped push the card to $200 and then $250 where it is today.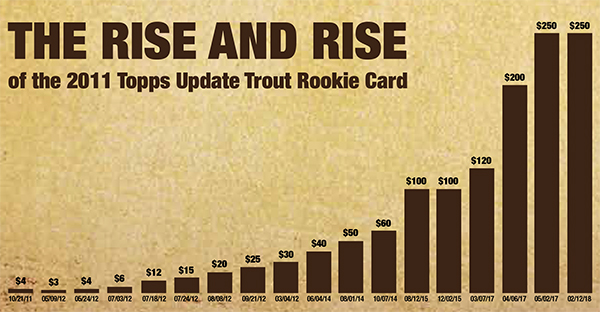 Looking to the Future
But can it go any higher? Or is this the best we can expect for a non-autographed, non-serial numbered Rookie Card?
Depends on who you ask. Some believe the card, with an unannounced print run but one generally believed to be significantly less than the regular Topps cards that year (and there were no 2011 Update Factory Sets), is close to hitting its peak. Others though…
"I see more growth with this card as he puts together his long term career for the Hall of Fame," said Anthony M. LoBurgio, via Beckett.com. "The 2011 Topps Update [set] is loaded with RCs that are big names in the game. This should also bring up not only Trout's RC, but others as well."
One of the things that helps the 2011 Topps Update Mike Trout is the image. It's vibrant. It's colorful and it looks great in one of the mainstream grading slabs. Don't take that point lightly. Who knows where this card will be in ten years –- it all depends on what the player has done on the field. But if Trout continues laying out a Hall of Fame career, more and more of these RCs will be graded to avoid the usual fakes and unauthorized reprints that seem to filter their way onto the market.
This doesn't include the Topps-produced reprints the company has included in a few sets, because those are obvious reprints where the company added serial numbering to the front and/or changed the back in some way. Those are obvious reprints. More importantly, they're reprints from the copyright holder.
Already some reprints -– some of them identified as reprints in the auction header -– are being bought and sold on eBay. But from what we've seen, they don't include the word "reprint" anywhere on the card, which, of course, can create huge problems should the card find its way back into the secondary market.
Some collectors who have purchased the advertised reprints haven't been bowled over by the quality, citing a lesser-quality image on the card front from the original and either partial foil or no foil on the card.
Tips on Buying a 2011 Topps Update Mike Trout Rookie Card
This may sound like one of those Captain Obvious commercials, but if you are considering buying a 2011 Topps Update Mike Trout Rookie Card do your homework.
The good Captain says:
• If you are buying a raw card online, check feedback. Are there any questions about authenticity from past sales?
• Check and see if the word "reprint" or even "rp" is in the seller's header. If so, you are buying a reprint. Know what you are buying.
• If the card is $5.95 with free shipping…well, you get the point.
• There are lots of real ungraded 2011 Topps Update Trout cards for sale. Just know who you are buying from, and understand the rules of returns. Yes, there are those looking to make a quick buck –- however small that may be –- but there are others who commit to doing things right.
• Finally, again, if you are not sure buy a graded card from a reputable and recognized grading company. The great thing about this Trout card is that few are priced out of owning an authentic copy. That's great news for those wanting an iconic card of one of the game's great players at an affordable price.
We don't know Trout's future more than anyone reading this, but we do know stats and how his career is shaping up. And we do know talent when we see it. Where will this card be in five years? Ten years? Maybe it will be inside a box somewhere, with the buyer cursing paying the $250 it cost. Or maybe the buyer will be happy that he or she got the card for "only" $300 –- dirt cheap -– and patting themselves on the back for such a shrewd buy.
In this world of autographed RCs, shiny cards with serial numbering and super-duper chromium card stock, this piece of paper is quite intriguing.