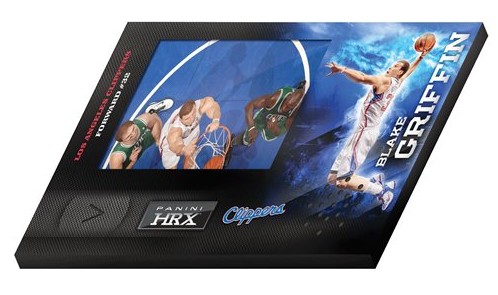 By Chris Olds | Basketball Editor | Commentary
Earlier this year, there was plenty of talk with the future of trading cards set to be coming from both Panini America and Upper Deck in the form of the video trading card.
Whether the camps will cop to it or not, there were plenty of jabs offered up at the competition. One fight was over "firsties" — who was first with the cards. For the record (as I reported before), Upper Deck was the first to tease that something was coming, but Panini stole its thunder days later when it was the first to publicly announce its intentions for a video card. Meanwhile, though, Upper Deck was the first to deliver the actual cards in boxes of 2011 Upper Deck Football as the boxes included Evolution.
The second fight was over the concept and the quality — a war of words that took place via the companies' blogs as they jabbed over something that many collectors might not have been so gung-ho over — something that they just might not really care about — while trying to sell collectors on their cards and their inherent superiority. Again, the companies might dispute that approach now as merely salesmanship or educational efforts but what was said was said. (Hey, there were lots of shots — Upper Deck even took a shot at me for my reporting of what they said.)
However, it can't be disputed.
And now, with the arrival of Panini HRX video cards, there's no disputing which one has won thus far in the eyes of collectors — at least with those who have paid attention with their pocketbooks. And the irony? Panini's cards have still yet to physically arrive out of packs of 2010-11 Totally Certified. All of the sales have been for redemption cards.
But, again, the collectors — you — have spoken with your pocketbooks.
Upper Deck's Evolution cards were not numbered, falling approximately one per case, and featured a minute-long college highlight clip for one of four football players — Adrian Peterson, Patrick Willis, Tony Romo and DeSean Jackson. The highest tracked price for an Evolution sale in the Beckett.com database is $153 — and only four other tracked sales topped the $100 mark (all were Petersons).  The lowest sale was a $10.50 for a Jackson back in mid-May. (Sixty other tracked sales all fall between the Jackson and Petersons.)
Perhaps it's a sign of differences in the products, their price-points, their availability or their licensing … but the most recent completed sales of HRX redemptions this week show that collectors have, in part, determined a winner on their own without even seeing the cards in-person yet.
The cheapest completed eBay auction so far? A Blake Griffin (unsigned) for $366. Next-lowest? Griffin again at $400. Next? John Wall at $407.55. Kobe Bryant? $495 and $650.
Those are all sales for unsigned cards.
Completed auctions of the inked versions? Kevin Durant at $535. Griffin at $862.50. Kobe? A cool $1,000.
Yes, the Panini HRX cards are inherently rarer and come from a higher-priced product. Only 240 total cards exist with 51 cards per player (40 standard, 10 signed and one 14-karat gold autograph card). That should make them more valuable but there are no guarantees on the secondary market.
Oh, and the asking prices for some of the cards that have been found? Even crazier. The Kobe can be yours for a lil' something.
Your reactions to the cards say a lot — plenty more than I could — but all of this comes without exactly knowing what will be found on the HRX cards. I'm not totally sold on whether the Panini cards are better — will have to wait and see in-person there — but it's clear that some collectors are sold sight-unseen.
We're betting you'll have more to say about video cards soon — when we can show you just what you'll be getting for your redemption cards as we'll have a sample Panini HRX card in-hand to examine — and compare — for ourselves.
Until then …
Chris Olds is the editor of Beckett Baseball magazine. Have a comment, question or idea? Send an email to him at colds@beckett.com. Follow him on Twitter by clicking here.