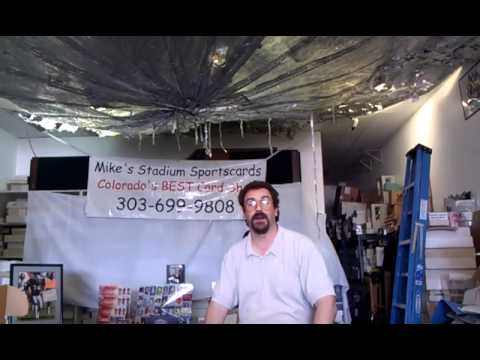 By Chris Olds | Beckett Baseball Editor
Remember the Balloon Boy? If not, you might have forgotten about the hoax from a couple of years ago like many of us.
But if you live in Colorado where it happened, it might resonate more — and if you're a Colorado-based sports card dealer like Mike Fruitman it's resonating quite well as a publicity stunt to get people into his shop and do some good for charity, too.
You see, Fruitman recently bought what's left of "Flimflam One" at auction — proceeds went to benefit Japan earthquake relief — for $2,502 and has it on display at his Aurora-based shop, Mike's Stadium Sportscards.
"I thought, let's have some fun with this," said the 41-year-old dealer. "So, I bought Flimflam One for our customers to enjoy. Then, we'll slice into authenticated chunks of collectible Americana to raise money for the Thanksgiving food project. It's a win-win, no matter what, providing my 3- and 8-year-olds don't get any clever ideas."
The balloon was put on display late last week and it will be cut up on Oct. 15 — the second anniversary of its maiden voyage that happened without a passenger.
But, for Fruitman, this publicity stunt wasn't just about possibly selling some cards in his shop — but rather getting people re-acquainted with the hobby when they come to see the weird relic.
Guess what? It's worked.
One collector and Twitter follower of mine, Digi Jeff, realized that was his hometown card shop when he heard the news. That's when he armed himself with a video camera and headed to the shop to see it all for himself and ask Fruitman some questions. See the video above for more … it's worth a look.
Chris Olds is the editor of Beckett Baseball magazine. Have a comment, question or idea? Send an email to him at colds@beckett.com. Follow him on Twitter by clicking here.