Coming soon … Moneyball and its memorabilia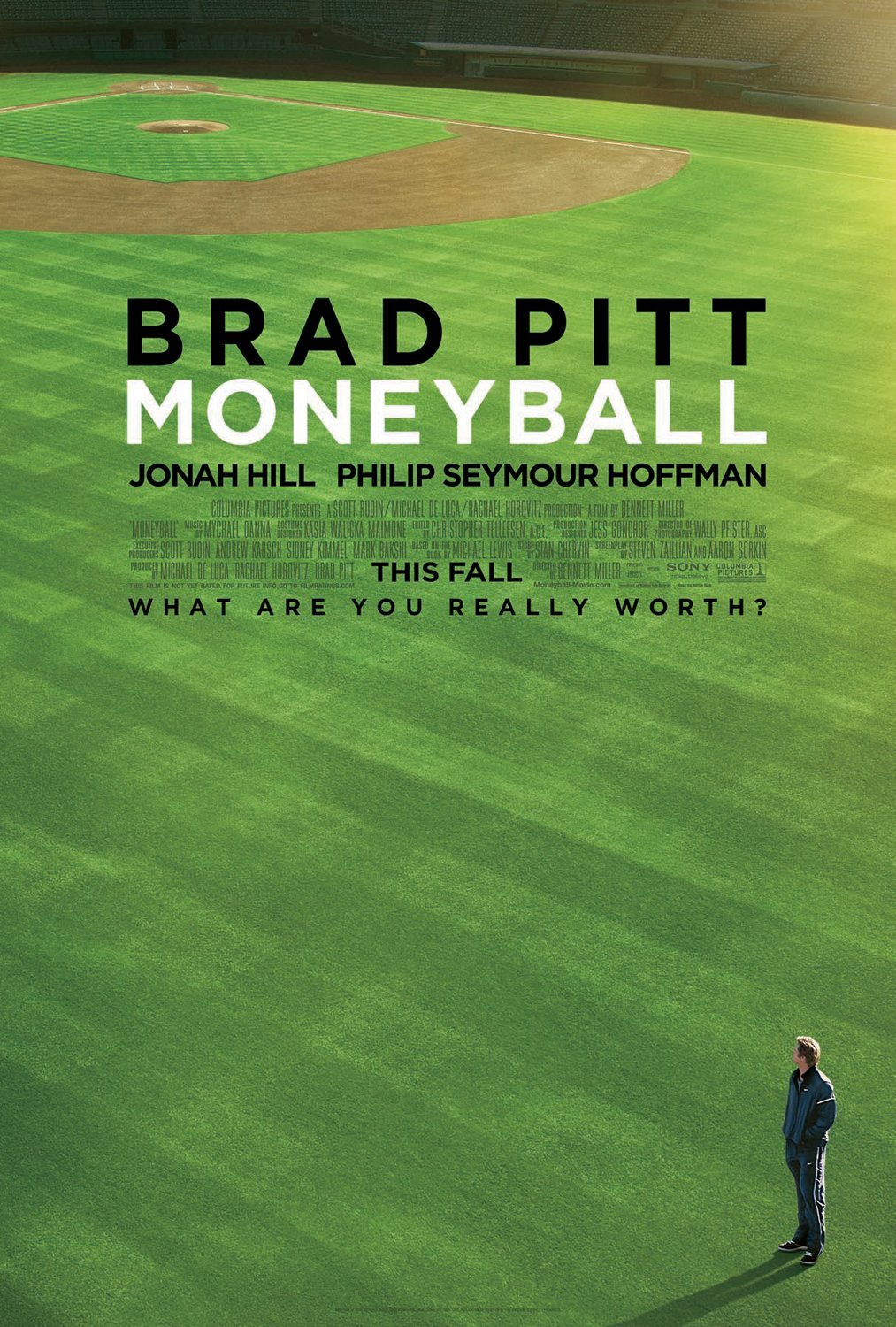 By Chris Olds | Beckett Baseball Editor | Commentary
The one-sheet for the latest baseball movie on the horizon — Moneyball, starring Brad Pitt — has arrived, and it perhaps carries a non-traditional feel for what should be a less-than traditional sports film.
Based on the 2003 best-selling book Moneyball: The Art of Winning an Unfair Game, the film will dramatize the story of Oakland A's General Manager Billy Beane and his non-traditional ways of trying to build a competitive team with the small-market, low-budget Athletics fighting the behemoths of Major League Baseball such as the New York Yankees.
"There are rich teams, and there are poor teams. Then there's 50 feet of crap. And then there's us."
Moneyball's central theme is that gut feeling, rather than analytical thought, had permeated throughout baseball and its scouting departments — and that because of its immense disadvantage financially, Beane's team needed to think, build and draft differently to outsmart their competition. That included statistical analysis — sabermetrics — instead of instinct. (See the trailer after the jump.)
The film stars Pitt as Beane, Jonah Hill as Assistant GM Peter Brand (Paul DePodesta, now with the Mets requested his name not be used for the role), Philip Seymour Hoffman as manager Art Howe and Robin Wright as Beane's ex-wife, Sharon.
With any new release, there will be marketing campaigns, which, in the past, meant materials that ultimately become memorabilia for many popular movies. While most promotion these days is done online or in digital form via press kits on CD — we'll see what kind of materials arrive in the coming weeks to promote Moneyball before its Sept. 23 release — there's still one king of the movie memorabilia world … well, at least not including movie-used props.
And that's the one-sheet.
[youtube]http://www.youtube.com/watch?v=AiAHlZVgXjk[/youtube]
"Posters are definitely the top-selling movie memorabilia items, " said Wayne Woodward of MovieGoods.com, a Morrisville, N.C.-based movie memorabilia mega-dealer. "There are two elements that make for a top-selling movie poster: The artwork or images on the poster have to be visually appealing, and the movie itself has to make some kind of emotional connection to people.
"That emotional connection can be on a dramatic level, or a great sports comedy level such as Caddyshack or Bull Durham," Woodward said. "The nature of so many sports films is emotional, such as underdog stories — The Rookie, The Fighter, Miracle, Rudy — or overcoming obstacles stories that the movies naturally make an emotional connection with people."
Sports movie memorabilia and movie memorabilia in general is a largely undocumented area of collecting — no extensive catalogs or price guides exist, unlike sports cards — and, ironically, it's the common item, the poster, that draws the most attention. Want even more irony? Strong pieces of movie memorabilia, including rare finds, can often be found at a fraction of the price for somewhat everyday pieces of sports memorabilia.
"There aren't any great sources of documentation on the value of vintage movie posters," Woodward said. "Some websites have tried in the past to be the key industry source but found it was hard to keep their databases up-to-date and accurate on the market value of specific posters. This can be a hindrance to determining the value of posters you own.
"The eBay marketplace was a good barometer for a while, but many top sellers in the industry stopped using eBay due to high costs of selling on that market," said Woodward, noting that MovieGoods opened in 1999. "Our many years of experience in the business does give us an advantage in helping sellers value and possibly sell their original poster collections for them, which we've done many times over the years."
Chris Olds is the editor of Beckett Baseball magazine. Have a comment, question or idea? Send an email to him at colds@beckett.com. Follow him on Twitter by clicking here.
—
YOUR TAKE: WE WANT TO KNOW …
We'll be focusing an upcoming issue of Beckett Sports Card Monthly on sports movies and the various types of memorabilia found for some of them as well as the ways you can collect the reel-life stars that you see either in the theater or on DVD.
We want to know …
1. What are your favorite sports movies?
2. Do you have any favorite movie items made in the past?
3. What movie props would be dream items for you to own?
4. What might you want to read about for sports movies?
5. What movie tie-ins would you want trading card companies to try?
Leave us a comment or send me an email (address above) …the best responses and stories will be collected and published in the issue.