Remembering Eleanor Engle, first woman to sign with an affiliated baseball team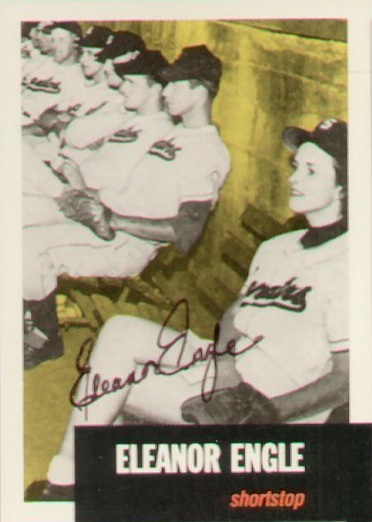 By Susan Lulgjuraj | Beckett Sports Card Monthly Editor
The photograph shows Eleanor Engle sitting alone on a dugout bench, with enough room for at least two people to sit beside her.
Her Harrisburg Senators teammates grouped on an adjacent bench. They couldn't be bothered by the skirt-wearing shortstop. Soon, professional baseball would take a similar stance.
That photo – preserved on a card in 1991 Topps Archives – is reflective of what Engle endured when she became the first woman to sign a baseball contract with an affiliated team in 1952.
Engle died on Thursday at 86 years old.
Engle was 26 when she signed with the Senators, working at the time as a stenographer. She had been a standout softball and basketball player in high school.
But professional baseball? The Senators, a Philadelphia A's affiliate at the time, signed Engle because they wanted publicity.
Engle practiced at shortstop with the team, but didn't appear in any games. Her time with Harrisburg didn't last long.
Shortly after she signed her contract, minor league president George Trautman and Major League Baseball Commissioner Ford Frick voided it. Then Trautman said any major or minor league team that tried to sign women would face punishment.
Engle told a number of media outlets at the time "(He) threw me a curve and I struck out."
"Baseball is making a big mistake keeping me and other woman outside the sport," Engle said in a United Press story at the time. "Women are able to play it and officials should recognize that fact. . . . I think baseball is making a big mistake. … I'm through with baseball."
She lived up to her word, avoiding the spotlight and working for IBM until she retired in 1990.
Engle didn't do many interviews throughout her life, but she did speak a couple of times in recent years with the Harrisburg Patriot-News, even addressing the picture on her Topps card.
"Look at that, I'm like a skunk at a picnic," she told a reporter in 2006. "I just went in and sat down, and somebody took the picture. Just the way they captured it was comical."
Susan Lulgjuraj is the editor of Beckett Sports Card Monthly. You can email her here with questions, comments or ideas. Follow her on Twitter here.