First Look: 2013 Bowman Chrome baseball cards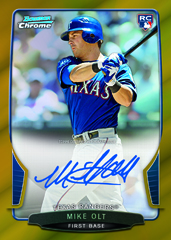 By Chris Olds | Beckett Baseball Editor
Bowman Chrome will include more autographs in 2013.
Topps unveiled the basic information and first glimpses at one of the most-popular brands in the hobby on Friday — and there's more in store this year. Each hobby box will include an auto, while every third box will include two.
Set to arrive on Sept. 18, Chrome will include 18 packs per box and 12 boxes per case with just four cards per pack (two base cards, two prospect cards).
New this year will be jumbo boxes which will pack three autos in every 12-pack box.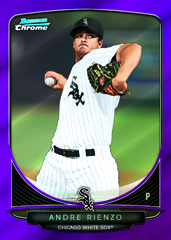 The base set will consist of 240 cards — 190 veterans, 50 rookies — while the prospects insert set will consist of 110 players. Prospects will have 11 parallels to chase — Blue, Purple, Gold, Orange, Red, Super and standard Refractors along with four printing plates per card. The standard cards will include everything but printing plates.
While Topps did not release a preliminary checklist, the product will include autographs from the likes of Mike Olt and Jose Berrios based on preview images provided. The Chrome prospect autos will be found in the same 11 types with the standard Refractor autos limited to 500 copies. Purple, Red, Super and printing plates are all hobby-only cards.
Autographed rookies will also have the same 11 shades to be found.
New this year will be Risin' Thru The Ranks mini Chrome cards that showcase a prospect from each franchise. There will be autographed versions of these cards limited to just 25.
Also new are Fit the Bill inserts, a diecut release that features former top prospects who are now MLB regulars. These will be limited to just 99 copies and also be found as Refractor autographs limited to 25 copies.
Also new is a 65th Anniversary "Best Bowman Players of All-time." These sapphire cards will have autographed versions limited to just five copies. Also back is a new selection of Bowman Black autos, while there will be redemptions for full hats worn during the Futures Game as well.
Chris Olds is the editor of Beckett Baseball magazine. Have a comment, question or idea? Send an email to him at colds@beckett.com. Follow him on Twitter by clicking here.