Retail Rundown: 2011-12 Upper Deck Series 1 Hockey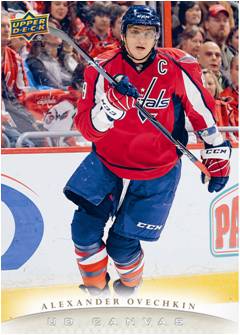 By Andrew Tolentino | Hockey Editor
With the 2010-11 NHL season now behind us and the final high-end hockey releases afoot, card companies are looking forward with forward-looking lines.
Upper Deck unveiled today a detailed report on what's to come for retailers stocking its 2011-12 Series One Hockey line. Come November, collectors out running errands (or those doing so as an excuse to buy cards) can look find the manufacturer's basic brand in 32-card fat packs, 8-card foil packs and 10 (plus two bonus)-pack blasters on retail shelves.
Beyond the 200-card base set, Upper Deck's signature retail release has a few formulas worth studying this summer.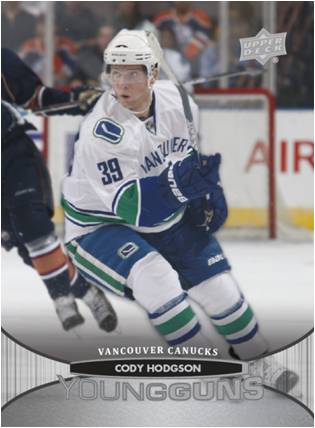 First, the fat packs:
Young Guns Rookie Cards (1:4)
UD Canvas (Regular cards – 1:2.5, Young Guns – 1:24, combined for 1:2 odds)
All-World Team (1:5)
All-World Team SP (1:40)
1950s Hockey Heroes (1:7)
1950s Hockey Heroes Header cards (1:300)
1950s Hockey Heroes Art cards (1:300)
EA's Ultimate Team (1:8)
Then, the foil:
24 packs per box
Young Guns Rookie Cards (1:4)
UD Canvas (Regular cards – 1:7, Young Guns – 1:48, combined for 1:6 odds)
UD Game Jerseys (1:24)
All-World Team (1:13)
All-World Team SP (1:120)
1950s Hockey Heroes (1:13)
1950s Hockey Heroes Header cards (1:600)
1950s Hockey Heroes Art cards (1:600)
EA's Ultimate Team (1:8)
Last, the blast(er):
5 cards per pack
10 packs, plus 2 bonus packs
Young Guns Rookie Cards (1:6)
UD Canvas (Regular cards – 1:14, Young Guns – 1:96, combined for 1:12 odds)
UD Game Jerseys (1:240)
All-World Team (1:27)
All-World Team SP (1:240)
1950s Hockey Heroes (1:25)
1950s Hockey Heroes Header cards (1: 1,200)
1950s Hockey Heroes Art cards (1:1,200)
EA's Ultimate Team (1:8)